Adult soft drinks, mixers and smoothies are growing in popularity as consumers cut back on alcohol and make healthier choices.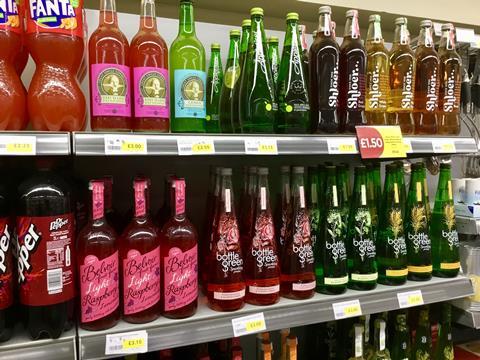 A growing number of consumers are adopting healthier lifestyles, and that means cutting back on the hard stuff. But what retailers may be losing in alcohol sales they may well be making up for in premium soft drinks.
"The adult soft drink sector continues to grow thanks in part to the growing teetotal trend," says Amy Burgess, senior trade communications manager at Coca-Cola European Partners (CCEP).
"One-quarter of those looking to reduce their alcohol intake are turning to adult soft drinks as an alternative (Weekly Nielsen Data MAT w/e 29 December 2018)."
Franklin & Sons agrees that the rise in teetotallers is driving consumers more towards soft drink choices, with 20% of the population now abstaining from alcohol completely (IAS, consumption of alcohol fact sheet 2018), according to marketing director Jen Draper.
She believes that it means consumers are looking for an alternative "that still provides the same level of sophistication and enjoyment on an evening out or a drink at home".
She adds: "We have created the Franklin & Sons infused sodas to tap into the rising trend of non-drinkers and those looking to cut down or moderate their alcohol intake. The three flavours are complex enough to suit refined palates, ensuring they that provide the taste experience that discerning cocktail consumers demand."
Burgess says the demand for premium spirits is increasing the popularity of premium mixers. "Consumers are drinking less but drinking better, and are prepared to pay more for an indulgent beverage (GlobalData 2018). This is helping to grow adult soft drinks, as shoppers look to stock up their drinks cabinet with products that are of higher quality, use better ingredients and have a more authentic story to create a sophisticated at-home drinking experience," she asserts.
Nigel Dowdney, owner of Earlham Shopper and Stalham Shopper in Norfolk, reports that his customers are showing more interest in soft drinks as they cut down on their alcohol consumption.
"I think people are buying more adult soft drinks and that is reflected in the drop in sales in alcohol over the past few years, but also in the growth of premium soft drinks lines," he says.
"The people buying these products tend to be younger and are keeping track of their alcohol intake more than ever, so they need an alternative option."
Ralph Patel, owner of The Look-In, Woodmansterne in Surrey, believes customers are willing to spend more on the alternatives to alcohol. "That's not to say people aren't price savvy, but they are happy to pay for what they get with these premium products."
Home run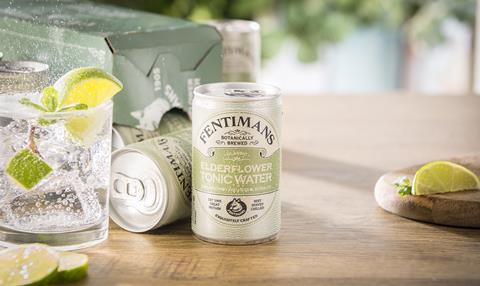 Fentimans is capitalising on the demand for mixing drinks at home with new tonic water fridge packs. The format consists of 8 x 150ml cans (rrp £4.99) in six variants including Premium Indian Tonic Water and a new Elderflower Tonic Water.
Smooth talking
One premium drink that customers are happy to shell out a bit extra on is smoothies, says Dave Hiscutt, manager at Londis Westham Road in Weymouth, Dorset. He says more of his shoppers are looking for a juice-based drink that fits into their healthy way of living.
"There is a much larger market for this sort of product than there ever used to be," Dave says. "Everyone wants to be healthier."
He states that health-conscious females, millennials and gym-goers are making a beeline for juices and smoothies.
Pratik Patel, owner of Jay's Budgens in Crofton Park, London, agrees that smoothies are on the up. He says: "All the young ones, city workers and professional people leaving before eight o'clock in the morning, are buying drinks such as Savsé.
"In our store we've got a big vegan, veggie and gluten-free range for people who watch what they eat. They are the ones who appreciate that the contents in these types of products reflect the price they need to pay for them."
Sid Sidhu, owner of Kenilworth Budgens in Warwickshire, recently used his indoor seating area to run a sampling session for Savsé.
He says: "Getting people to try before they buy is always a great idea, regardless of what product you have. It's about getting people to buy into the taste first and then you'll get repeat trade again and again."
Another way to encourage customers to buy into premium drinks is to create in-store theatre. Franklin & Sons claims to have improved consumer experience with food pairing and perfect serve suggestions in stores through the use of secondary locations. "For example, we have been able to showcase how our Franklin & Sons infused sodas should be served in a tall wine glass, over ice with a complementary garnish," explains Draper.
However you display them it's important to satisfy consumers' demand for new and experimental flavours, notes James Logan, commercial director at Refresco UK.
Says Logan: "Stores should include on-trend drinks in their range, such as functional smoothies, adult soft drinks, mixers and premium carbonates, as 55% of UK shoppers say it is important or very important that their local retailer stocks interesting or unique products and 17% say they would be more likely to shop at convenience stores if there was a larger choice of 'interesting' products (HIM Omnichannel Tracker November 2018)."
Cawston Press taps into demand for less sweet drinks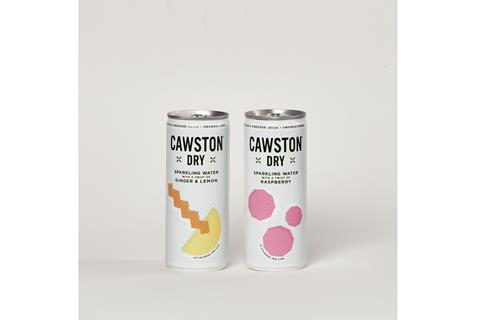 Cawston Press has introduced Cawston Dry – a less sweet range of sparkling drinks that contain 10 calories per can.
Available in two flavours – ginger & lemon and raspberry – the drinks are made with a blend of British sparkling spring water, Cawston's pressed juice and natural extracts, with no added sugar and no artificial ingredients.
Cawston Dry is aimed at the growing number of shoppers seeking out adult soft drinks that are less sweet (Kantar Worldpanel 52 w/e 5 November 2017).
Micah Carr Hill, head of taste at Cawston Press, says: "With Cawston Dry, our focus was flavour. Adding a twist of our pressed juice and natural fruit extracts makes for a much more rounded finish; a refreshing, but dry profile that tastes of real fruit. That little splash of our renowned pressed juice makes a big difference."
Steve Kearns, md at Cawston Press, adds: "We know shoppers are looking for drinks with low calories and less sugar, without scrimping on flavour (Mintel 2018). They're also wary of artificial sweeteners (Nielsen 2018). They want sustainably-sourced ingredients and recyclable packaging, all at a competitive price point.
"Cawston Dry is perfectly positioned to deliver on all fronts. It feels like a positive turning point in our sector that people are now demanding better quality soft drinks."
Cawston Dry comes in a 250ml slim can (rrp £1.19).