A new mixer brand TwelveBelow is hoping to challenge the 'slimline' drinks market with its low sugar range of premium tonic waters.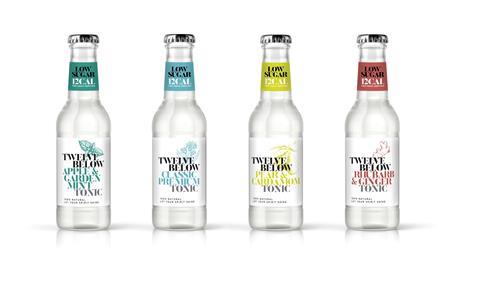 The UK brand claims that it is the first in the country to launch a naturally low sugar tonic, with only 2.5g of sugar per 100ml and fewer than 12 calories per serving.
Twelve Below's portfolio of mixers includes four variants: classic premium; apple & garden mint; pear & cardamom; and rhubarb & ginger.
Available in the convenience channel, the range is made with a dash of organic agave and contains no artificial sweeteners or preservatives. Each 200ml bottle of TwelveBelow tonic water carries an rrp of £1.20.
TwelveBelow co-founder Melanie McNelly said: "The idea for the company started when we began to really look into light and slimline tonics, and we were shocked to find they still had a high sugar content with artificial sweeteners and the taste overpowered spirits.
"Our tonics have been developed to not only complement a whole host of spirits, but to taste great as a standalone drink without the high sugar content. We understand that the modern drinker is looking to enjoy a delicious drink but is more health-conscious than ever. TwelveBelow genuinely delivers on that need."
The TwelveBelow range is currently stocked in Spar Great Kingshill, Spar Holmer Green, Hughenden Village Community Store, Belmont Stores in Maidenhead and is also available to c-stores via Craft Drinks Company in The Cotswolds.