A sparkling, orange-flavoured Cawston Press can is now available to independent retailers through Creed, DDC, Brakes, Matthew Clark, Amathus and Drink Warehouse.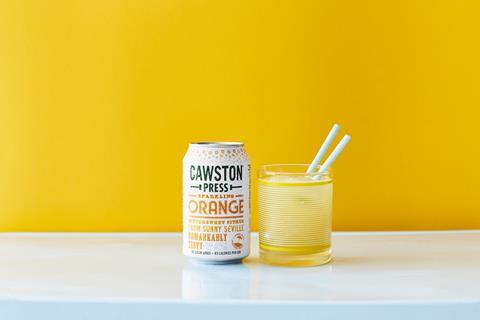 The product is made with squeezed oranges, orange extracts, Seville orange puree, sparkling water and pressed apple juice. The drink is also made without concentrates, added sugar or artificial sweeteners.
Cawston Press md Steve Kearns said: "For many of us, the words fizzy orange bring back happy childhood memories. But to our adult palates, most of them taste syrupy and cloying. By swapping out the added sugar and fake stuff, and balancing sweet against bitter, we've given fizzy orange a much-needed makeover."
The rest of Cawston's sparkling range includes rhubarb, cloudy apple, elderflower lemonade and ginger beer cans, which are available to convenience stores now (rrp £1.19 / 330ml).