Brits' love of cocktails is shaking things up for spirits and RTDs in the convenience channel. Here's how you can stay on top of the category.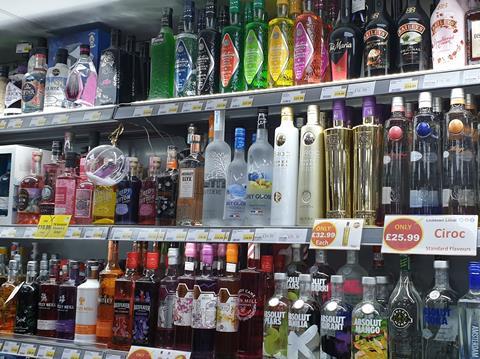 1. Premium spirits have grown 19% in impulse
William Grant & Sons claims that convenience consumers are continuing to spend big on premium spirits in 2021. "Whilst total spirits have declined at -12.8% in the impulse channel, premium spirits have grown +19.0% as shoppers trade up to better quality spirits [Nielsen 12 weeks to 22.05.21]," states senior category manager Ian Baines at William Grant & Sons, which makes Hendrick's Gin, and Glenfiddich and Monkey Shoulder Whiskies.
Customers at Richard Dance's Welcome Co-op stores in the South of England are glad to part with their pounds for a taste of the good stuff, he claims. "The premium spirits are that much more expensive than standard ones - Hendrick's Gin is more towards £40 and people are happy to pay that."
Diageo's Ciroc has certainly benefited from the trading up trend with total value sales up by 28% [R12M Off Trade Value Growth Nielsen April '21]. The super-premium vodka brand recently revealed a Summer Citrus variant.
Premium vodkas have proved popular for South Ayrshire retailer Mandi Duncan. "We still sell the usual Glen's and Smirnoff, but we've definitely seen a rise in premium brands," she says. "The new Ciroc one [Summer Citrus] is selling very well, the bottle is beautiful. People aren't going abroad, but the colours look like sunset in a bottle." She adds that Absolut, Grey Goose and Stoli are also performing well.
Skylark Spirits' director Indy Anand concurs that premium spirits are in demand. ""Customers are still looking for the premium version of what they normally find and purchase when visiting the on-trade," she says. "During the last 18 months, the convenience channel has done well in meeting that demand."
2. RTD sales are up 74% in impulse compared with 2019
Lockdown has fuelled RTD consumption. "The RTD category is in a prolonged period of extremely strong growth in the impulse sector, with sales up 47% versus 12 months ago and up 74% compared to two years ago [Nielsen Scantrack GB Impulse RTD category value (£) MAT to 24.04.21] – the latter value providing a longer-term perspective against a pre-pandemic benchmark," says Alison Gray, head of brand – WKD, at SHS Drinks. "In more normal times, the big selling points for RTDs are convenience, portability and sociability." However, she explains that over the last 15 months the reasons for RTD popularity were different. "RTDs delivered a much-needed slice of 'fun' and they embodied more than a passing nod to happier times. Couple those attributes with the fact that, for many people, RTDs are the closest representations of the types of drinks they erstwhile might have bought in the on-trade, then the somewhat unexpected correlation between RTD sales and lockdown life is largely explained," she says.
SHS claims that WKD Blue boasts the no.1 bottle SKU (Blue 700ml); large multipack format (10 x 275ml); and small multipack format (4 x 275ml), up 50%, 66% and 175% respectively in impulse over the last 12 weeks versus the pre-pandemic (2019) equivalent period [Nielsen Scantrack GB Impulse RTD category value (£) 12 wks to 24.04.21 vs same 12 wk period in 2019].
Red Star Brands agrees that RTDs are the stars of the show. "Whilst the pandemic has caused a decline in sales in some products, the RTD category has performed well and there's been a steady uptake by consumers, with new products entering the market regularly," says managing director Clark McIlroy. "The UK Flavoured Alcoholic Beverage (FAB) category grew by 23% in 2020, and is now worth £382m, with convenience as the fastest growing channel for FAB - growing twice as fast as the market and three times faster than supermarkets [IRI Total Market Data 52Wks to 29th Nov 20]."
He claims that the frequency of outdoor meet-ups has caused RTDs to thrive. "In the UK, socialising has changed drastically in the last year – moving into outdoor spaces like parks and communal areas, so RTDs have come into their own and provided a convenient alcoholic option, that requires no mixing or need for glassware. The firm released US RTD Four Loko into the UK in April.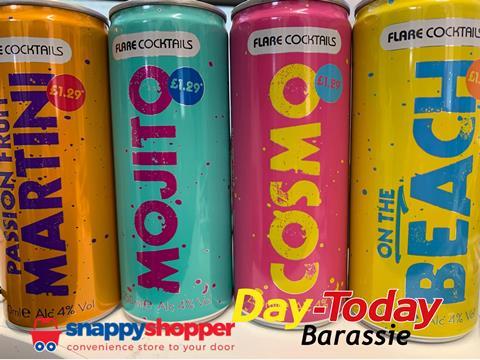 3. Cocktail cans grew 39% in impulse in 2020
The cocktail-at-home trend is rapidly evolving with Cocktails Cans growing +39% in the Impulse Channel in the last year [Nielsen 52 we 30.01.2021 (Impulse)], claims Global Brands. "The cocktail-at-home trend is snowballing especially on social media platforms, in particular TikTok has been a huge driving force," says brand controller Christian Sarginson. "Consumers are keen to try new things and experimenting with different cocktail ingredients is the perfect way for them to do this. For our RTD brands Hooch and VK we've seen a lot of user generated content online that has gained a lot of interest, it is important for us as a brand to tap into this trend to engage with our customers and generate viral content using our products." 2020 saw the launch of Pink Hooch in bottles and cans, which achieved more sales than any other NPD in the 52 weeks up to August 2020 with a strong growth (106% in the total Off Trade) for the overall brand, claims the firm.
Cocktails have been huge at Mandi's Day-Today stores, both in bottle and can formats. "We sell lots and lots of cans of RTDs, whether it be Smirnoff or Eden Mills - we have four shelves of them," she says. "We used to only do Smirnoff Cranberry, Smirnoff Cola, Jack Daniels & Cola and Gordon's and tonic - just the normal lines. Now we have such a range - Bombay [Sapphire] have brought one out and Eden Mill have brought one out. The Smirnoff Passionfruit Martini has been huge and the Funkin ones are great and at a good price point. It's easy for people to take the cans home and have one whenever they want - no hassles. Sales have been unbelievable."
Local bottled cocktails from The Drinks Co. are also a winner. "A local lady makes her own bottled cocktails - they are amazing!" says Mandi. "They come in flavours like Pornstar, French Martini, Queen Bee and Cosmo - she uses pure fruit and premium spirits like Absolut vodka - £6 for one bottle, which is a double. I've had people I've never seen before in my life coming in for them."
ADVERTISEMENT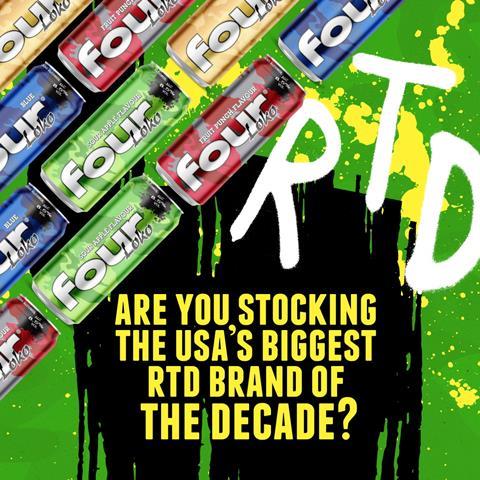 Are you stocking the leading RTD brand from the UK*?
Created over a decade ago by three friends who met in college, Four Loko has established itself as the leading Ready to Drink brand in the US, with its broad flavour range and successful marketing drive to create 'Epic Stories' for millennials and Gen Z consumers.
Launching in the UK this Summer and available in four flavours – Blue, Fruit Punch flavour, Gold and Sour Apple flavour, in 8.5% ABV 440ml cans, the vodka-based brand is now available to purchase for convenience retailers.
With Four Loko named as one of the fastest growing brands amongst Gen Z consumers by Morning Consult, it's set to be one of the most exciting UK alcohol launches this year.
Stock up in time for the peak Summer consumption period.
For more information contact info@redstarbrands.co.uk
* IRI Total US Conv 1 CT 24OZ FMB Brand Family – 2015 – 2020 YTD Ending 8/23/20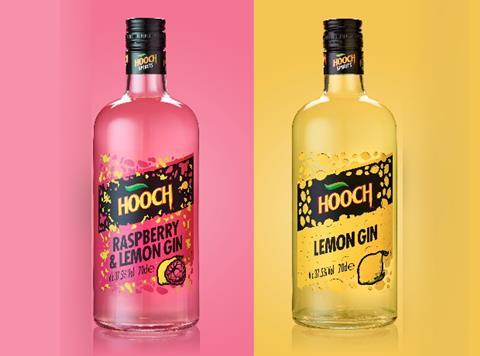 4. Flavoured gin SKUs now have shorter lifecycles
Flavour is driving growth within the [gin] category, claims Global Brands. "What's changed is that flavours aren't on-trend for as long as they used to be," says Sarginson. "So SKU turnover is higher. Therefore, retailers need to constantly be looking for the next 'hot' flavour, while they're selling through their current on-trend flavour stock as a flavour's lifecycle is unlikely to last longer than six to 18 months, and that's excluding seasonal hits.
"Retailers need to keep close to the category's innovation pipeline and always be ready to pounce on the next on-trend flavour, so they don't miss the boat and lose their shopper as they hunt for their favourite new flavoured gin!" The firm has expanded Hooch into the flavoured spirits category with a true strength branded spirit range featuring Lemon Gin, Raspberry & Lemon Gin and Mango & Lime Rum.
Flavoured spirits have been the big winner over the last year, observes Baines. Flavoured gin grew +32% in the off-trade in 2020 compared to 2019, according to the William Grant & Sons Trending 2021 report. "Whilst the category has definitely seen performance slow as the on trade has reopened in recent months, it is now a sizable category in which double digit growth may no longer be possible," he observes. "Flavoured gin is still an attractive area for convenience retailers to take advantage of – it just means picking the right range for your shoppers. Innovation is the life blood of flavoured gin, which drives the shopper engagement, so retailers need to continue to embrace this."
SHS is also confident that flavoured gin has plenty of life left in it. "Flavoured gin is still a big enough thing in consumers' minds that our unique take on the pink gin craze, WKD Pink Gin flavour, continues to prove hugely popular," says Gray. "WKD Pink was the RTD category's most successful NPD of 2019 and now generates over £5m of take home sales annually [Nielsen Scantrack MAT to 24.04.21]."
According to fine food wholesaler Cotswold Fayre, gin is still a market leader for spirits, with pink and flavoured varieties continuing to show growth. "Artisan options and brands also continue to be popular choices for consumers, with brands like Mermaid performing incredibly well, as the company's bestseller," says CEO Paul Hargreaves.
Local gins have been very popular for Welcome Co-op retailer Richard. "Winchester Twisted Nose Gin, which is renowned for its watercress, and Mermaid made from Samphire from Isle of Wight are going well - they all have an unusual ingredient," he says. "Pink gin is still performing well - Gordon's Pink Gin is a bestseller. Lockdown has added an extra spurt in people looking for different things where you can't go to the bar and have a drink. Our overall spirits sales are slightly lower than 2020, but still higher than 2019."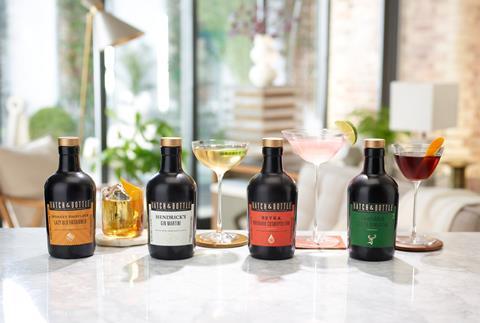 5. Cocktails at home will continue once restrictions lift
The cocktails-at-home trend will still play to consumers' demand for cocktails, despite hospitality in the UK opening as restrictions ease, states Red Star Brands. "In fact, over 66% of consumers during Covid made mixed drinks at home, and intend to continue doing so [Google Trends, June 2020, CGA Mixed Drinks at Home Report 2020]," says McIlroy. "In time, consumers' disposable income will be redistributed, once the initial novelty of having a meal and drinks out wears off, and we'll see further grown in the cocktails-at-home trend." Red Star Brands has just launched Master of Mixes, the US number one cocktail mix brand, to the UK. "Case studies show that one in three Master of Mixes baskets include a spirit purchase, compared to one in five for Fever-Tree or Schweppes, so it's a real benefit for convenience retailers," he says.
Mandi thinks it likely that cocktails at home will remain in demand. "It might still change, but I think people are more used to and more comfortable drinking at home," she says. "Some people aren't going to get over the panic of being in public for a long time. I think it will be a long time to get back where we used to be, if we ever will. It's good news for us, especially when we deliver to their door."
Lockdown experiences have generated a 50% increase in the number of on-trade cocktail drinkers seeking mixed drinks or cocktails at home [CGA On-trade Sept 2020], chimes in SHS Drinks. "We expect that this level of interest will continue throughout 2021 and beyond," says Gray. Next month the brand is introducing a range of pre-mixed bottled cocktails specifically for the take home market.
There's also innovation at the premium end of the ready to serve cocktail market with the Batch & Bottle range from William Grant & Sons featuring the firm's top-selling spirits, such as Monkey Shoulder whisky and Hendrick's Gin in pre-made cocktails. "Shoppers and consumers have built up the confidence to 'host' at home, experimenting and trying new things, which will see the cocktail trend live on," says Baines. "Convenience retailers should activate around seasonal periods in order to help shopper 'visualise' at home occasions and bring them to life for consumers with tools, recipe instructions and inspiration to do so."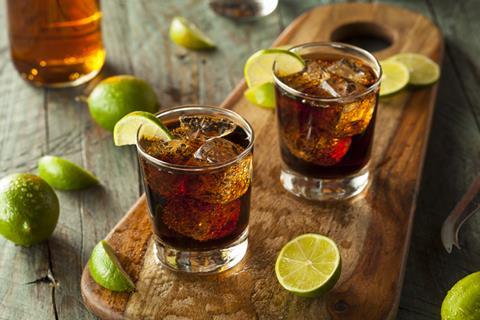 6. Rum enjoyed the biggest growth across all spirits during lockdown
Between April and June 2020, 38% more rum was sold in the UK than during the same period in 2019 and the Wine and Spirit Trade Association named it the drink of lockdown.
"I've long been a believer that the gin bubble is ready to burst, and I'm confident it'll happen this year!" says Cotswold Fayre's Hargreaves. "In 2020 sales of gin started to slow, and I expect rum to step in and take its place." A new addition to the Cotswold Fayre range for 2021 is Hattiers Rum, which is the first British B Corp rum.
Rum consumers are becoming more discerning, states Skylark Spirits. "We have seen that rum in convenience is still in growth this year," says Anand. "Our convenience trade has grown 246% from 1st March to 1st June 2021."
She claims that consumers are seeking out brands with a USP eg flavour profiles, production types, different countries or ethical practices. "This will, and already has started to lead consumers away from the entry level of the category into the more premium offerings," she says. "We are already starting to see customers are willing to pay more than £30 for a bottle of rum and they are also starting to look at lines that are not stocked in the grocery channel." This Summer, the firm is adding Pink Guava to its Les Arrangés range, which contains real fruit in the bottle and Saint Benevolence Rum Clairin, which directly funds charitable efforts through its longstanding non-profit partners, Living Hope Haiti and Innovating Health International.
ADVERTISEMENT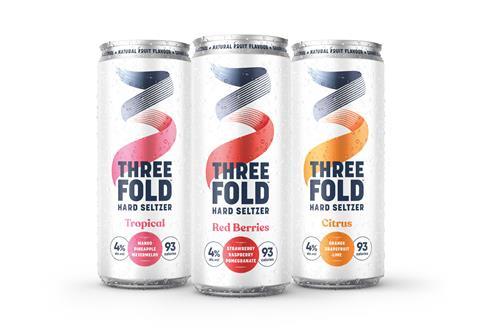 Triple wins with Three Fold
We wanted to create a new kind of drink, for the kind of people who don't like to be defined. People who do their own thing, whenever, however and in whatever way that feels good. Something that's clean, crisp, with a light taste – that you can enjoy anywhere. 93 cals, naturally gluten free and vegan. Win. Win. Win. Made with sparkling water, natural fruit flavour and only 4% alcohol. Three things, for a refreshing threefold experience. Fun, and proper tasty.
Available in : Bargain Booze, Costcutter,Parfetts, Bestway Wholesale & Independent Retailers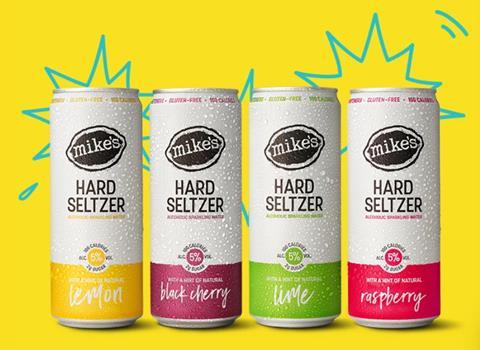 7. £870,000 worth of hard seltzers were sold in the UK impulse channel in 2020
Last year, total sales of hard seltzers hit £5.8m in the UK, with 15% coming from the impulse channel (Nielsen Scantrack data; 52 WE 26 December 2020), states Budweiser Brewing Group (BBG) UK&I, which produces Bud Light Seltzer and Mike's Hard Seltzer. "Mike's Hard Seltzer had a particularly strong end to the year in 2020," says convenience sales director Jessica Markowski. "It was the second fastest-selling hard seltzer in the last 12 weeks of the year and had the highest repeat purchase rate [Kantar Worldpanel; 52 WE 27 December 2020]. We expect the trend for hard seltzers to continue to gather pace, with UK sales forecast to reach £600m by 2025, equivalent to the ready-to-drink category [Nielsen]."
Hard Seltzer products already command a 2.6% market share of all beverage alcohol in the US, according to drinks market analysts IWSR, up from less than 1% a year ago and ahead of the leading spirit Vodka. IWSR also predicts that sales volumes will more than triple in the next three years. Charlotte Revill, brand manager at Molson Coors, says: "All the signs point to hard seltzers being the next drinks category to firmly establish itself in the UK. We expect its rapid growth in the US to be mirrored here." The firm launched its Three Fold Seltzer earlier this month.
However, Red Star Brands' McIlroy urges caution. "Although we see and hear a lot of noise with a surge of hard seltzer innovation in the category, these only represent 1.1% of total FAB value sales," he says. "The sector in the US is rapidly growing but compared to the UK there are much more relaxed rules around sugar. As a result, the hard seltzer drinks in the UK are marketed as low-calorie options, which reduces the flavour compared to other RTD products, with data suggesting Brits preferring a fuller flavour and sweeter taste.
"Whilst the jury is still out on hard seltzers and retailers will likely give it the rest of the year to reach a verdict, brands need to remember that success in America does not always mean guaranteed success in the UK."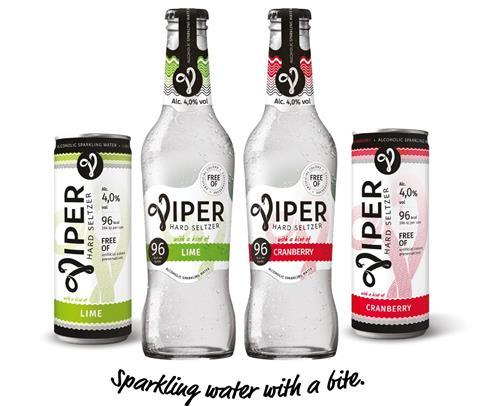 8. 13.7m UK consumers are open to trying hard seltzers
Asahi UK claims that hard seltzers have a bright future. "Hard Seltzers are currently worth approximately £10.4M in the UK [Nielsen data MAT to 15.5.2021] and are forecast to grow by 34% by 2024 [IWSR 2020 The Future of RTDs report, published in Q4 c20]," says marketing director Sam Rhodes. "Coupled with the recent explosion of the Ready-To-Drink (RTD) category and 13.7M UK consumers being open to trying Hard Seltzers [CGA], there is a prime opportunity for licensees to capitalise on the category." The firm has just released Viper Hard Seltzer in Lime and Cranberry variants.
Hard Seltzers' healthier properties are a key attraction, notes BBG UK&I. "The popularity of hard seltzers is driven by consumers seeking a more balanced lifestyle," says Markowski. "With fewer calories, carbohydrates and sugars than popular beers and wines, hard seltzers are perfectly positioned to meet this demand." The group's new Bud Light Seltzer are expected to be popular with millennial drinkers.
Millennials are the key demographic purchasing hard seltzers for a variety of reasons, notes Tom Smith, head of marketing – Europe, at Accolade Wines. "More likely to be health conscious and body conscious, Millennials place a greater emphasis on product information such as calorie-content, making Echo Fall's Rosé Seltzer the perfect option with just 69 calories per can," he says. "Similarly, this demographic is open to trying new drinks and formats, especially from established brands such as Echo Falls. Targeting this group is key to driving hard seltzer sales."
Cotswold Fayre agrees that consumers are making the link between seltzers and healthier options. "RTDs have been linked to health and wellness trends, favoured by consumers who are keen to track exactly how many calories or units they are consuming, rather than relying on mixing," notes Hargreaves. "The biggest category approaching us at the moment with new products is the hard seltzer micro category. These alcoholic carbonated waters, packaged in slimline cans, are fairly low in calories, with a similar strength to beer, at around 4% - and very much aimed at the young female market." The firm supplies DRTY Hard Seltzer in passionfruit, citrus and berry flavours.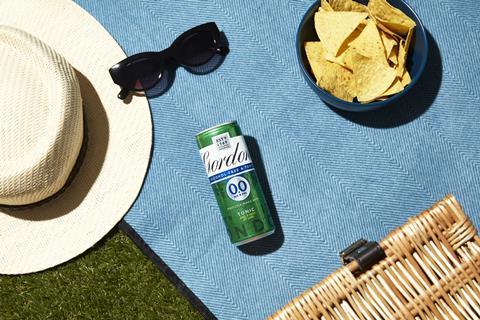 9. Low and no grew 30% in impulse in Spring 2021
William Grant & Sons highlights the growing importance of Low & No offerings. "Low/No remains comparably (to grocery) very small in impulse/convenience, but has growth of over 30% over the last 12 weeks [Nielsen 12 weeks to 22.05.21]," says Baines. "Narrow ranges and lower ROS [return on sale] mean that it is a challenging fit for Impulse retailers, but given the health trend is only continuing to get stronger, this is not going away any time soon. Knowing the shopper audience will go a long way in determining if and how much a low/no range you need." The firm launched its ultra-low alcohol spirit Atopia in Summer 2019.
The market for alcohol free is growing, claims Mandi. "We sell one or two bottles of the Gordon's one a week," she says. "We sell two alcohol free canned cocktails from Eden Mill and they sell very well. I've tried our alcohol free Prosecco No-secco and you wouldn't know the difference. The companies are really stepping up to the flavours - they've really improved. We put them alongside the standard drinks, but a wee bit separate. The Gordon's 0.0% is next to the Gordon's. People actually come in and ask for it. A lot of people want to get involved with drinking without drinking alcohol, it's definitely a growing market."
Across the off-trade, no and low spirits are the fastest growing no and low segment with volume sales at +251% [Nielsen ScanTrack Data to 30.01.2021], states Diageo. "As a result, we recommend placing recognisable category leaders on shelf, such as Gordon's 0.0% which launched in December 2020 and is already the top selling no and low spirit in the off-trade [Nielsen Scantrack, Total Off Trade, w/e 19.12.20 to w/e 23.01.21], and the newly launched Tanqueray 0.0%, to encourage people to trade-up," says Hannah Dawson, head of category development, off-trade.
Cotswold Fayre is reporting a resurgence in the low and no alcohol category. Hargreaves says: "With the introduction and success of speciality brands like Seedlip, posh non-alcoholic drinks for adults are now starting to come through as serious contenders. While we may be drinking more at home as a result of lockdown, perhaps 2021 will be the year to cut back and look for tasty alternatives." The firm is supplying Warner's 0% Botanic Garden Spirits in Juniper Double Dry and Pink Berry.
Nine Elms adds that consumers have continued to spend in this area over the past year. "Trading up to quality no and low alcohol drinks is certainly on the rise and this has continued through lockdown," says James Morgan, business development at Nine Elms. "Approximately 49% of UK adults are either not drinking or actively cutting down their alcohol consumption. For this pro-active group of 25 million consumers, the increasing range of sophisticated non-alcoholic options is very welcome, because it makes the choice to not drink alcohol that much easier and more fun."

Sarah is Deputy Editor for conveniencestore.co.uk.