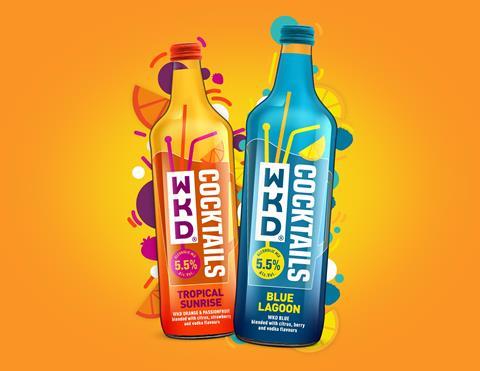 WKD has announced plans to introduce a range of pre-mixed bottled cocktails specifically for the take home market.
From July, Lagoon and Tropical Sunrise will be available in 700ml bottles, have a 5.5% ABV and an pmp of £4.99.
Blue Lagoon is an alcoholic mix of WKD Blue blended with citrus, berry, and vodka flavours while Tropical Sunrise is an alcoholic mix of WKD Orange & Passionfruit blended with citrus, strawberry, and vodka flavours.
WKD Cocktails will be available to wholesalers, cash and carries, and independent retailers from July, with a programme of in-depot and in-outlet activity – including display and bespoke activation – set to support the launch. A communications campaign will also build consumer awareness through social media, influencer activity and PR.
Head of brand – WKD at SHS Drinks Alison Gray said: "Our new launches bring all the fun and enjoyment of cocktails from the bar into the home; we've done all the hard work so consumers don't have to worry about equipment, recipes or ingredients to mix the perfect drink. We believe that WKD will recruit a different consumer profile to the existing ready-to-serve (RTS*) category and our new cocktails will encourage trading up and deliver increased value to independent retailers and convenience stores.
"Consumers love WKD and consumers love cocktails; to combine the two and bring a flavour of the on-trade to the take home market is a recipe for success for stockists."