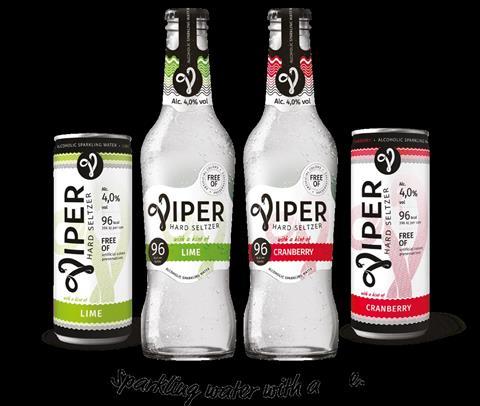 Asahi UK has announced its entry into the Hard Seltzer category with the arrival of Viper Hard Seltzer.
Available from June 2021, Viper Hard Seltzer (4% ABV) is available in two flavour variants - Lime, and, Cranberry, in 330ml single can and bottle formats.
The launch of Viper Hard Seltzer will be supported by an experimental sampling campaign, as well as activation at consumer events and festivals nationwide.
According to Nielsen data, Hard Seltzers are currently worth approximately £10.4M in the UK and are forecast to grow by 34% by 2024 (IWSR).
Marketing director of Asahi UK Sam Rhodes said: "As a business we have a proven track record for building market-leading brands and we are dedicated to always offering beverages with premium quality credentials. Entering the vibrant Hard Seltzer category is a really exciting move for us, and we're proud to introduce a Hard Seltzer that not only offers quality, demonstrated through the brewing process, but it also allows us to continue to offer products to our customers that are in line with consumer trends."