From seeded loaves to premium cookies, find out which products are rising to the occasion in the convenience channel.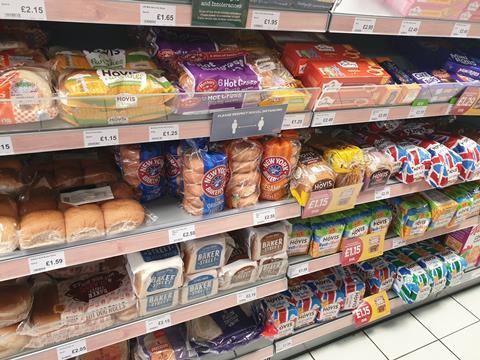 1. Within Impulse, wrapped bakery achieved a 42% unit growth at its peak
The convenience channel has experienced exceptional growth during Covid-19, with staple items such as those within the wrapped bakery category being of huge importance in driving sales in these stores, claims Warburtons. "Within the Impulse channel, wrapped bakery achieved a 42% unit growth at its peak over the last year [NielsenIQ RMS data for the Wrapped Bakery Category, 4week rolling periods ending 22.05.21 for the UK Total Impulse Channel, Units]," says Carl Pickett, category development controller. "Within wrapped bakery, a combination of both traditional bread and other wrapped bakery products is the key to success in convenience stores.
"Wrapped bakery remains the number one category driving footfall into convenience stores [Lumina Convenience Tracking Programme November 2020- March 2021]."
Bread & bakery sales are performing well at Costcutter Sandy Hill Road in St Andrews, Scotland, where the combination of lockdown and a store refit has seen the category take flight. "We used to have a good variety of breads, but only two or three of each line, and we used to sell quite a few," says owner Anila Anwar. "But since our refit we gave them more space and we're selling even more."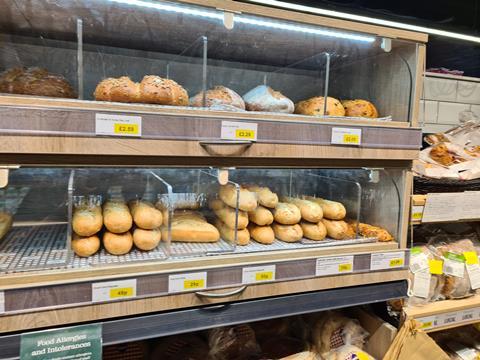 2. In-store bakery bread has suffered, but is making a gradual comeback
While wrapped bread flew off shelves, store-baked loaves plummeted. "During the start of the Covid peak, shoppers increased their frequency on purchasing packs of bread with an additional 328 million units sold, but as a result in-store bakery has seen a -15% dip (Kantar 52 w/e 21 February 2021)," says Sam Thomas, head of category at Upfield UK&I, which makes Flora.
In-store bakery bread has struggled, particularly the largest segments - rolls and baguettes, according to Country Choice. "Financial hardship, caused by the pandemic, has led shoppers to look for more economical options such as plant bread and wrapped sweet confectionery, both of which have a longer-life and are more versatile," says Hannah Morter, manager, customer insight & category management. "Although in-store bakery has seen some recovery, we expect this trend to continue as people return to their normal everyday routines."
Aman Uppal of One Stop Mount Nod in Coventry claims that an in-store bakery offer didn't work for his store, but he has found a compromise to keep customers happy. "We have heavily increased our part-baked lines," he says. "People said it would be nice to get the french stick back- we do those and petit pain in part-baked ranges."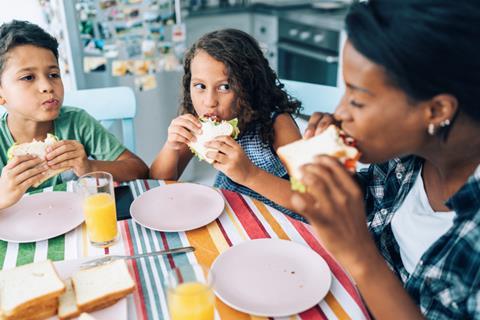 3. More lunches at home saw sliced bread steal the show in 2020
1 in 3 in-home lunches over the last year have included wrapped bread, which equates to an extra 3m plus lunches with bread per day consumed over the last year (Kantar Consumption Panel, Total Wrapped Bread Occasions vs Total Food Occasions, 52w/e 29.11.20).
Following a year when bread has taken centre-stage during lunchtimes, the category is thriving, claims Allied Bakeries, which owns Kingsmill. "Standard White saw positive growth at +20.6% YoY [Nielsen Scantrack Impulse 52 w/e 26.12.20] in the convenience channel, both driven specifically by the increase in families looking for easy-to-prepare lunchtime solutions as they work from home," says director of marketing Matthew Cullum. "Of course, sales will decline slightly from mid-pandemic levels, which is evident in the latest 4-week data [Nielsen Total Coverage Latest 4 wk to 24th April 2021], but performance is now in line with 2019. Volumes have been impacted by a drop in at-home lunchtime occasions with the return to school and offices, but they remain ahead of forecasted levels, had it not been for the impact of panic buying early in the pandemic," he says, adding that he predicts adult packed lunches to grow as people look to save money, while more working from home days will also boost bread sales. "This new "hybrid" style of working will see the lunch pattern change with many more in-home lunches than in 2019, pre-pandemic. As a result, we expect to see 800g core categories (Soft White, Healthier White and Seeded) continue to grow."
Warburtons' Pickett echoes this view: "The country is beginning to return to normal but more people are set to continue to spend more time working from home for the longer term and bakery will continue to be a key part of the in-home meal occasions."
Upfield's Thomas says: "At-home lunches are an occasion that we have seen been neglected for many years, but due to the pandemic products such as core wrapped bread grew (11.4%) [Kantar 52 w/e 21 February 2021] mainly because of sandwiches. The growth across bakery and host foods has also translated through to margarines and spreads, as products such as Flora are up +15% on sales since the pandemic [Nielsen 52 w/e 27 February 2021]."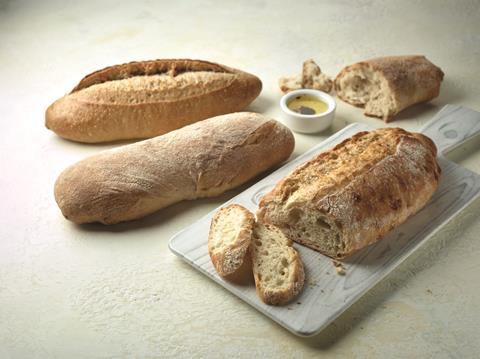 4. Premium loaves have grown 21% YOY in impulse
Wrapped bread is the number one sector in wrapped bakery within the convenience channel, states Warburtons. "Everyday loaves account for 96% of wrapped bread sales in the impulse channel, but the main area of growth is in more premium loaves at over 21% growth year on year [NielsenIQ RMS, Wrapped Bakery Category, 52we 22.05.21, UK Total Impulse Channel, Units]," says Pickett. "Smaller loaves also play an important role, accounting for 15% of total wrapped bread sales in the channel. We currently hold the number one spot for branded share of the bread category for the convenience channel at 31% and number one for total wrapped bakery at 25% [ibid].
"Premium loaves drive the highest % growth in the channel (and total market) and have done for the past couple of years [NielsenIQ RMS, Wrapped Bakery Category, 52we 22.05.21, UK Total Impulse Channel & Total Coverage inc Discounters, Units]." He is confident that this trend will continue. "Given its recent growth and the increase of in-home meal consumptions, we would expect that premium bakery products will continue to grow over the next 5 years. Shoppers don't mind paying more for these loaves and purchased them because they felt like something different or more special [Shopper Intelligence 2020]," he adds. "This means there is plenty of opportunity to encourage new shoppers to add products like these to their basket through trading up and, due to its impulsive nature, through strong visibility at the fixture but also using off fixture display to attract attention."
Morter has also witnessed strong sales of premium lines within in-store bakery. "We have found that many retailers have been successful in selling artisan breads, particularly sourdough and ciabatta, quite possibly as a result of consumers' failed attempts at home baking," she says. The firm has recently launched cheese, ciabatta, and sourdough loaves to meet demand.

5. Seeded wrapped bread is up 18% YOY in impulse, but there is further room to grow
Seeded loaves are driving growth in the wrapped bread market and for the impulse channel, playing an important role in the ever-growing health trend, states Warburtons. "From the growth that we have seen in the channel for seeded bread over the last year (+18%) [NielsenIQ RMS data for the Wrapped Bakery Category, L52 w/e 22.05.21, UK Total Impulse Channel, Units], Warburtons forecast this area to continue to drive growth in the market over the next 5+ years," says Pickett.
"Healthier loaves are currently in growth in the convenience channel (+62% YOY) however only account for 0.2% of the wrapped bread sector, which is worth 350k units annually [NielsenIQ RMS, Wrapped Bakery Category, 52we 22.05.21, UK Total Impulse Channel, Units]. So, there is clearly room to grow this area and appeal to a wider market as consumer's opinions and habits continue to change."
Seeded loaves are a good seller for Anila. "White bread still sells, but I notice students pick up healthier lines," she says. "Warburtons seeded loaves all go well. People will definitely spend on healthier foods."
Allied Bakeries concurs that there is a chance to grow seeded sales. "Seeded has been the fastest growing bread segment over the last year, as shoppers continue to seek healthy yet tasty options – a trend that has been emerging in recent years and is set to remain," says Cullum. He adds that Healthier White was the second fastest growing segment of 2020, +9.9% YoY (Nielsen Scantrack Impulse 52 w/e 26.12.20), noting that the Kingsmill 50/50 range is the largest and fastest growing in Healthy White Bread (Nielsen Scantrack Total Coverage Units Sales 52 w/e 26.12.20).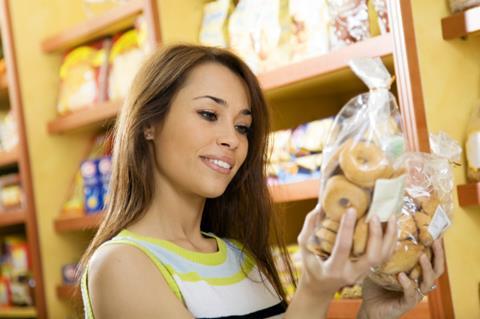 6. 'Low & no sugar', 'natural' and 'high fibre' pack claims all have equal appeal
Shoppers who actively look for a healthier option are looking for claims such as low/no added sugar (17%), containing natural ingredients (17%) and being high in fibre (17%), according to the latest research from Warburtons, which asked these consumers what they found most motivating when purchasing pre-packaged bakery products.
Meanwhile, Allied Bakeries is convinced that loaves bearing vitamin claims will attract health conscious consumers. "Immunity is expected to be a greater concern for consumers going forward due to the nature of the COVID-19 pandemic," says Cullum. "Products that provide vitamin fortification help deliver that additional boost to daily diets. If following a plant-based diet, Vit D, Bit B12 are particularly important and High in Fibre helps to tackle the increasing focus on gut health."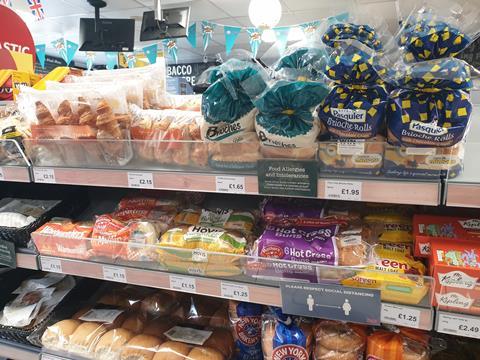 7. Other Wrapped Bakery products are the main source of growth in convenience
Despite the excellent performance of wrapped bread, the main source of growth within convenience is coming from the sale of other wrapped bakery products (OWB) which drive 13% growth year on year (NielsenIQ RMS data for the Wrapped Bakery Category, 4wk rolling periods ending 22.05.21 for the UK Total Impulse Channel, Units), claims Warburtons. "This growth is driven by key products such as rolls, crumpets, bagels and teacakes, all of which drive impulse sales and therefore drive incremental sales," says Pickett. Warburtons claims to hold the number one spot in branded share for the impulse OWB category at 15% (ibid).
"A particular growth area for the impulse channel is in sandwich alternatives (+22% unit YOY), such as bagels and pittas, rolls (+20% unit YOY); and bakery snacks (traditional +11%, fruited +6% unit YOY) such as crumpets, teacakes, and pancakes," says Pickett. "Our most recent product launch has been our White and Wholemeal Pittas, (which are in growth in the impulse channel) enabling us to further tap into the growing trends for OWB and also being more health conscious."
Anila has noticed a jump in demand for sandwich alternatives and bakery snacks at Costcutter Sandy Hill Road. "Crumpets, pancakes and bagels used to sell well, but now we have [increased our offer to] five or six of each," she says.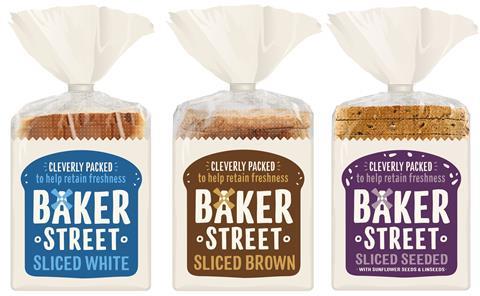 8. Long-life baked goods have grown in popularity
As a result of the pandemic, consumers are increasingly seeing the value of fresher for longer products, states St Pierre Groupe, which owns the St Pierre and Baker Street brands. "This is because extended life products allow them to reduce the frequency of their shopping trips without running out of staple products," says company founder Jeremy Gilboy. "Recent research found that two in five people (37%) will buy more longer-life food and drink products in the future as a result of the health crisis [Mintel 2020]." Sales of Baker Street's Sliced White Bread, rose 31% YOY, while its Sliced Brown Loaf grew 27% (Nielsen Value Sales – MAT Feb 2021) and the brand, as a whole, is up 30% YOY. Baker Street products have a minimum life of 35 days from delivery to depot.
Brioche Pasquier claims that the long shelf life of its products is central to their success. "Our brioche offers stores a long-lasting bread-like product that reduces the waste that often results from traditional bakery," she says, adding that the brand's recipe pages have continued to see increased traffic (up 71% from May to June Vs the previous 4 weeks).
One Stop Mount Nod has noticed an uplift. "Brioche rolls have become a permanent line for us now," says Aman, who sources St Pierre and Baker Street lines from Eden Farm.
He claims that Baker Street is coming in especially handy at the moment because his usual bread deliveries are suffering due to the HGV driver shortage. "We've been disrupted with Warburtons deliveries as they haven't been able to source the drivers," he says. "I don't want to cast disdain on the company, but there have been three instances in the past two weeks where Warburtons hasn't come at all. With them being our sole bread supplier it's left us in a predicament. What has filled the void nicely is Baker Street longlife products."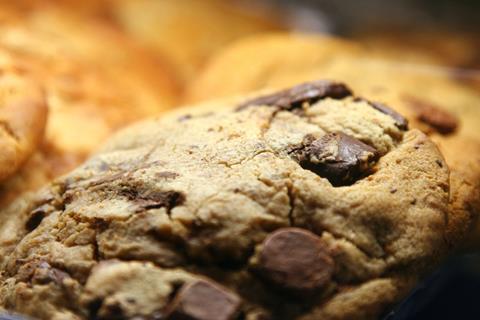 9. Sweet bakery is driving sales with premium cookies up 20.8% YOY
Sweet bakery supplier Rich's claims that the total bakery category grew 6.3% in grocery retail (Kantar, FMCG panel, Total Bakery, 52we 21st March 2021), driven by indulgent snacking. "Muffins are up 8.6% [Kantar, FMCG panel, ISB Muffins, 52we 21/3/21] and premium cookie sales are up 20.8% [Kantar, ISB Sweet Bakery | Cookies | Spend and Growth (%) | 52 w/e 21/3/21]," says sales, marketing and R&D director John Want, who claims that demand for sweet treats is being fuelled by older families and older adults looking for a sweet treat. The company took its Baked range to the convenience channel during the pandemic and saw "fantastic instant results" with customers CJ Lang and One Stop. "The cookie bags in One Stop are now doing 10 units per store per week per variety, which is higher than some supermarkets' cookie sales," says Want. "Baked is already a multi-million pound brand because of what we've done in the convenience market." The products have recently been listed in Scotland's Key Store estate, as well as in Tesco Express stores.
Country Choice's Morter has also seen demand for sweet bakery grow. "Despite the current uncertainty people do want to treat themselves and so little luxuries like topped and filled croissants, particularly almond and chocolate varieties, along with ultra-decadent pains aux chocolat, have proven popular within our customer base," she says.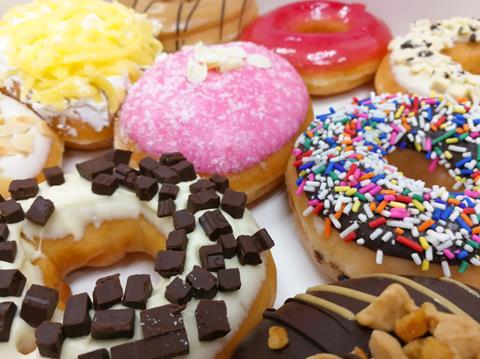 10. More is more when it comes to sweet bakery toppings and fillings
Super indulgence has risen to the fore as c-stores latch on to consumers' love of picture perfect treats. "There is a diversification of the market: the value proposition family treat, and premium indulgent bakery treats - instagrammable products," says Rich's Want. "We have to try and understand as a large scale manufacturer how we create products with that instagramability. We are planning to adjust the range slightly - bring alternatives into the range that create a buzz. Rich's has its sights set on making products even more decadent. "We can do a lot of post-bake decoration," says Want. "We are looking at the cookie sector. In artizan bakeries they're bigger and thicker and gooier in the middle. We're looking at icings and toppings and drizzles - we are looking at doing that at the price that's right for the consumer."
One bakery treat that has nailed the trend is the humble doughnut. "At the start of this year, I messaged One Stop to say I'm starting to see doughnuts springing up," says One Stop Mount Nod owner Aman Uppal, who has recently started selling Dunkin' Donuts. "Dunkin' Donuts are over the top doughnuts with all the different fillings and toppings," he says. "People have had a tough day, they're stressed out and they want a treat. It's definitely become a shopper mission. I've sourced a hot pink neon sign 'treat yourself' to put up in store. People don't mind spending £2 or £3 on a single item."
Country Choice concurs that consumers will fork out for extra indulgent treats. "The doughnut category is another area where consumers expect to see premium options and are willing to pay more for them," notes Morter. The firm has launched a range of Sweetshop doughnuts, which are over 30% bigger than their standard Funtime ball doughnuts, with nostalgic flavours including Rhubarb & Custard and Lemon Sherbet.
Lantmännen Unibake UK agrees that consumers want more special touches, claiming that 79% of shoppers are willing to pay more for hand-crafted products. Marketing manager Kate Sykes says: "Our research shows that, despite the challenges of the last year, there is a continued demand for sweet bakery items."

Sarah is Deputy Editor for conveniencestore.co.uk.