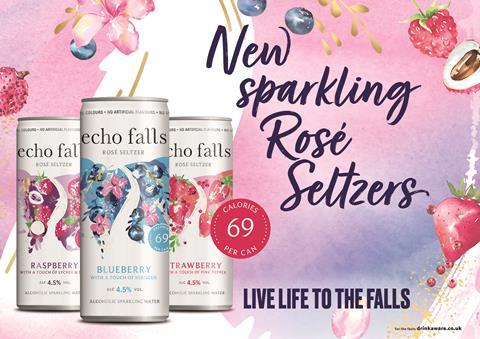 Accolade Wines' Echo Falls has unveiled its first ever Rosé Seltzers aimed at consumers looking to moderate alcohol consumption.
Echo Falls Rosé Seltzers are available in grocery, convenience, and wholesale from August 2020 with an RRP of £2 (available in 12 x 250ml cases).
A mix of Rosé wine, sparkling water and no artificial fruit flavours, the 250ml (ABV 4.5%) cans contain only 69kcal and are available in three fruit fusion flavours: Blueberry and Hibiscus, Strawberry and Pink Pepper and Raspberry, Lychee & Rose.
The cans are ideal for out of home consumption for those looking for a lighter option to enjoy with friends and they are easy to recycle, catering to the sustainability conscious.
Innovation commercialisation manager at Accolade Wines Abigail Whithair said: "Blurring alcohol categories are becoming more popular and the trend for hard seltzers is here to stay. Combined with an increased demand for no/low alcohol products, we're confident that our light Rosé Seltzers will prove popular with UK shoppers. This range aligns with our new 'your friend in wine' brand positioning, as we look to bring back younger shoppers (35 and under) to wine and navigate them through the portfolio, who we may have been lost to other categories such as gin.
"We're an important recruitment agent for the whole wine category and these seltzers, as well as our Botanicals collection (5.5% ABV) launched in May, provide a refreshing alternative to wine, especially for Gen Z consumers."