Drinks to go is a huge opportunity for the convenience sector, provided that they can find sustainable solutions and healthier options.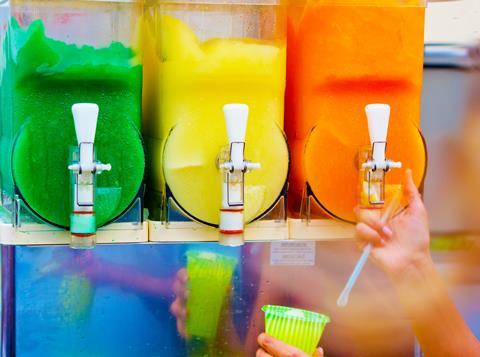 Chatted to any school-age kids in your store recently? As well as learning about the Romans and confusing new ways of doing maths, they're likely to be picking up something else at school: a powerful aversion to plastic.
Even the most sceptical of people are coming round to their way of thinking. After all, when national treasure David Attenborough tells you that plastic products are clogging up the ocean, you want to do something about it. It isn't just a global problem, but a retail opportunity, too, as these customers seem to be willing to pay more to save the environment.
According to YouGov research 80% are trying to reduce their plastic waste while half would be willing to pay higher prices for eco-friendly packaging.
Fair enough. But what happens when these anti-plastic principles clash with one of the c-store industry's growth sectors: drinks machines? Big High Street coffee brands have already had to tackle their waste challenges, and eventually c-stores will need to bite the bullet as well.
This reckoning is coming fast. From April 2020 the government is banning plastic straws and drink stirrers, both big parts of the channel's drinks machine offer.
It's certainly concerning retailers such as Barrie Seymour, from Londis Littletown in West Yorkshire.
"My main worry when it comes to plastic is the ban on straws, because we sell a lot of slush and other dispensed drinks," he says.
"The problem is that the paper ones can't stand up to being put in something like a milkshake, but I have found a company that makes straws out of pasta which are a lot stronger.
"I'm trying to track them down to see if they can work with us. It's silly really, because there are a lot worse things for plastic waste than straws, but the government ban is going to have a real impact."
Recognition of the challenge seems to have reached critical mass, as most stores C-Store spoke to said they've had customer concerns about plastic waste. "It's definitely been something that's mentioned by customers," says Jen Renton, manager at Scotmid Bankton in Prestonpans.
"I think it's something that customers increasingly expect to be covered in the store. And brands are starting to deal with it. For instance, we now have cardboard straws for our slush machine, so people are finding solutions. We also have a recycling place about a mile down the road that people can use."
As Jen commented, brands have had to step up and support retailers with practical ways to tackle waste. "It's inevitable that the drinks machines market will have to adapt to these changes," says David Fish from Us4Slush.
"We were one of the first slush suppliers in the UK to offer our customers PLA (polylactic acid) spoon straws.
"PLA straws look and feel just like plastic, but are instead made from renewable resources such as corn starch or sugar cane. They have proven to be a hit with our customers, along with our cardboard straws and branded paper cups. All of these environmentally-friendly options offer our customers a realistic alternative to plastic at very competitive prices.
"We already stock edible straws, paper straws and compostable straws, and we have a better solution for the cups in the pipeline," adds Peter Campbell from Snowshock. "Our cups have been fully recyclable for many years and this is clearly highlighted on the cups. We don't think it will be long before single-use plastics are a thing of the past."
As the brands catch up with consumer sentiment, innovative retailers are also taking environmental responsibility for themselves.
For example, Jai Singh, owner of MJ's Go Local Extra in Sheffield, is planning to get involved in an app which flags up places where customers can refill their water bottles. "We're looking into getting some kind of water station at the moment," he says. "School kids are really into cutting back on plastic, and so are their parents. All the kids have got refillable water bottles these days at the local schools and they're looking for somewhere to fill them up. So they could come and fill them up with us."
There's one obvious (but fairly cynical) question here. Won't offering free water refills cannibalise the store's bottled water sales? Jai is philosophical about the potential business impact. "You're trying to help the environment and you're helping customers have a bit more respect in what you do," he says. "You're doing something for the community and so people see that your store is not just all about you profiting from them."
Let's take a step back from plastic for a second. Assuming that manufacturers find the right waste solutions to stop the sector becoming a pariah, it's important to remember just how successful drinks machines can be, with hot drinks in particular becoming a staple for c-stores. For example, Costa Coffee research suggests that 75% of convenience customers believe having the option of a hot drink is attractive, helping make stores serious coffee destinations.
Bright ideas for slush success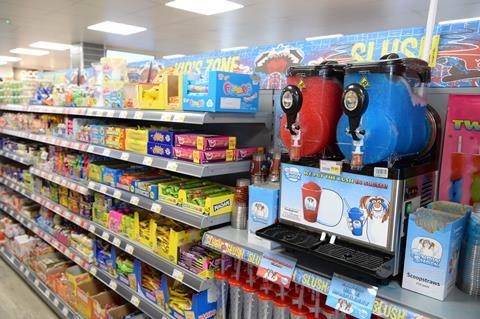 In the slush sector it helps to have a bit of theatre, especially as you're trying to score an impulse buy from a child or adult up for a bit of sweet treating.
"All our syrups have bright, vibrant colours," says David Fish from Us4Slush.
"When swirling in a slush machine they easily capture a customer´s attention with the end objective being an impulse sale," he says.
While a dash of drama is smart, retailers still need to do a little work to ensure the machine makes maximum impact with consumers.
"To get the best from their slush machines, retailers must ensure that they are positioned in a prominent location," says Fish.
"When coupled with the correct POS, such as flags, posters, and an eye-catching pavement stand, for example, this creates the perfect environment to generate high-profit impulse sales. You cannot underestimate the importance of POS to draw the customer's attention towards the slush machine. That's why we provide accessories for advertising and merchandising free with every slush machine purchase."
Keeping them clean is another must. The new generation of drinks machines are pretty easy to clean, but when you've had syrup-sticky fingers over them all day you need some basic hygiene. "To prolong the life of their slush machine, it is essential that retailers maintain good hygiene practice," says Fish. "We offer our customers everything that they need, as well as step-by-step video guides. A well cared-for machine, looking its best, will not only increase its longevity, but keep customers coming back for more."
Backing branded coffee
Scotmid recently invested in a new Costa machine for Jen's store. She says that having it on the shop floor attracts a wide variety of different customers. "Branded coffee is always a win for us," she explains.
"The nearest coffee place is in the next town over – so people come to us for their drinks. I find that in the morning you get the business types coming in for a latte, and then older kids from the high school will come and get something. That's a lot of different customers who are likely to buy something else from our store as well.
"For the slush it's obviously younger customers that come in and buy it – a lot of families," she says. "Sales really get started when the sun comes out, like it has in the past couple of weeks."
Such is the success of slush that c-store chain Eros Retail has created its own version. a fizzy slush line called Skwishee, which is available to retailers.
Eros Retail managing director Harris Aslam says it has been doing great guns over summer. The 'frozenated' drinks are available in blue raspberry, mango and pink fizzle flavours and give retailers a profit of 60% plus. Customers can opt for an edible straw in strawberry, lemon, apple and lime flavours for 30p.
Jai says that Skwishee sales in the first month have been amazing due to the welcome sunshine. Plus, sales have been unexpectedly boosted since other soft drinks were banned locally. "Earlier in the year Cineworld stopped selling the Tango Ice Blast drinks," he explains.
"That upset a lot of people because they were so popular. There was a lot about it on Twitter, including people saying they'd boycott the cinema. With the Skwishee machine, we can do a very similar product. So people who were annoyed at the cinema come to us to buy it instead."
Jai says that the Skwishee machine requires a fair bit of space, so not all stores will be able to accommodate it. But his sits nicely at the front of the store next to his coffee machine. "It just works there for us," he says. "It means people can come in and get what they want and then go – which is what convenience is all about."
It is indeed. And the convenience for white van men/women wanting a caffeine fix on-the-go, or kids grabbing a slushy before seeing The Lion King, means drinks machines will always have a profitable place in the channel. Yet brands and retailers still face a challenge around waste, and this means the industry will have to work together to get positive about the problem and take steps to change.
Meanwhile, if that school-kid is still probing you about plastic there's a good question to ask them. What exactly do they think their LOL dolls, Minecraft figures and Hatchimals are made of?
Brands press go on healthier machine drinks
Cold drinks machines are more generally associated with indulgent, treat products, rather than healthier options. However, a number of suppliers have recognised demand for low- and no-sugar options.
You might already know F'real as the American-originated brand that has brought super-thick milkshakes to the UK convenience market, but it also has several lighter options in the form of smoothies.
Emma Wood, head of F'real EME at Rich Products, says: "Customers who know our milkshakes know that they're really thick and made with ice cream," she says. "The smoothies are a similar style. So they're extra thick, and not like the smoothies you get in bottles. Plus, they're under 250 calories and count towards one of your five a day. The smoothies aim to give customers a drink that's really fresh-tasting."
The smoothies come in strawberry & banana, mango and passion fruit flavours.
Those after sugar-free drinks could be tempted by fizzy slush drink Skwishee, which is sugar free, as is Tango Ice Blast, which contains just 11 calories.
Avtar Sidhu, aka Sid, who owns St Johns Budgens in Kenilworth, Warwickshire, believes that people are very much open to lower sugar options, provided that the taste and branding are on point. "The amount of people who go to the gym and then come to our store for a Tango Ice Blast for a treat because it's zero sugar is high," he says.