Snowshock has unveiled a new fizzy slush brand to encourage convenience stores to tap into demand for carbonated dispensed drinks.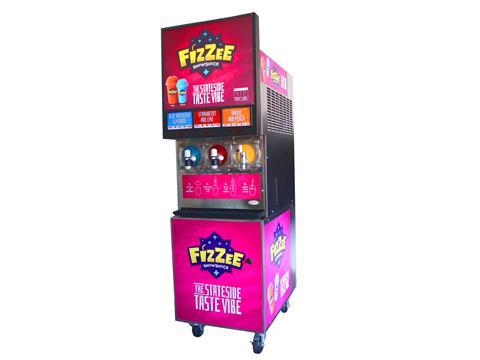 Taking inspiration from the US drinks market, Snowshock's Fizzee machines are sourced from American manufacturer Cornelius.
The free-standing, self-serve units measures 2ft x 3ft x 6.5ft in size and can be leased for £199+VAT per month over a five year period (shorter terms are available).
Offering retailers the chance to stock fizzy slush in three flavours: blue raspberry lemonade; strawberry & lime; and mango & peach, the new machines come with a starter kit, POS support and 12 months warranty for on site parts and labour.
Snowshock will also maintain and service the machines and support stores on social media for no additional cost.
The Fizzee units can be installed and fitted by Snowshock at a cost of around £400 and each one use a CO2 gas bottle to maintain a consistent level of fizziness in every product.
The Fizzee slush comes in two cup sizes: 430ml (rrp £2.25 / POR 72%); and 680ml (rrp £3 / POR 67%). To break even, retailers must sell four drinks per day and Snowshock claims that selling 24 cups per day can generate profits of more than £12,000 a year.
All stores selling Fizzee will be automatically entered into a Snowshock rewards scheme which allows retailers to claim quarterly rebates when they sell a certain number of drinks (subject to exclusive territories and based on four rewards levels).
Commenting on the opportunity for retailers in the fizzy slush market, Peter Campbell from Snowshock said: "Fizzy slush is huge in the US and has been for many years. US retailers have long sought to add a frozen carbonated beverage machine to their range because they drive huge footfall and generate huge profits.
"The machines are serious pieces of kit, with a price tag to match, but the results can be phenomenal. In recent years, UK retailers have recognised the need and benefits of investing in enterprising American ideas and we think fizzy slush is the biggest thing to come out of America since Coca Cola."