UK frozen fizzy drinks brand Skwishee has saved more than 100,000 plastic cups through its Bring Your Own Cup Day initiative.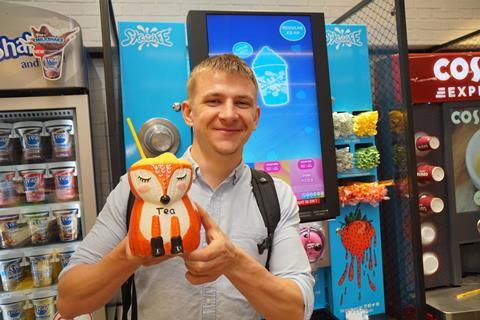 Around 100 outlets nationwide, from Shetland to the Eurotunnel, took part in the two-day campaign which encouraged customers to fill their own cup with Skwishee instead of using a plastic alternative.
The only restriction was the cups had to measure no more than 25cm in diameter. The event took place last month and a prize of a year's supply of Skwishee was on offer for the person with the wackiest cup.
Skwishee managing director Raza Rehman said: "In terms of enhancing the profile of the brand and creating a nationwide buzz about Skwishee, this was a great success. Many of our stockists were enthusiastic supporters of what we were trying to achieve and this undoubtedly helped.
"Our social media reach was well over one million and in virtually every case the shops were constantly busy throughout the two days. Tens of thousands of people took the opportunity to fill their oversized cups for just £2.99, which is the price we normally charge for a large cup containing 600ml.
Rehman added: "Some Skwishee fans walked away with up to 10 litres in their cups and we were delighted they did so because it showed their love for the drink. At the same time, around 100,000 plastic cups that normally would have been consumed were saved. This is something we are very proud of as we are constantly searching for ways of cutting back on the use of plastics.
"We have made great strides in this direction by introducing edible straws, while our cups are recyclable and manufactured from 50% recycled plastic. We now have the unenviable task of choosing the winner of a year's supply of Skwishee from all the amazing images we received."