Iced drinks supplier Polar Krush has launched fizzy frozen brand Vortex Fizzing Ice Storm, which is available in blue raspberry, strawberry, lemon & lime and tropical flavours.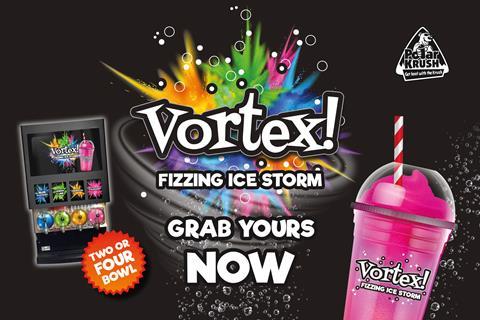 It is sold through self-serve dispensing units, which are available to retailers serving two or four flavours. The units feature eye-catching HD digital video display screens and can serve 430 drinks per hour.
The company claims that retailers can earn 83% profit on every drink sold, and that early customer trials have shown a significant increase in repeat cup purchases, demonstrating the drink has been very well received and the sales potential of the Vortex brand is substantial.
Vortex is designed to meet consumer demand through high volume outlets which, the firm says, makes it ideal for convenience stores and petrol forecourts. It promises to deliver retailers the best value and largest profit margin in the market with no upfront costs and exceptionally low monthly rental agreements.
Polar Krush's Vortex Fizzing Ice Storm drink contains only natural flavourings; and no sugar or artificial sweeteners.
Also in keeping with the company's commitment to minimising its impact on the environment, all Vortex products are supplied in eco-friendly bag-in-box packaging with compostable and re-usable cup options and the company's revolutionary 100% environmentally friendly spoon straws, which are made from paper and recycled cups.
Michael Reid, Vortex sales director, explained: "We are innovators at Polar Krush and pride ourselves on providing excellent products and service to our customers.
"There is limited choice in the frozen carbonated drinks market which is why we made the decision to invest in the development of the Vortex brand. We want to tap into the growing popularity of fizzy frozen drinks and our aim is to offer consumers an exceptional taste experience, which is also a healthier and more environmentally responsible alternative to what's currently available."
For further information about Vortex and Polar Krush visit: https://www.polarkrush.co.uk/vortex/