Whether you are a rural store or bang in the city centre, a growing number of drinkers across the UK are crying out for craft beers.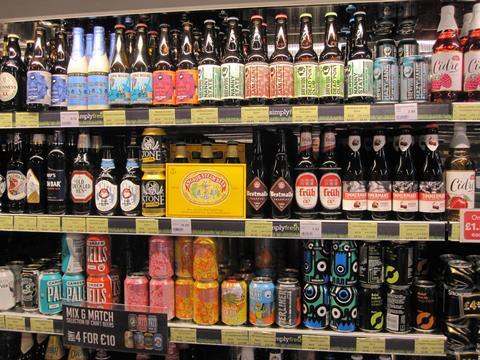 Think of the bubbling-over craft beer and cider category as real ale's revenge. While earnest CAMRA members used to be mocked for drinking thirds of unpronounceable beer and sniffing out 'distinctive vanilla notes', in 2019 they're having the last laugh.
That's because today's trendy young(ish) drinkers are just as likely to eschew mainstream brews as the real ale posse. And worryingly, many of the new generation have even aped their predecessors penchant for abundant facial hair.
The mighty thirst of these hipster drinkers means Mintel reckons that there's still "plenty of room for growth" in craft beer. The market researchers expect demand to lift craft beer volumes by 5.3% to reach 976 million litres by 2023.
The trend has certainly made a big impact on Jas Bhattle's businesses, as owner of multiple successful stores in the Simply Fresh group.
"We really started getting into craft beer about 18 months ago," he explains. "It was when we were looking into our new Manchester Piccadilly Store, which is in a really high footfall area. I did some research on the local area and saw that craft was quite a thing – demand was really high."
Jas has been using specialist craft supplier James Clay to get the right brands ("they have a really good selection of craft products," he notes), securing key names such as Brewdog for his shelves.
The investment certainly paid off. "I'd estimate that these days most of our beer sales now come from the craft end of things," he says.
"Alcohol, and in particular beer and cider, has really changed over the past few years. I don't think the average drinker wants to go home with the usual big names anymore. They want to go away with something different and distinctive."
Once seen as quite a left-field choice for c-stores, craft beer and cider is now more of a convenience fixture, as reflected by research from HIM. "Out of a sample of regular beer and cider [convenience store] shoppers 36% have had a craft beer within the past three months," says Alice Dolling, senior client consultant at HIM.
That's higher than similar results for stout, bitter or world beers such as Italian-style lager.
"When asked what shoppers like the most about craft beer, 'taste' is the main thing (flagged up by nearly two in five consumers), followed by variety of flavours and then uniqueness," she adds.
Trends: Why craft beers chime with consumers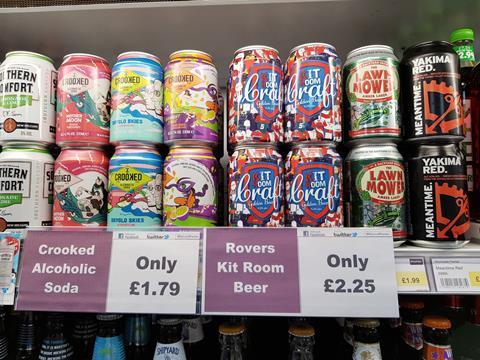 Thirsty shoppers each have their own definition of what 'craft' is all about. And it's something manufacturers have been getting their heads around, too.
"The term 'craft' can be challenging. Consumers often associate numerous meanings with the word, usually creation process or design," says Darryl Hinksman, head of business development at Westons Cider.
"According to Ipsos MORI, 24% of consumers associate craft products with 'quirky design', which influenced our redesign of the Rosie's Pig branding. However, we use only local apples and oak to age our products and, in that respect, all of our range is crafted."
As well as the Rosie's Pig rebrand, Weston's has been bringing in craft-loving cider drinkers with its Henry Westons Aged Finish variant, featuring plenty of heritage to promote on-pack.
It's a savvy move since in craft cider provenance is central, with more shoppers demanding something British.
Elsewhere in trends, the smaller can format is likely to be a winner, too, being both trendy and eco-friendly.
"This year's [Westons Cider] report reveals that four out of 10 off-trade shoppers feel it is extremely or very important that they buy local or British, while cans – viewed as a lightweight and recyclable option – continue to become a popular packaging format," says Hinksman.
Magic for margins
C-store consumers may like craft beer and cider for its taste, but what c-store owners love about it is the price premium they get. Mintel says that craft beer consumers don't mind paying a bit more for something special, seeing it as something of a 'treat'.
"With the average craft beer price per litre at £4.46 – almost double that of the average branded beer – it is a major opportunity for our retailers to increase premium sales," says Lee Wild, category manager at Costcutter Supermarkets Group.
"Throughout the past year, Costcutter has tapped into the booming craft beer and cider trend as part of a major drive to help retailers optimise sales in the flourishing market. We have partnered with online beer distributor EeBria Trade and introduced more than 80 craft breweries to our retailers. This allows them to buy hundreds of products online, which are delivered directly from local breweries to store."
Interestingly, unlike premium wine choices, the upmarket price doesn't necessarily attract an older, more affluent consumer. However, it does bring in the under-40s who have money to spend on booze.
Jas has found just that in his stores. "It's funny because it does cost a bit more, but it's not necessarily attracting a more affluent shopper, for us at least," he says.
"What we've found is that it tends to be a younger crowd that buy it – 25-40. And, like I say, they're driven by looking for something different. They want the different names and stuff that's a bit out of the ordinary."
Go beyond the price and taste of craft and you'll see other opportunities brewing in-store, too. For example, one of the other key factors in the growth of craft alcohol across the board is what shoppers call the 'feel-good factor'. Mintel reports that three-quarters (72%) of craft buyers say that supporting craft brands actively makes them feel good about the buy.
And a lot of that goodwill is down to the fact that they see craft breweries as being more eco-friendly than the big boys, and that buying it helps fuel the local economy.
This last point offers a powerful point of entry for convenience stores. After all, the number of small breweries looking for suppliers has boomed due to consumers' taste for craft beers. What's more, 16% of consumers would switch where they do their grocery shop based on how good the selection of craft beers is, according to the Society of Independent Brewers British Craft Beer Report 2019.
For c-stores scratching their heads for a profitable point of difference, craft options can be a no-brainer.
Take Woodgreen Community Shop in Fordingbridge. Store manager Sue Harris says that craft beer and cider is a central part of her locally-skewed stock.
"We do New Forest Cider, which as its name suggests is made in the heart of the New Forest," she says.
"We also have local beers from Downton Brewery. People really enjoy the local element, and the idea that they're supporting local breweries through a local business. It just feels better than getting beer that's brewed thousands of miles away in Germany or wherever, from the supermarket."
Sue adds that giving shoppers a chance to sample new brews can pay dividends when spreading awareness.
"We've done an event in the town hall where people could try all the drinks and meet the producers – then it has a real community feel. Sourcing isn't difficult. We've had situations where people say 'you should try doing this beer – it's great and it's local'. So we're willing to give it a go."
Of course, as a smaller shop with room to experiment with artisan products, you'd expect craft to do well at Woodgreen. Yet setting up local links is great news for more mainstream stores as well.
For example, the regional edge gives Sam Coldbeck, from Wharfedale Premier in Hull, an excellent entry into a high-margin category in a locale that keeps a close eye on its wallet.
"Out of the two of us my husband Mark is the one who's really into craft beers," says Sam.
"He's often sampled a few to see what we're going to have on the shelves. And when we're doing craft, we basically have to do local. For example, we stock products from Great Newsome Brewery, which is about 15 miles from our door. They're very popular, and Frothingham Best is our best-seller."
Sam confirms that price is incredibly important for her regular customers, even in a 'treat' buy.
"We're able to do them at three for two on the bottles, which people really like," she says. "Although we're taking a bit of a hit on the margin, we're able to sell a lot of them."
But Sam's true trump card in craft is Great Newsome Brewery's Kit Room brew, which was developed with local rugby heroes Kingston Rovers.
"Loads of people talked about it on social media when we put it on Facebook, and it's a way of supporting your local side, " she says. Win win, then.
A different side to cider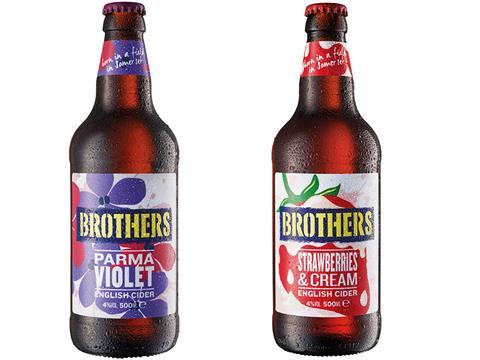 Everyone loves a good backstory, well that's what The Showering Cider Mill in Shepton Mallet, Somerset, is hoping.
Legend has it that when our ancestors needed to quench their thirst they would beseech Shepton, the great God of cider, to provide for them.
For 2019, though, the company is offering an easier route to satisfaction with Mallets Dark Fruit in cans, an easy-to-drink cider brand aimed squarely at millennials.
"We set out to create a cider that would appeal to a wide audience of consumers, yet made with generations of expertise, dedication and commitment to the art of cider making," says Emmy Webster, senior marketing manager at Mallets.
If it's not suppliers using tall tales to interest cider consumers then how about weird and wonderful flavours? After innovation in the off trade unusual flavours are now starting to make their presence felt in the c-store chiller.
Quick off the mark, Brothers has launched parma violet and strawberries & cream cider variants. Both are designed to expand the fruit cider category and raise the spirits of 18- to 34-year-olds who make up more than 50% of fruit cider drinkers (Brothers).