Sadler's Brewing Co. is shaking up its alcohol range with a 330ml canned version of its Peaky Blinder lager.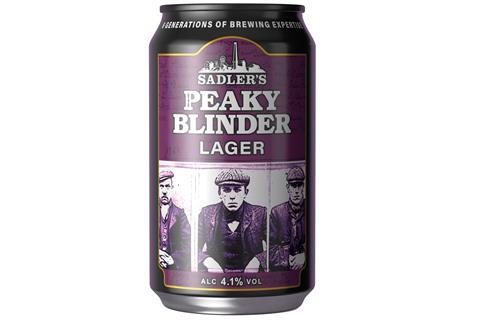 Designed to tap into demand for craft lager in a can format, the product (4.1% abv) will sport new look labels which will also be rolled out across the rest of the Peaky Blinder range.
The labels feature images of the original members of the notorious Birmingham street gang which Sadler's uses as inspiration for its Peaky Blinder portfolio.
Aster Sadler, marketing director at Sadler's Brewing Co., said: "Peaky Blinder craft lager will attract new craft lager drinkers to the category via its new canned format; the football platform; and an authentic brand history to boot, at a time when appetite for craft lager is at an all-time high."
In addition to the NPD, Sadler's has also signed partnership deals with two high-profile football teams: Birmingham City Football Club (as a back-of-shirt sponsor) and West Bromwich Albion (as an official beer partner).
Both partnerships are aimed at aligning Sadler's Peaky Blinder craft lager with the nation's favourite sport and lay the groundwork for wider sporting partnerships beyond the West Midlands in the long term.
Sadler added: "The partnerships we've forged with Birmingham City FC and The Albion underpin a new era for the Sadler's Peaky Blinder Lager brand. They provide a crucial platform from which to boost brand exposure amongst a core audience and profile our craft lager cans and bottles to a prime audience, building our brand affinity with football and sports for the long term."
Available to independent retailers now, the new craft lager cans (rrp £2) and wider portfolio will be supported by sports sponsorship and marketing throughout 2020, including outdoor advertising, POS, PR and digital activity plus sampling across the convenience channel.