Coffee-flavored liqueur brand Kahlúa is aiming to reach more consumers this Christmas with an out-of-home takeover across 10 UK cities.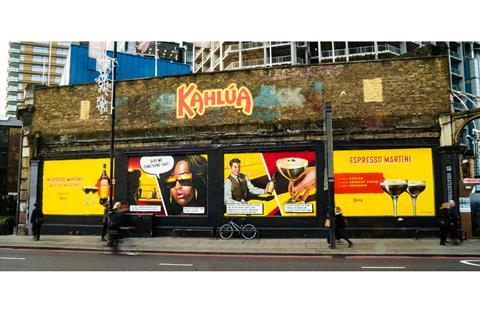 For the second festive season in a row, Kahlúa is driving awareness with 1,272 promotional sheets displayed throughout London, Birmingham, Manchester, Leeds, Nottingham, Newcastle, Glasgow, Edinburgh, Bristol and Southampton.
The campaign will be supported by in-store and social media activity, inspiring consumers to re-create one of the nation's favourite cocktails at home: the Espresso Martini (CGA Mixed Drinks Report, Q3 2019).
A large-scale mural in the heart of Shoreditch (pictured) will head up the campaign and remain in place throughout the Christmas period until the end of the year.
The mural is designed to capture the moment when the Espresso Martini cocktail was first created by London bartender Dick Bradsel in the 1980s.
Liam Murphy, marketing manager at brand owner Pernod Ricard UK, commented: "There is no better time for Kahlua to be launching its out-of-home media campaign than Christmas, with searches and consumption of the Espresso Martini increasing during the festive period (Adynamix, 2018).
"The mural location in Shoreditch has been chosen to create a lively wow-factor amongst our target audience of 25-34-year-olds, highlighting the simplicity of recreating the serve at home: one-part Espresso, one-part Vodka, one-part Kahlúa. We are excited for consumers to see this campaign because you just can't have a classic Espresso Martini without Kahlúa."