The Big Night In is as big as ever, creating demand for snacks to share, easy eats and a tipple or two. Here's how to tempt the staying-in crowd.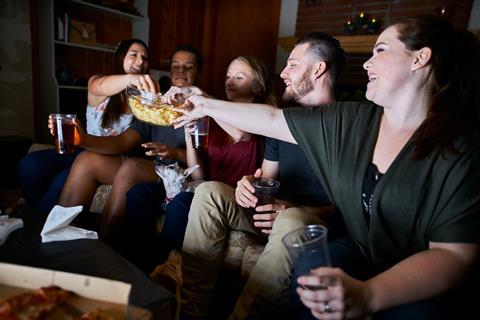 Cue Strictly sequins. Bring on the box set binge. Take a seat for the big match. Whatever your customers may be tuning into, they aren't venturing far from their sofas as the Big Night In remains one of the hottest trends.
"With the nights drawing in, a new season of Strictly and the Rugby World Cup in full swing, there are plenty of reasons for a Big Night In this autumn. It's a cosy, fun and casual way to bring people together and requires little organisation or prior planning," points out Matthew Grenter, sales manager at Brioche Pasquier.
Thanks to the staying in crowd, the Big Night In snacking category is experiencing double-digit growth (up 11.7% year on year, Nielsen 23 March 2019), creating significant opportunity for retailers to capitalise on sales.
Rachel Fletcher, store manager at The Village Store at the University of Sheffield, says she has noticed big demand for grab-and-go products made for sharing.
"We go through a ridiculous number of big bags of crisps. We sell far, far more of the big bag varieties than we do of any of the small packets of crisps and I put it down to the shareable aspect," she says.
"Quite often we cannot keep up with the volume of sales of products such as Doritos and Sensations, as they just fly off the shelves."
It's not just savoury snacks that go down well with Rachel's customers, either. "We have also noticed in the past year or so that sales of the big bags of popcorn have sky-rocketed for us. I put this down to the quick and easy aspect. Consumers can grab a bag and head back to their place," she says.
Research reveals that almost half (48%) of consumers eat crisps, snacks and nuts when watching a film at home (HIM 2018), while 45% of snackers say that crisps are a must-have for an evening in (Mintel 2018).
For Dave Hunt, assistant retail manager at Spar, Hull University, crisps are certainly a top seller, with Doritos leading the way. "Doritos, Walkers Max Strong and Kettle Chips sell in high volumes here," he says. "They are so popular, and all sell really quickly, but Doritos is the big one for us."
While Doritos was the number one tortilla chip brand in the UK last year (Nielsen week ending 19 May 2018), Raj Aggarwal, owner of two Spar stores, in Leicester and Sheffield, says it's McCoy's that's king in his stores. "McCoy's plays a key role in my range and is always a top performer," he says.
Along with crisps, Dave says dips are another must stock item when appealing to the Big Night In crowd. "People often buy the big sharing bags along with dips. They will grab a bunch of bags and an assortment of dips and head over to one of their friends' apartments and share the food out," he says.
Richard Inglis, who owns three Welcome Co-op franchise stores in Southampton, agrees.
"The market has moved away from single packets and across to the sharing bags of crisps nowadays," he says. "We don't sell many standard size bags at all, let alone to those looking to have a night in front of the telly.
"Dips are popular with those who are looking to spend the night in, ranging from the fresh hummus – red pepper, reduced fat, caramelised onion hummus – to sour cream and chive, salsa, guacamole, to name a few. In our case, it's fresh dips which sell the best."
He adds that long-life salsa and sweet chilli sauces are also popular, "as people can buy them up in bulk and bring them out when they are hosting".
Earlier this year Hellmann's created a new range of sauces designed to tap into demand for big night in occasions. The Hellmann's Big Night In range features four flavours of sauce, created to accompany some of the nation's favourite food choices including: pizza (Chilli Garlic Sauce), chicken (Chilli BBQ Sauce); Mexican (Spicy Sauce); and kebab (Tzatziki Sauce). Rrp is £1.89.
The range has been based on the insight that consumers, especially those aged 16-35, are swapping nights out for nights on the sofa in front of the TV with a takeaway or home-cooked fakeaway (The NPD Group, April 2018).
Andre Burger, Unilever UK & Ireland vice-president, says: "Our range of sauces can offer consumers exciting new flavour pairings for dishes that are typically served up on a Big Night In occasion."
Brindisa moves into veg crisps with Torres brand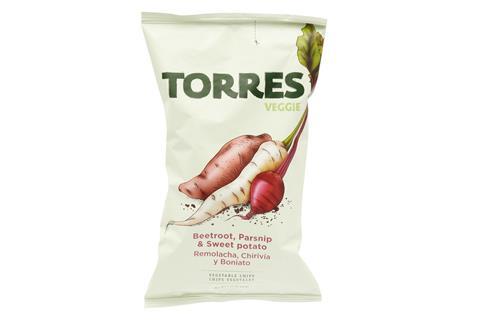 With shoppers keen to be healthy and try new flavours, premium Spanish snack supplier Brindisa is taking advantage of demand for vegetable-based sharing crisps with the introduction of a Torres Veggie sharing bag.
Featuring a mix of flavours including beetroot, parsnip and sweet potato, the 90g product is cooked by hand and suitable for those with a gluten intolerance.
The crisps are thin, crunchy and lightly seasoned to retain the essential flavour of the vegetables, giving a balance between sweet and savoury.
Brindisa chairman and product director Monika Linton says: "Torres are a real triumph for Brindisa. Their premium quality and exacting standards really align with how the snacking market has been evolving over the past few years. I'm sure that the new Veggie crisps will become a real hit."
Torres Veggie sharing bags are available now with a rrp of £2.70.
Keep it sweet
Another category that does a roaring Big Night In trade is confectionery, which also lends itself to the occasion's sharing culture.
"The confectionery category at our stores is just like the crisp market. Chocolate and sweets are all about the sharing bags now," says Richard. "The standard size bags are just not as popular as they used to be, and we have a huge range of own and branded products.
"Haribo is one of the standout brands for us. However, I would say that price is key; £1 and £1.50 bags are the drivers in sales within the category. Products off promotion don't sell as strongly as those on. We make the most of the deals and buy in extra cases."
Mark Walker, sales director at Swizzels, says: "As consumers remain conscious about their spending, the Big Night In is still a hugely popular trend. Sugar confectionery is a key purchase for shoppers looking for a Big Night In sweet treat and Swizzels has the perfect range of value-for-money share bags for family and friends to enjoy together.
"More than £1 in every £10 spent on sugar confectionery is being spent on Swizzels products, so stocking its best-selling brands is a must (IRI Total Market Value Data 52 weeks ending 16 June 2019)."
Dan Newell, confections marketing director at Mars Wrigley, says consumers are opting for larger, shareable formats within the confectionery category when it comes to nights in.
"The rise in popularity of the Big Night In has proven that sharing packs play a key role in the confectionery market as consumers are opting for larger formats to share everyday treats in company," Newell says.
"Consumers are increasingly looking for new, fun ways to indulge in confectionery and ways to enjoy their favourite chocolate brands, and there is no better occasion than a Big Night In for this."
It's no surprise then that M&Ms Crispy Large Choc Bag has seen a 16.1% increase in value sales year on year (Channel Ranking List), while Maltesers 100g single is the fourth largest boxed sku in the category and has seen a 138.1% increase year on year in value sales (Channel Ranking List).
Newell adds that Skittles is a vital stockline for convenience retailers looking to step up their Big Night In offering, with 60% of skittles consumed as an evening snack (Kantar Worldpanel).
Mars Wrigley recently introduced yogurt-covered Skittles to create a new Dips sub-brand – the company's biggest fruit confectionery launch of 2019. It is being positioning as a more premium sweet than Skittles Chewies, which launched in the convenience channel last year. Skittles Dips comes in four formats: 35g singles; 95g bags (£1 PMP); 115g pouches; and 150g pouches.
At Louise Hammond's Mace forecourt in Halesworth, Suffolk, it is all about sugar confectionery. "Our symbol group always has good deals around the whole sharing confectionery – in particular the sweet bags," she says.
Hooch Movie On Us campaign back for a second season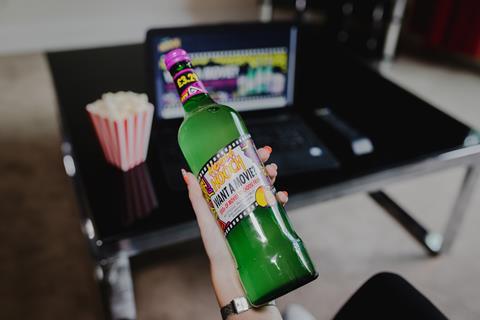 Hooch is bringing back its Movie On Us campaign and extending the giveaway promotion to more of its skus.
The on-pack offer will run across the brand's 440ml cans as well as its 70cl and 500ml bottles of Hooch Lemon Brew and Tropical Hoola Hooch.
Shoppers can watch a movie for every product purchased and the promotion will be hosted on a dedicated Hooch movies website, accessible through a scratch-off mechanism on the brand's cans and bottles.
Christian Sarginson, brand controller at brand owner Global Brands, says: "With huge blockbusters available in stunning UHD 4K, from the Marvel universe and 20th Century Fox through to hit box sets like Game of Thrones and Suits, the Movie on Us offer adds value for consumers and retailers alike. Perfectly suiting the Hooch consumer, our research and targeted approach will ensure that we help drive off-trade sales for retailers."
A movie-themed marketing campaign will run throughout autumn to support the promotion, comprising consumer advertising, a dedicated social plan and influencer videos set to reach more than 12 million consumers.
Dare to be different
While the Big Night In classics are showing no sign of slowing down, consumers are also demonstrating a taste for the more exotic when it comes to snacking.
According to Nick Widdowson, merchandising and creative controller for Partners for Growth, the British public are exploring more flavours than ever before. "The UK population is becoming increasingly diverse, with ethnic minorities set to make up one-fifth of it by 2051 and, at the same time, consumers' tastes are becoming more adventurous," he says.
More than 90% of consumers want to try something new when sharing foods with others (KP MMR 2018), which is something Louise has seen first-hand at her store in Suffolk. "I believe that folks nowadays have moved away from the 'ordinary' flavours and often look to try something a little different within their snacking habits," she says.
"Palates and minds expect flavour and the sharing scenario provides the perfect platform for consumers to mix and match and try something new and adventurous.
"We live in a multi-cultural nation with many influences. People often come in looking for Asian flavours and spicy foods."
Indian snacks supplier Cofresh says it has seen an impressive 40% growth in its core range of Asian mixes over the past 12 months and director of commercial sales & marketing, Debbie King, believes Millennials and the Netflix generation are increasingly inspired by food from around the world.
"One of the key consumer trends currently driving growth in the flourishing home snacking sector is the increased demand for new global tastes, textures and flavour profiles – especially Indian snacks which are the fastest growing taste adventure of choice," she says.
"The booming demand for bolder, spicier food continues to drive the popularity of globally-inspired snacks. Despite the fact that the total main aisle savoury snacks market – worth £3bn – grew at only 1% last year, the world snacks sector grew at 22.4%."
Pipers Crisps marketing manager Katy Hamblin says she has seen the snacking trends start to lean towards hotter flavours as consumers' tastes evolve.
"Currently Mediterranean herb flavours are an increasingly popular choice across Europe. Pipers' Jalapeño & Dill represents a unique flavour fusion, driven by the current trend towards heat and more globally influenced flavours.
"This is excellent news for convenience retailers as it creates an opportunity to make a real point of difference by premiumising their offer, helping them stand out from the competition on the high street while driving their customers' average spend."
KP Snacks invested £4m to promote its McCoy's Muchos range earlier this year in an attempt to tap into the growing trend for Mexican flavours. McCoy's Muchos are available in three flavours: cool sour cream & onion; tangy nacho cheese; and smokey chilli chicken. They come in eight x 180g packs (rrp £1.80) or 14 x 80g £1 pricemarks (PMPs available in nacho cheese and chilli chicken flavours only).
"Mexican is now the third most popular cuisine eaten at home in the UK, and the nation's fourth favourite takeaway, and its popularity shows no signs of slowing," says KP Snacks trading director Matt Collins.
Big flavours also came to the fore for Doritos launch Collisions, which feature a combination of two bold flavours in one bag. Senior brand manager Will Robinson says: "Collisions delivers two contrasting colourful tortilla chips paired with two different but complementary flavours in one bag."
They are available in two varieties – guacamole & habanero chilli (rrp £1/72g, rrp £1.99/162g) and honey glazed ribs & lemon blast (rrp £1.99/162g) flavours.
Nestlé adds more Munchies flavours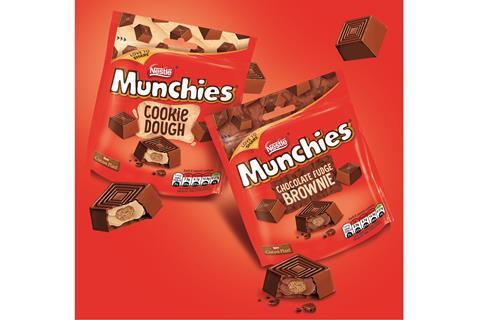 Fans of the Munchies chocolate brand will be pleased to know that Nestlé Confectionery has introduced two new flavours to its Munchies sharing range.
Munchies Chocolate Fudge Brownie and Munchies Cookie Dough, which are sold in 101g bags with a rrp of £1.59, are the first new Munchies products to launch in the UK and Ireland since 1996.
The two flavours were chosen after Nestlé consumer research conducted this year revealed that chocolate fudge brownie and cookie dough were the most popular flavours for a new variant of Munchies (consumer poll for six months development period).
Munchies brand manager Cat Mews says: "We are thrilled to bring these two tasty new flavours to our Munchies family. Our teams in York and Fawdon have worked tirelessly to bring these new flavours to our loyal Munchies fans.
"It's a real delight to see (and taste) the results of our hard work, reaction so far has been amazing, and we can't wait to see what's next for Munchies."
The two flavours are available now.
The main event
While snacks may suffice for some, others are looking to go big on their Big Night In and opt for a full meal. Dave believes these shoppers are often looking for quick and easy solutions, though, and frozen fits the bill.
"Customers like fast, convenient things such as frozen pizzas, chips and ready meals," he says. "Anything in our frozen section sells well to those who are just heading back home.
"We have put in a few new things recently, such as frozen burgers. We put them in to see how they sell. Everything has to be on the cheaper end, though, or customers would just grab a takeaway."
Shah Khan, senior marketing manager at frozen potato brand Aviko, says chips and added value potato products are essential products to stock for a Big Night In audience as they are the perfect accompaniment and sides to a variety of 'treat' and shareable meals.
"Make sure you stock oven chips, sweet potato fries, diced potatoes, hash browns and gratins," 
he advises.
"Pizzas and ready meals are always great meal solutions for group occasions, too. Burgers provide each consumer with a base in which to personalise their meal.
"Our range really does provide retailers with innovative and more premium products that are restaurant quality, but can still be prepared quickly and conveniently at home . This will really help stores to become a destination for shoppers on Big Night In shopping missions and this in turn will help increase basket spend and drive repeat custom."
Grenter at Brioche Pasquier points out that Big Night In food is all about convenience. "No one will want to do much proper cooking," he says. "However, particularly on cold nights, there needs to be a hot offering, and hot dogs or burgers are often the standby.
"Retailers can capitalise on this by stocking all the items required to serve loaded versions, which are right on trend and really easy for customers to prepare and serve."
For Richard, though, there is only one big winner when it comes to quick and easy Big Night In food: frozen pizza. "Whether you are old or young, frozen pizzas are the big one here, and this covers all brands as we sell a lot of Co-op own brand pizzas, as well as Chicago Town and so on," he says.
Chips 'n' Dip makes snacking simple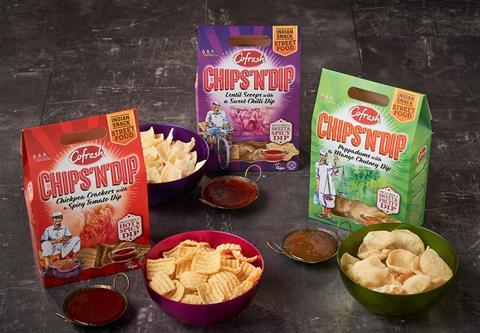 Cofresh has extended its Indian Street Food range with the addition of three Chips 'n' Dip snacks designed for the Big Night In occasion.
The snacks are based on the idea of traditional tiffin boxes and combine authentic Indian crisps/chips with a selection of dips, replicating the Indian starter experience at home and offering retailers a different addition to their snacking fixture.
Available in three variants – Chickpea Crackers with Spicy Tomato Dip, Lentil Scoops with Sweet Chilli Dip and Poppadums with Mango Chutney Dip – the range is suitable for both gluten-free and vegan diets (rrp £1.50).
Debbie King, director of commercial sales and marketing at Cofresh, says: "These new snacks are very much of the moment – they're a unique, new concept which deliver great taste and texture in one handy pack.
"They're a great snack for consumers to enjoy at home with friends for a big night in, or as an alternative 'to go' lunch option."
King adds: "Chips 'n' Dip is a great addition to our existing Street Food range and is guaranteed to bring something different to the snacks fixture.
"We're confident they'll appeal to consumers seeking a new snacking experience and will open up some great opportunities for retailers."
Destination desserts
While frozen savoury goods may take priority for some, Khan reminds retailers to "never forget about frozen desserts".
Within the frozen category, ice cream remains the popular dessert choice for home entertaining, with 75% of consumers stating they would offer it to their guests (Mortar London, March 2019).
At Richard's stores Ben & Jerry's ice cream leads the way in terms of brands. "It sells all year round in large amounts, without ever really dipping in volume. In fact, it makes up 20% of my total frozen sales, so it is a very important product range for us across all three stores."
The UK ice cream market is now worth more than £1.1bn, while within convenience, wrapped handheld ice cream are worth £230m, representing 63% of all ice cream sales. Tubs account for 37% of all category sales, valued at £137m (IRI 52 weeks value sales 20 July 2019 Convenience Channel).
Noel Clarke, vice-president of Refreshment Unilever, says: "Busy lifestyles, smaller households and convenient shopping have all had an impact on the category and we're seeing a trend for consumers moving to smaller, more indulgent formats when it comes to ice cream desserts."
Michelle Frost, general manager at Mars Chocolate Drinks and Treats, says ice cream in all its formats has "without doubt" become a popular dessert choice for Big Night In and at-home entertaining.
"It's important for retailers to stock a range of favourite confectionery brands in ice cream, to reap the sales benefits of familiarity and eye-catching packaging," she adds.
Widdowson highlights ice cream as a major Big Night In player. "Sales of ice cream bought for a special or treating occasion have soared over the past few years," he says. "With box sets and TV, film and sport-on-demand services becoming increasingly popular, staying in is becoming the new going out. This means snacking moments are as much about relaxing and being social as they are about eating."
More flavours from New Forest Ice Cream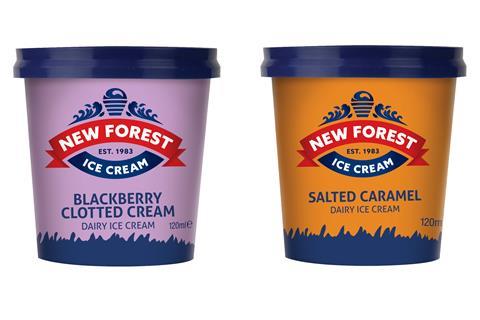 New Forest Ice Cream has extended its range of individual tubs with the addition of two new flavours.
The 120ml salted caramel and blackberry clotted cream variants feature a spoon-in-lid design, with the latter flavour using a clotted cream base and a sharp blend of blackberry fruits.
For those looking for something more decadent, the salted caramel tub contains a mixture of sticky caramel swirls and salted caramel ice cream.
New Forest Ice Cream director Christina Veal says: "Our blackberry clotted cream and salted caramel flavours are a welcomed addition to our range of 120ml individual tubs. We know that our customers love our salted caramel flavour in its premium scoop form, therefore we wanted to ensure it could be easily accessible for everyone, at any time.
"Our blackberry clotted cream is an entirely new flavour and is the perfect fruity addition to the 120ml range. The tempting blend of rich and creamy salted caramel ice cream combined with sweet caramel sauce is far too good for anyone to resist, while blackberry clotted cream offers a complete taste of nostalgia.
"Upon the first mouthful, childhood memories of blackberry-picking on a warm summer's day come flooding back."
All of New Forest Ice Cream's 120ml tubs are made with fresh double cream and carry an rrp of £1.65 each (available to c-stores in cases of 24 priced at £17.22).
Healthy eating
Catering for the Big Night In isn't all about indulgence, though, and health continues to be an important factor for consumers.
Cofresh's King says: "Consumer attitudes towards health are changing, with 53% of snackers now saying they're interested in healthier versions of their favourite snack product."
Widdowson agrees that health is becoming an increasingly important aspect of snack choice. "Some 68% of UK adults believe they should eat more healthily," he says, "so it is important for retailers to keep that angle covered".
Within the healthy alternative sector, free-from has begun to play a key role for Richard. "We do a range of alternative snacking products which cover gluten-free, free-from alternatives, vegan and vegetarian, as we know the rise within this part of the sector is huge," he says.
"We also stock a large range from a local company called Wilton Wholefoods, which supply a huge range of dried fruits, nuts, seeds and general snacks for those who are looking for that sort of thing – of which there are a lot of now. These are all a bit different, which my customers seem to love."
Richard is right that it's a big market to tap into. The UK free-from market is estimated at £837m (Mintel 2018), with more than a quarter (27%) of consumers having purchased or consumed specifically gluten-free products in the past six months (Mintel 2019).
King says: "Consumer demand for 'free from' and healthier snacking is a key opportunity. Many of today's consumers – especially Millennials and the Big Night In generation – have health at the top of their agendas and are actively seeking out great-tasting healthier snacks in preference to more traditional products. Healthier snacking is undoubtedly one of the strongest trends in the snacks arena and we firmly believe that the preference for 'good for you' products is here to stay.
"Cofresh Indian snacks and the Eat Real free-from and vegan range of plant-based healthier snacks are popular mainstays of the Big Night In. Core to the Eat Real range are the popular gluten-free, lactose-free and vegan-friendly Hummus, Lentil and Quinoa Chips, Quinoa Puffs and Veggie Straws, all available in 80-135g sharing bags."
As well as free-from alternatives, the vegetarian and vegan boom continues apace. According to The Vegan Society, the number of vegans in Britain has quadrupled in the past four years with 600,000 people following a vegan diet in 2018, while more than a quarter of all evening meals in the UK are vegan or vegetarian (Kantar Worldpanel 2018).
Terri Petrie, founder of gluten-free snacking brand So Gud, says that more than ever people are checking labels and taking care that what they eat is good for them – while still wanting to indulge in something delicious. "Our chocolate covered, and raspberry and white chocolate squares give people the opportunity to indulge themselves, without that guilty feeling," she says.
Big on advice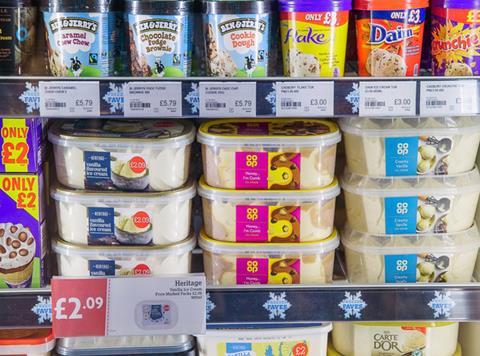 Kat Jones, marketing manager Ice Cream & Snacking at General Mills, gives her advice for maximising Big Night In sales:
Position POS and signage above aisles and in freezer windows to highlight Big Night In products, including ice cream and sharing confectionery
Take advantage of dual merchandising by stocking Big Night In products such as meal kits and alcohol together
Keep your freezers tidy and use space wisely by creating themed Big Night In sections, making it easy for consumers to pick up everything they need quickly and efficiently
Add sharing sizes such as Häagen-Dazs pints
In the colder months stock more indulgent ice cream flavours such as those from the Obsessions Collection.
Liquid refreshment
Of course, no Big Night In would be complete without an accompanying beverage, and soft drinks are just as important as snacks, according to Neil Lunn, UK trade marketing manager for Supermalt, who recommends putting the focus on premium.
"Premium soft drinks are increasingly popular," he says. "Whether it is fresh juices, smoothies, milkshakes for the younger market, or a range of malt products, energy drinks and carbonated beverages for the adult market, supplying an assortment of soft drinks can ensure a broader customer base and repeat business for Big Night In purchases is achieved."
At Rachel's University of Sheffield store, she can't fill the soft drinks shelves up often enough. "Lemonade is one of the top sellers across the entire store here. I suppose as it mixes with alcohol and people drink it by itself, so it just sells and sells and sells. Soft drinks as a whole are really popular.
"Rubicon always sells well here, too, all throughout the year. I think it is a really well-recognised brand that students at our store may know from home, or learn to like at university. We sell a lot of that."
Dave has seen shoppers gravitate towards large, sharing soft drinks at his store in Hull. "The bottles of big, often 2ltr fizzy pop are always big sellers for us for those people looking to have a night in," he says. "We know they buy them to take it and share it among their friends at home."
Data from the Office for National Statistics shows the proportion of adults who say they drink alcohol is at the lowest level on record, with 21% of adults not drinking alcohol at all.
"While alcohol does still sell well, we have noticed over the past 12 months that alcohol sales across the board are beginning to dip," Dave says. "There has been a significant change in people's mindsets and lifestyle choices, with the media highlighting drink awareness more than ever."
Get in the pink with Gordon's latest mini addition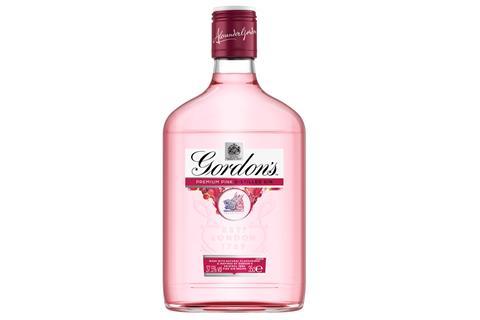 With gin the drink of choice for many these days, Gordon's smaller 35cl addition to its pink gin is set to prove popular with the Big Night In brigade.
Since its launch, Gordon's Premium Pink Distilled Gin has added £105m to the total gin category in the past year alone (Nielsen Scantrack, MAT end 18 May 2019).
Diageo GB innovation manager Katie Thomas says: "With the addition of a smaller size bottle catering for a wider range of occasions, we're confident that our new 35cl bottle will enable retailers to tap into a broader number of opportunities and will encourage trial of flavoured gin thanks to its accessible price point.
"With more than 200 new gins entering the market in the past two years alone and limited shelf space in store, retailers can be faced with hard decisions when it comes to what to stock. However, with the Gordon's trademark accounting for 44% of gin sales in the off-trade (Nielsen Scantrack, MAT volume to 18 May 2019), the numbers really do speak for themselves and we'd encourage all retailers to stock Gordon's Premium Pink Distilled Gin and Gordon's London Dry in 70cl and 35cl formats."
The smaller variant is available with a rrp of £11, while Gordon's Pink Gin comes in 1ltr (rrp £24) and 70cl bottles (rrp £16.50).
Ready to celebrate
That's not to say alcohol isn't in demand and for Richard, RTDs are a strong Big Night In seller.
"RTD cans are still a huge part of alcohol sales nowadays and the market most certainly has room for new products," he says. "Not everyone wants to buy an entire bottle for just one night in, so RTDs are the perfect stocker to appeal to those consumers."
Christian Sarginson, brand controller at Global Brands, says that cocktails have "boomed within the industry", with a shift towards RTD cocktail cans.
"Now gaining more popularity than ever before, this is something we expect to see continue to develop and evolve," he says. "The Global Brands portfolio is home to a number of canned RTD cocktails that are perfect for convenience retailers to stock and tap into popular trends. With the equivalent of nine cans in one box, they're perfect to share for a Big Night In."
Sarginson also highlights Hooch as a popular Big Night In choice. "Hooch Lemon Brew is another RTD category staple, especially catering for Big Nights In. More than half of Hooch consumers prefer to drink at home, which means retailers can further maximise sales by actively placing Hooch next to movie snacks and popcorn to encourage link-selling for a Big Night In."
Louise says RTD cans provide lots of options for people to share. "From my own experiences, I would say these are bought more for those who may even be on their way to a friend's place as well as when they're there.
"Our range of RTD cans has increased greatly in recent times, with gin and tonic RTDs a firm customer favourite."
Spirits continue to show widespread popularity, according to Scott Dickson, marketing manager at Loch Lomond Group, with vodka leading the way.
"Vodka continues to be the number one spirit of choice for a Big Night In, as it has a versatile base for both mixers and cocktails. Glen's Vodka has been the number one take-home brand in Scotland and the second best-selling vodka in the UK for years and the range continues to be hugely popular."
Vodka is up there as the top spirit seller in Rachel's store, which she puts down to price. "With spirits, price is key," she says. "We go through far more Glen's than Smirnoff, just because of the price difference. Gin has started to make an increase over the past year, which surprised us as it's often a little bit pricier. But vodka is still the way forward for us."
Vodka is also a major Big Night In line for Richard. "Vodka is the best seller by a long way for us. While gin is on trend and other alcohol is important to stock, for those looking to have a livelier night in vodka still most certainly leads the way."
Vodka or RTD, pizza or pack of crisps, how you merchandise can be the difference between securing a sale and missing out. With more than half (51%) of shoppers more likely to visit their local store if they offer themed promotions (HIM 2018), capitalising on effective merchandising is vital, according to Grenter.
"Many Big Nights In are a spur-of-the-moment arrangement, so consumers will often be picking up drinks, snacks and easily prepared items on their way to an occasion," he says. "This gives convenience stores the edge over multiples as shoppers will be looking for a quick and local shopping option."
What independents need to remember, though, is that customers will need to be able to find what they want quickly and easily, and may well be looking for inspiration on your shelves for snacks, treats and meal ideas to help them make a night in a little special.
"Make sure to give customers ideas with your displays, helping customers to make serving decisions through positive signage and good displays," Grenter says.
"Cross-merchandising will bring a selection together in one area which allows consumers to pick and mix from an edited range, encouraging them to pick up more than they might if they were roaming round the store trying to make decisions across all areas.
"A display might include items such as sharing packs of crisps, nuts, packs of confectionery and so on. Add dips, salsas and sauces, and tortilla chips for nachos," he advises.
Newell agrees that creating a clear display that communicates the Big Night In occasion draws shoppers into the fixture, and that cross-category promotions will encourage incremental purchases. "Remember to focus the display on products that are ideal for sharing and offer a variety of flavours for everyone to enjoy."
Khan believes that correctly executed merchandising can do more than just increase your sales for that one shopping trip – it can have a lasting effect for future sales.
"Giving shoppers a great in-store experience and offering them inspiration for their Big Night In will not only drive higher value basket spend, it will also drive customer loyalty long-term," he asserts.
So whether the preferred viewing is a paso doble on the Strictly dancefloor, or a Rugby World Cup clash of the Titans, give your shoppers all they need for a gathering around the TV and you'll ensure the Big Night In mission remains big for some time to come.