Retailers are hoping to match last summer's sizzling sales by offering a range of BBQ-ready lines across multiple product categories.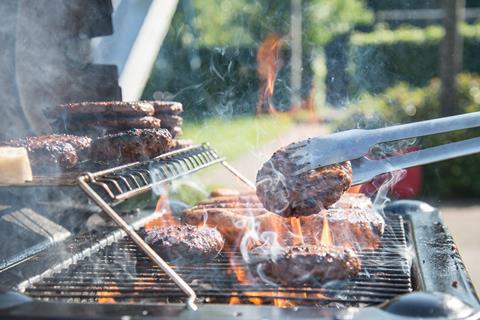 Despite not having the most predictable of climates, we Brits find it hard to resist an impromptu BBQ.
Getting together to enjoy some sizzling food and drink outdoors seems the perfect way to celebrate whenever the sun does shine and temperatures begin to edge above 20 degrees.
In fact, thanks in part to the sunny weather experienced by much of the UK last summer, 130.5 million barbecues were held across the country in 2018 – up 45.1% on the previous year (Kantar Worldpanel 52 w/e 2 December 2018).
Mark Canniford, owner of Spar Loxton Road in Weston-super-Mare, says he cashed in on demand for BBQ products thanks in part to the heat and last year's World Cup, making the most of the high temperatures and high spirits.
"We had a great season last year and we can only hope for more of the same this summer," he says. "With the store being situated in a housing estate, the BBQ shopping mission features more heavily for us than it would if we were on the high street.
"We are already looking at what we can do for this year as people have more confidence that the warmer weather will go on for longer and will be more likely to go for the BBQ idea."
It was also a good season for Simon Lunn, owner of Simply Fresh Axbridge in Somerset, and BBQ sales have already started to heat up over recent weeks.
He says: "The summer was nice and hot last year so hopefully we will do just as well this year.
"We've already brought some of our BBQ products out onto the shop floor, as much of the UK was hotter than most of Europe during the Easter holidays. It's all very seasonal so the weather usually dictates how high our sales will be."
Robert Kirkwood, owner of two Premier stores in Fife, is equally optimistic about BBQ sales. "We'll be hoping for high temperatures this year and are lucky to be really close to all our main suppliers so we can react quickly to any sudden demand caused by the weather."
African adventure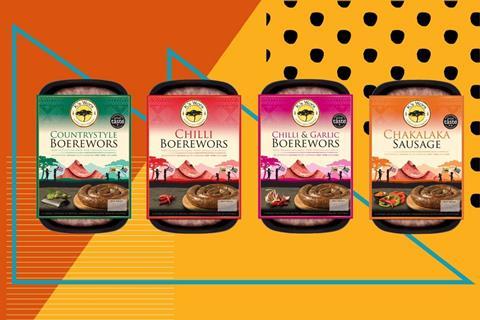 K's Wors is hoping to add some Southern African sizzle to BBQs this summer with its Boerewors sausages, which are made from cuts of beef, lamb and pork. The range is available to convenience stores now in 400g packs 
(rrp £5 each).
Meat must stocks
One of the first things most c-store retailers will think about when preparing for the BBQ season is their meat selection.
Simon's work with a local butcher helps to ensure that his chilled offer includes plenty of choice.
He explains: "We sell all the usual favourites that people expect to have when they go away or host a BBQ at home, so we work with our nearby butcher to bring in lots of burgers and sausages.
"We also do other things such as kebabs, ribs and minted lamb. The season tends to last longer now so we need to make sure that we offer lots of variety from now right up until the kids go back to school in September."
Robert is aiming to go all out with his BBQ burgers this year. They are sourced locally and some are made with a more unusual type of meat.
He says: "We get most of our meat from Fife supplier Puddledub so they provide us with our burgers and sausages. Because they are so local, the products are really fresh and can be ordered at the last minute.
"We are also bringing in a new range of buffalo burgers, from another company that is part of Puddledub's family, to try to offer something a bit different for our BBQ customers."
Robert also reports that diet- specific lines are also becoming important products to include in his BBQ line-up.
"We've just ordered a new range of gluten-free sausages from our local supplier so it will be interesting to see how they go," he says.
"We've also got some low-fat options that people can choose from, and we always have plenty of veg in stock. Peppers, lettuce and tomatoes are things you stock every day of the year, but you have to have them fresh at all times for a BBQ," he asserts.
Robert visits the cash and carry seven days a week to maintain his high standards and offer customers a wide selection of fresh veggies and diet alternatives.
While he acknowledges that burgers and sausages are still important BBQ elements, Matthew Grenter, sales manager at Brioche Pasquier, believes there are plenty of alternative or diet products that retailers should consider stocking as part of their BBQ offer.
He claims that barbecues have evolved in recent years, beyond mountains of meat. simple salad, and a few beers.
"As consumers adapt their eating habits to suit current trends, their buying patterns are also adapting," he says. "Stores should bear this in mind when it comes to BBQ displays and sales, thinking beyond meat, offering alternatives to the conventional bread roll, offering specialist diet-friendly options, and looking at other ways to make the BBQ offering attractive."
The figures back up his advice. Last year consumption of vegetarian products at BBQs across the UK increased by an impressive 236% (Kantar Worldpanel 52 w/e 2 December 2018).
Simon stocks a range of frozen Quorn products to cater for this demand. "It's still a relatively niche category for our customers who tend to buy regular options," he says."However, I wouldn't be surprised if this trend becomes a lot bigger for us in the future."
Grenter believes demand for vegetarian BBQ products is being driven by a wide range of consumers, not just non-meat eaters. "It's not just vegetarians and vegans who are eating more of these, and there are lots of vegetables that barbecue very well," he says.
Andre Burger, vice-president for foods at Unilever UK & Ireland, agrees: "With more than half a million UK consumers now following vegan diets (The Vegan Society, 2018), it's a given that meat-free and plant-based BBQs will increase in popularity again this summer," he says.
"The growing desire to follow a plant-based diet is based on key factors such as improving health and helping the environment. In fact, 34% of meat eaters in the UK reduced their meat consumption last year (Mintel, 2018) and this is only set to rise, which offers a huge opportunity for food brands."
Burger argues that lots of consumers are now looking for ways to recreate the veggie meals served in the foodservice or restaurant sector.
In response to this trend, Hellmann's has developed a range of premium vinaigrettes specifically designed for on-trend salads made with ingredients such as quinoa, lentils and couscous.
The new trio – mango vinaigrette, red pepper vinaigrette and tomato & beetroot vinaigrette – all contain fruit and vegetable pulp and are suitable for vegetarian and vegan diets.
And it's not just in food where healthier diets are having an impact. The alcohol category is also adapting. Simon reports that the alcohol category always does well throughout the BBQ season in his store, but this year he is expecting low- and no-alcohol lines to take a bigger share of the market.
He explains: "We've recently increased our no- and low-alcohol range and we'll be making sure that we stock the range in formats that are ready to go for a BBQ.
"We keep the category separate from other alcohol lines or soft drinks so that people can easily pick up these types of products if they are on that mission."
Toby Lancaster, category and shopper marketing director for Heineken UK, argues that this year's BBQ season provides retailers with a great opportunity to stock up on trendy, alternative drinks in the off licence.
"With the no-, low- and gluten-free beer and cider category in huge growth at 24% (Nielsen MAT sales value total coverage to 23 February 2019.), retailers should not underestimate the importance of incorporating a range into their stores," he says.
"We therefore recommend merchandising beer and cider alcohol-free alternatives next to their alcoholic counterparts to ensure all drinking occasions are catered for. With many consumers the designated driver at occasions such as BBQs and get-togethers, this will ensure retailers can unlock new revenue streams by meeting the increased growth and demand for healthier options."
South Devon Chilli Farm gets summer ready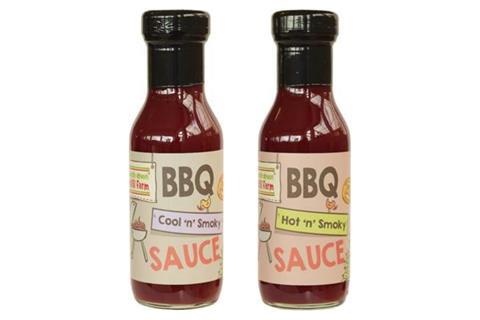 After a successful launch into ketchup, South Devon Chilli Farm is aiming to turn up the heat this summer with a BBQ-ready launch.
The company's new BBQ sauce comes in two variants: Cool 'n' Smoky; and Hot 'n' Smoky. Each one is sold in glass bottles with an rrp of £3.50 (wholesale price £2.28 per 280g unit).
Both varieties are made using allspice, chipotle chilli and black treacle. They can be used as a marinade for barbecued meats, or as a vegetable dip when mixed with mayonnaise.
The Cool 'n' Smoky sku also contains jalapeno chilli, while the brand's Hot 'n' Smoky variant is made with habanero chilli. Both sauces are gluten-free, suitable for vegetarians and vegans, and contain no artificial ingredients.
Kaz Lobendhan, trade director at South Devon Chilli Farm, says: "As interest in BBQ and chillies continues to grow, we identified BBQ sauces as a great opportunity 
to expand our offering.
"With the warm weather fast approaching, we hope that these sauces will become essentials for all occasions, from summer parties to BBQs on the beach."
Frozen options
C-store retailers shouldn't forget that frozen is another category that can benefit from the summer rush, and capitalise should the warm weather catch you out.
Mark is planning to rejig his freezer to cater for this demand – taking out some frozen vegetables such as large packs of peas, and instead replacing them with more BBQ-ready lines.
He says: "If your frozen range is doing well then that is always good news for a c-stores because it means you are doing well, too.
"It is always hard for smaller stores to manage waste in the chiller and keep everything fresh so it pays to use the freezer to bring in back-up burgers and sausages that people can buy in advance."
Mark adds: "The shelf life for these products is far longer so you can afford to stock up in bigger batches and ahead of time."
Robert's advice is to focus on more premium lines. He says: "When people have guests round for a BBQ they don't want to just buy the bargain lines. They want to show that they can go beyond that and are more willing to trade up to something more expensive than the standard frozen burgers priced at £1.99.
"BBQ season is like Christmas. Most people are happy to splash out on something special and are more likely to be open to trying new things."
Searing statistics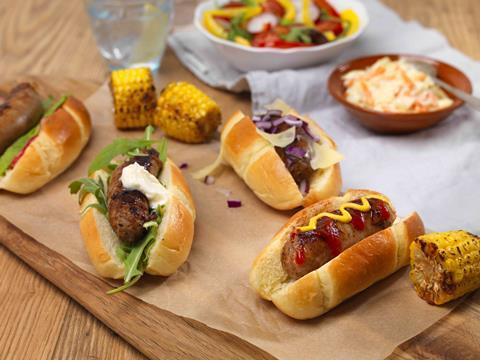 33% of consumers liken BBQs to a dinner party in terms of entertainment value
9.5 - The average number of BBQs held by each family during the summer season
£41 - Amount spent on food and drink products for an average BBQ in the UK
24% of consumers have BBQs in the spring, with 5% claiming to BBQ all year round
Source: National BBQ Week
All the extras
Siting complementary products such as tomato ketchup with burgers and sausages or mayonnaise with salad bags is vital for retailers to drive additional purchases, claims Matthew Trembath, channel category manager at Unilever. "Summer is a very important season for the table sauces, dressings and condiments category because of BBQs and summer parties," he says.
"With 99% of households buying these products, they are key top-up items in convenience stores. That's why it is so important to have the top sellers available. If the customer can't see it or it isn't available, they will simply shop elsewhere."
Grenter says that linked BBQ products should be merchandised as a group to boost sales: "At certain times of year it makes sense to have special displays that bring together products from different parts of the store," he says.
"A display might include relishes, salsas, sauces, marinades, mustards, rolls, crisps, soft drinks, paper plates, cups and napkins. Stores can introduce a BBQ section in the fridge too, with grill-ready meats, fish and vegetarian items brought together in one place."
Simon likes to make sure that his store has plenty of bread rolls, coleslaw pots and salad bags ready to sell alongside the rest of his BBQ offering. This is particularly beneficial because he caters for holidaymakers.
"These are the kind of products that people forget about," he explains. "If people are going for a weekend away and decide to have a BBQ they can't take everything with them. That's why it's important that we keep these lines stocked up throughout the summer."
Non-food extras, such as charcoal, kitchen roll and paper plates, are also well catered for in Simon's Simply Fresh store.
He says: "We don't do a specific BBQ display, but we do like to keep complementary items together depending on what's on promotion, like putting charcoal and packs of kitchen roll on a gondola end.
"We also sell a small number of disposable BBQs that are perfect for people who don't want to bring all the equipment with them when they are on holiday."
He adds: "They are also great for people on the beach who can get everything ready to go in 30 minutes."
Top tips for selling BBQ sauces and dressings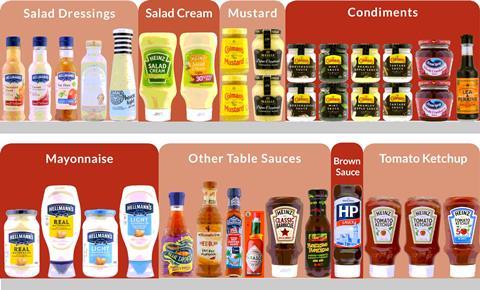 Partners for Growth offers this advice for merchandising sauces and dressings throughout the BBQ season:
Put the category where people can see it. Help boost sales by placing the category in a prominent area, within grocery and near other savoury products such as stock cubes, cooking oil, cooking sauces and pickles
Divide the fixture into product groups. Help shoppers by separating the display into three sub categories: table sauces; dressings; and condiments. If space allows, include lighter variants which have grown in popularity as people have become more health conscious
Don't miss out on seasonal sales. In the summer, retailers can really capitalise on the BBQ season with a fixture including mayonnaise, salad cream and dressings
Stock best sellers and stick to brands – 63% of customers who don't make a purchase say it's because what they wanted to buy wasn't available, so offer the top-selling brands such as Hellmann's Mayonnaise and Heinz Tomato Ketchup
Keep your fixture well stocked. Make sure you're always stocked up and that products are in the right place with the correct pricing label clearly visible. Shoppers are unlikely to replace one format with another, such as mayonnaise for salad cream.