South Devon Chilli Farm is updating its portfolio of chilli chocolates with a fresh look and two new flavours: flaked sea salt; and roasted cocoa nibs.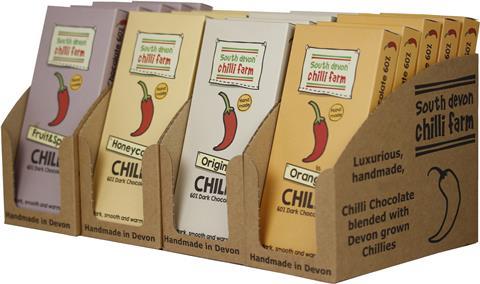 The new additions join the brand's four existing flavours: honeycomb; original; orange; and fruit & spice. All of the chocolates are presented in colourful boxes and supplied in shelf ready cases with a tear-off top.
The combination of chillies and chocolate has been popular in South America since the Mayans and Aztecs. South Devon Chilli Farm uses a blend of 60% cocoa Belgian chocolate and Devon-grown chillies to create its range.
Kaz Lobendhan, trade director for South Devon Chilli Farm, said: "We're super excited about our chilli chocolate range. We think the boxes will look great on the shelves and attract lots of attention from customers.
"We're especially thrilled about joining forces with our South West friends, Cornish Sea Salt, to create a flavourful partnership of chocolate, chilli and salt."
South Devon Chilli Farm's chilli chocolates come in an 80g format with an rrp of £3.80 (trade price: £2.10 + VAT).