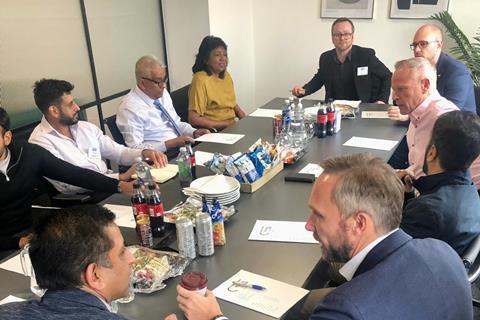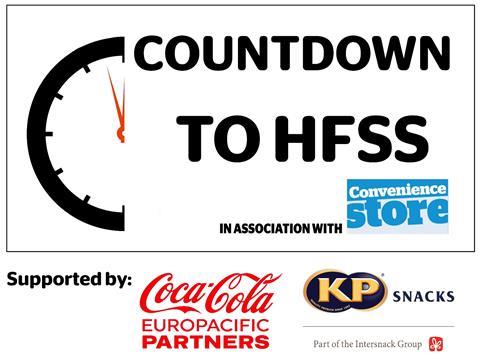 With HFSS legislation less than six months away and some areas still unclear for convenience retailers, concerns are starting to rise about the cost and logistical implications of adhering to these rules.
While everyone agrees that the sentiment behind the legislation, with the goal of reducing childhood obesity, is worthy, the lack of details on which retailers are exempt or not is causing confusion.
To help retailers understand the issue, discuss the legislation and discover what support is out there, ConvenienceStore.co.uk held a roundtable with major symbol groups retailers as well as Countdown to HFSS supporters CCEP and KP Snacks in attendance.
Volume restrictions
One of the key concerns to come out of the roundtable was if a store was just over 2,000 sq ft, could they skirt around the location restrictions by reducing the floor space of the site. As per the Association of Convenience Store's (ACS) Assured Advice guide on HFSS, the 2,000 sq ft is only retail floor space with exemptions such as stock rooms, food preparation areas and seating areas in place. While it won't work for every retailer, those that can reduce their eligible floor space have a decision to make which could be a costly one if they cut their selling space too much or are faced with limitations on where they can stock products.
This potential work-around also raised the issue of whether that was the right thing to do, with Atul Sodha of Londis Harefield in Middlesex raising if retailers looking to find the loophole was in the spirit of the legislation.
Atul also raised the point that retailers who are well under the 2,000 sq ft threshold could get involved with this as it's the right thing to do. "I'm a 650 sq ft store, so I can quite easily turn around and say they [location restrictions] don't apply to me but actually there's a benefit to be had by me doing the right thing within my community and then shouting about it and using it as a marketing tool."
Nisa retailer Siva Thievanayagam said his stores were already taking steps on the issue and was positive about the changes coming down the road. "We don't do 'buy one get one free' deals - we stopped doing them a long time ago. The government's doing the right things for the next generation.
"We can do a good business with these sugar free lines, possible make better margins. I think it's an opportunity."
However, Navin Soni of Thrifty's did warn that it could be problematic for some stores, particularly with many of his shoppers working to a very strict budget.
Symbol group concerns
One of the main areas of discussion was the work being done by symbol groups ahead of HFSS legislation being implemented in October. With one retailer revealing that their store was to be a trial site for one of the symbol groups, concerns were raised over how short notice this would be for retailers particularly as this legislation has been in the pipeline for some time now.
Spar retailer Julian Taylor-Green raised the point that it's short notice for store owners to make any changes if they need to. "The challenge around HFSS is the speed and the time that we've got to expedite changes. Bear in mind that there will be for some people some store development work needed to be done. And there's only so many store development companies out there, and they are challenged in terms of staffing and they are challenged in terms of equipment as well."
Julian also raised the point about promotions among symbol groups and that they're not likely to have promotional activity for stores that don't need to comply that is different for stores that do.
One of the main bones of contention was symbol group participation in the legislation. Despite updated guidance being published by the government, there is still a lack of clarity on whether or not symbol group members should be considered for promotional restrictions. Symbol groups are split about whether or not the legislation applies to their members but retailers have been advised to determine if their contract meets what the HFSS regulations determine as a 'franchise agreement.
The criteria is:
1. You agree with another party to the sale or distribution of food.
2. You agree with another party to the supply of particular food products specified in an agreement.
3. You agree with another party to comparable contractual arrangements as other businesses to:
a) products provided by the franchisor.
b) the internal or external appearance of the premise.
c) the business model used for the operation of the business
Manufacturer activity
With KP Snacks and CCEP attending the roundtable, retailers had the opportunity to ask suppliers directly what they're doing. KP Snacks recently announced a reformulation of its key lines ahead of the legislation's implementation date of 1 October.
KP Snacks trading director Matt Collins said manufacturers don't have the same excuses retailers do. "We've been planning [for HFSS] some time. So originally, we were working to the first of April, and we've had six months delay. So, from the manufacturer side, I don't think there are excuses for not being ready.
We have to have a balance of the portfolio, whether that's through reformulation or innovation, and then help retailers whether it's the field sales teams in stores helping or through logos on packs or cases to say this product is compliant or isn't compliant, to sending updated merchandising guides that say these products are compliant or not."
CCEP GB strategic projects HFSS lead Aaron Patel explained that this stretches beyond retail. "Ultimately, the whole obesity piece is more complex than any brand or category. It's a massive issue that needs to start in schools. It's this far beyond Coca Cola and retailers and pulls in many areas."
Enforcement
One retailer questioned how the whole initiative is going to be enforced. "One of the biggest issues is that if I'm trying to do as much as I possibly can to be a responsible retailer, and I've got a store near me that doesn't, the fairness element is always going to be an issue for us."
While it was suggested that retailers would be able to report those not complying with the legislation, questions were raised regarding if the resources were there for trading standards to enforce it properly."
Opportunity
Atul raised the point that if the multiples will be affected more by the legislation, does that provide opportunity for brands to focus on the independent channel? "Some brands do loads of stuff in stores. And they are seeing that they're going to lose all this in multiples, so does it get moved somewhere else?"
While discussing brands, Sid added that this could be a great opportunity for challenger brands that are non-HFSS to take advantage of the situation.
Sid said that while it could be problematic for retailers, it could result in a shifting of the customer journey. "We've all got cold spots in the store," he explains. "Traditionally all stores are laid out pretty formulaically. And you're always going to have hot spots and cold spots. So this is maybe balancing that and pushing the heat around the store a bit more."
Costcutter retailer Sue Nithyanandan looked at what simple changes she could make. "We won't have any chocolates on the counter like we normally would, that's something I think we can start doing right away."
Countdown to HFSS roundtable participants
Aidan Fortune, ConvenienceStore.co.uk
Sid Sidhu, Budgens
Julian Taylor-Green, Spar
Sue Nithyanandan, Costcutter
Subramaniam Nithyanandan, Costcutter
Navin Soni, Thrifty's
Siva Thievanayagam, Nisa
Atul Sodha, Londis
Chris Noice, ACS
Amy Burgess, CCEP
Aaron Patel, CCEP
Zoe Ashton, KP Snacks
Matt Collins, KP Snacks