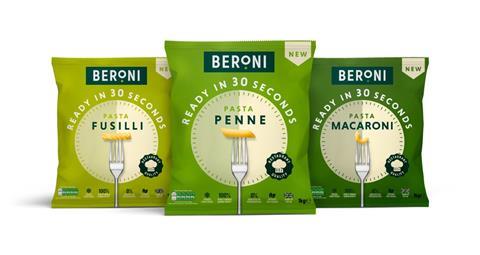 Fresh frozen pasta brand Beroni, which can be prepared in as little as 30 seconds, has secured its latest listing with the AF Blakemore group, which will stock the product in the 81 Spar stores that it owns across the UK.
With families increasingly looking for quick meal solutions, and with speed to prepare being a key consideration for shoppers when buying pasta, Beroni claims to meet these needs because it can be cooked in boiling water in only 30 seconds; microwaved at 800W for 2 minutes and 30 seconds or pan or wok-fried in 3 minutes. It contains no preservatives or additives. It is also suitable for vegans.
According to the brand, pasta was one of the top four grocery items bought during the first Covid lockdown and it remains one of the four items that households expect to continue consuming more of moving forward.
Developed and manufactured in the UK, Beroni pasta dough is freshly prepared by mixing the durum wheat semolina with water. The fresh dough is then shaped into penne, fusilli or macaroni formats before being cooked 'al dente' then immediately frozen to preserve its freshness.
Andrew Cole of Beroni said: "We're delighted that Spar customers are now going to be able to enjoy restaurant-quality pasta in the comfort of their own homes. Many families want to eat well and eat healthily but have pressures on their time, so to be able to bring them the quality and convenience of Beroni is very exciting."
Beroni pasta is produced in recyclable 1kg bags with an estimated RRP of £3.09 per pack.
Manufactured in the UK by Ebrofrost, which has supplied fresh frozen pasta to restaurants around the world since 1998, Beroni is a three-way joint venture with FMCG and retail specialist Bridgethorne, which will handle commercial and marketing activity, and Food Team International, which will handle retail distribution and logistics.