Froneri has grown its indulgent Extrȇme ice cream range with the launch of a new Brownies & Cream flavoured cone.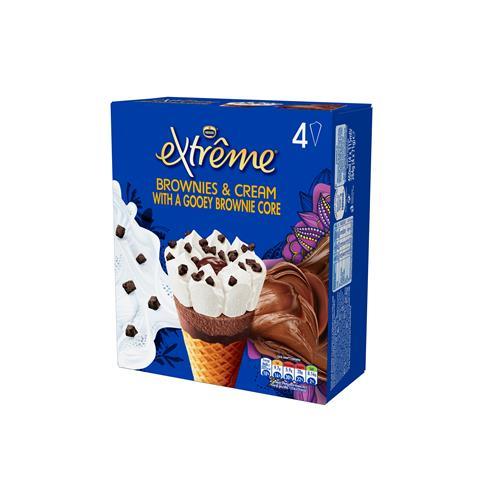 The new cone features smooth cream and rich chocolate ice creams, contrasting textures of chewy brownie pieces and a gooey brownie core.
It joins existing variants in the Extrȇme range including Salted Caramel and White Chocolate, Gooey Chocolate Fudge, and Raspberry Sorbet and Double Cream.
Priding itself on providing "unexpected indulgence" with its range of products, Extrȇme continues to grow market share, accounting for 17% of branded cones, with the Extrȇme brand now worth £9.4m according to Froneri.
UK head of marketing Brunhilde van Antwerp said: "Extrȇme continues to thrive thanks to the innovative combination of flavours and textures which allow us to drive satisfaction from the first lick to the last bite!"
The Extrȇme Brownies and Cream Cone is available now in a multipack of four with an rrp of £3.