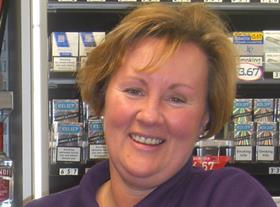 It is now 15 months since Aldi opened up right next door to our store, and so we are now getting meaningful comparison figures with sales from last year as we are into our second year of trading alongside them.
I'm happy to report that sales are up substantially: 10% increase in January year on year, with February not far behind that.
Drilling down into the figures, it is without doubt thanks to our new food-to-go operation. Not only is it generating more than £2,200 per week, it is also bringing in another £3,000 per week at least in additional sales, and all this from a customer base that is mostly new to the store.
The range of hot foods includes delicious hot pies from a renowned local butcher, which provide a good point of difference.
Footfall is relatively unchanged, so while it's apparent that we have lost a fair bit of regular trade, we have replaced it with customers who actually spend more in the store. We can say with complete confidence that putting in the Premier Deli saved the store from a terminal and inevitable decline.
However, never ones to rest on our laurels we are already looking at a mini refit to restructure our offering. We need to analyse space ruthlessly and find permanent places for new opportunities such as a carbonated slush station and all-year-round impulse ice cream.
We know that we can do better on high-margin areas such as cards and gift wrap, and we could also do with stealing some more space for food to go. We are always looking for ways to boost that all-important footfall.