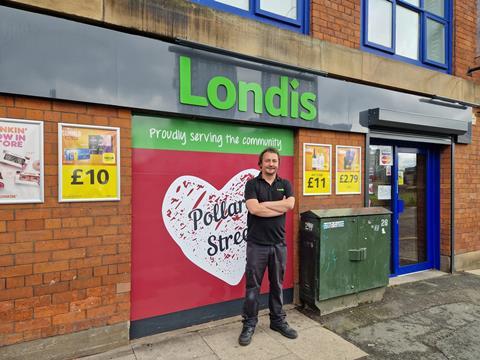 Although only 600sq ft, Londis Pollard doesn't seem crammed with products and has enough open space to allow some flexibility for ranging and for the customers to browse the aisles. The building's listed status means that some brickwork has to remain exposed, something the management has incorporated into the design to give it an industrial look.
Manager Richard Williams explains that the range is constantly shifting. "It's a real challenge to fit all the wants and needs into 600 sq. ft, we went for a maximum breadth of range with our products with a maximum SKU count of 2,500 and we are still consistently analysing and evolving the store. For example many of the younger base of customers were asking for vegan products so we introduced an entire vegan bay which has a current retail sales value of £180 per week and 25%POR."
The building being listed also brought other challenges such as the lack of visibility of the store from three of its four sides. With this in mind, the team created an active marketing plan to ensure full awareness of the new site. By using Facebook, and Twitter, they engaged with the local community and are also members of the Albion Works residents group which has 1.3k members.
Richard explains that the apartments nearby provide a steady trade for the store. "We get a lot of people looking for a quick meal for tonight so we have quite a large frozen range including Jack's that caters for that demographic." There are also lots of Air BnBs in the area and Richard has worked with the owners to ensure that visitors come to them for their essentials.
While the rising cost of living is hitting everyone, Richard says that his customers aren't afraid to treat themselves. "Our customers will pay for brand names and something that's a bit different. We sell American confectionery and soft drinks, and our customers love them. Everything in this store has to justify its place so if something isn't doing well, then it can't stay.
"Our customers are very brand driven and are not put off by premium products, as such we have recently introduced Dunkin donuts to complement our costa coffee and these are now selling at 35 packs of donuts per week."
With more building work taking place in the area, not only is the store likely to have a larger customer base but it also benefits from a roaring lunchtime trade for the construction workers with sandwiches and snacks ready for them as soon as they enter.
It's also along the main route from the city centre to the Etihad Stadium so when Manchester City is playing at home, the road is packed and so is the store.
A green space across the road from the store provides a good location for customers to enjoy a drink in the warm weather but Richard does have to keep an eye out. "We do get some people causing trouble there and we're part of a community crime partnership which helps provide a louder voice when we're reporting incidents." Although this hasn't deterred the team's plans to introduce a slushie machine.
The store is connected to a bar which they share storage space for however Richard is hoping to expand in the near future. "I think we've exhausted every inch of the store and there's so much potential to do more."
One area that Richard is very keen to grow is its vaping section. Currently located by the counter, he says they can't refill it fast enough and believes there's potential to increase sales in the category. "I'm currently in talks with the owners about it but I think there's massive opportunity to grow sales even more with more space."