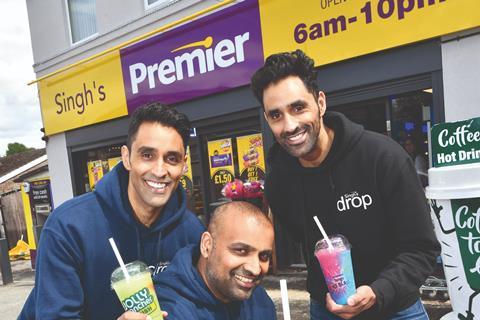 The Singh family has long been a leading light in the convenience sector, always willing to innovate at their Premier store but when shopping habits changed, they knew they had to change with them.
The family identified that the way shoppers use convenience stores has changed over the past few years and to keep up with these changes, they realised that they had to evolve their store to reflect the latest and emerging trends.
To do this, they embarked on a fullscale refit and extension of the store that allowed them completely redesign the store to reflect the latest trends and consumer shopping habits.
The store now measures 1,750 square feet and the team has repositioned everything from the service counter to the chillers and freezers. The food to go area is completely new and includes the Refresh At Premier Zone that features F'real, Tango Ice Blast, Fanta Frozen, Jolly Rancher, Hershey Milk Shakes and coffee and hot chocolate which has seen a great reaction from shoppers.
The family has also opened up the shop front to allow greater visibility into the store, with clear value messages to help drive footfall. They also trialled the new Premier Point of Sale which has now rolled out across the whole estate.
The food to go area also includes a wide range of hot and cold sandwiches, as well as sausage rolls and pastries, with margins as much as 70% on some lines.
Identifying that more people are shopping local than ever before and demanding more fresh and chilled foods, the Singhs more than doubled their fresh and chilled space to over 10 metres, which has seen the introduction of over 200 new lines from Booker Retail Partners, local suppliers and their local Booker branch range.
They also introduced a new frozen food zone at the back of the store, where they have doubled the space to 10m of upright freezers.
The new Vaping At Premier section include three full bays on the shop floor of full vaping solutions which is attracting new shoppers that would have previously gone into town for these products and is already taking over £5,000 a week
Another innovation is the dedicated 'Beer cave' which allows them to increase their chilled beer, wine and spirit range and it has skylights in the ceiling to draw shoppers into the room. They also stock beer kegs and are selling 50 a day.
Already big on home delivery, the brothers wanted to stand out from the crowd and do things differently than simply using Uber Eats, Deliveroo or any other platform so this meant creating their own brand, 'Singh's Drop'. The Singh's Drop delivery service is provided using a fleet of vehicles – all delivering within 30 minutes.