Sales Colleague of the Year winner Lisa James of Spar Beddau talks us through her journey with Snappy Shopper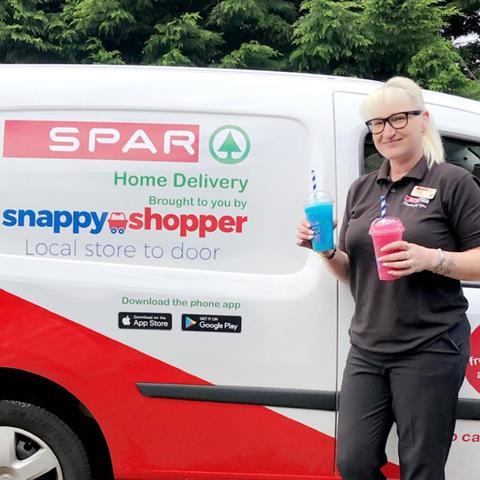 When Spar Beddau in Pontypridd, Wales, took on Snappy Shopper during covid, it provided our Convenience Awards Sales Colleague of the Year Lisa James with the perfect vehicle to prove just how capable she is.
The service was introduced to the store in July 2020, but it wasn't an instant hit. "To look back at where it started and the struggles - every day you'd come to work thinking 'how many orders are going to come in? Is the driver even gonna turn up today?" she says. "They were paid per delivery and sometimes we weren't having enough orders so they weren't getting enough money and you know, it was slow burner."
Unperturbed at the rocky start, Lisa took matters into her own hands. "I was off doing deliveries in my car," she says.
She also took on the marketing side of things to raise awareness of the new service. "I joined all the local hubs for the places that we would deliver to and then just keep putting a reminder on to these hubs that the service is available if you need to use it," she explains. "I write the posts myself and just use the Snappy Shopper logo to get attention."
One the service became established the orders came in thick and fast. "We finally got ourselves a regular driver and we've gone from one driver to now extending the operating times of snappy shop. And we now have six drivers with us all on different shifts!"
She claims that delivery customers are relatively big spenders compared with bricks and mortar shoppers. "When you run into the shop and you're in a dash, you get your milk and go", she says. "But when they're at home just scrolling through the menu on their phone they do tend to spend more."
By using social media to ask customers how to improve the service, she has tweaked the offer to make it more relevant to her customer base. "Snappy Shopper gives you a generic menu with what they would class as the most popular lines, but there were a few people commenting that there was a certain butter they would normally buy, so you can add that line on for them. You have to change things to meet your customers' needs."
Lisa takes a genuine interest in tracking the services' sales figures. "We get sent the KPI reports and we're looking at our sales for the week, what new customers we gained etc." she says. "You have to kind of analyse it and make sense of it. So what I will do every evening when I'm at home, I can log on to our Snappy Shopper admin portal and I can see. Then if there's a decrease in sales between certain times, then I would go to the hubs and promote it again [at those times]."
She also pays attention to seasonal events that may impact demand. "Sometimes Snappy offers free delivery, like when the rugby was on, so I would just post that online, so you're tying it in with events," she says. "It's just about having a bit more awareness of when people have got friends around and are likely to really need the delivery."
Her dedicated approach certainly seems to be working. While some stores found that demand for deliveries dwindled after the lockdown restrictions lifted, Lisa has found the opposite. "If anything, demand has grown," she says. "People have become reliant on it. There's still a lot of people that are too scared to go out to the shops, but it also has become too convenient for some." The service continues to grow and currently brings in a respectable £7,000 a week.
She has since helped to implement Snappy at neighbouring Spar Rhydyfelin. "Back last year we had a big refurb at Beddau, so the staff moved over then to another store and we took Snappy Shopper with us as we didn't want to disappoint the customers," she explains. "We showed them how to keep popping it in people's faces on Facebook and how to deal with the demands of the orders coming through thick and fast. After we came back to our store, they kept Snappy Shopper running in theirs."
Lisa is immensely proud of her and her team's success with the delivery service. "It was my baby and to be fair to the team, they all pulled together to get it right," she says. "Seeing how it took off and watching it grow day by day has got to be my proudest moment, it's been amazing."
The judges at The Convenience Awards were hugely impressed with Lisa's achievements across home delivery, as well as the many other areas of retail, presenting her with the Sales Colleague of the Year award at a glittering ceremony at The Londoner on 13th September.