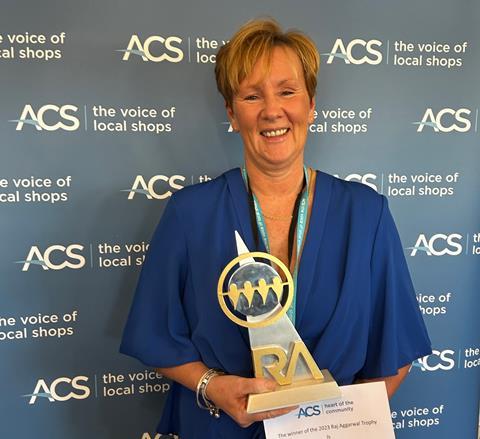 The Raj Aggarwal Trophy for outstanding community retailing was awarded to Linda Williams of Broadway Convenience Store in Oxgangs, Edinburgh, at the Association of Convenience Stores' Heart of the Community event, which took place yesterday in Westminster, London.
The award, which was created to mark the legacy of independent retailer and community champion Raj Aggarwal who tragically lost his life to covid, was presented by Kevin Hollinrake MP, Minister for Enterprise, Markets and Small Business at the Terrace Pavilion in the Houses of Parliament.
Upon receiving the trophy, Linda, who runs the store with husband Dennis and daughter Sophie, said: "Raj was a great example for us all to follow and he paid the ultimate sacrifice and we're very honoured to receive this in his name."
Joanna Berry, MP for Edinburgh South West, described Linda as a pillar of the community. "I really can't think of anyone more deserving of this award than Linda and I'm very proud to be her local member of parliament," she said.
Ahead of the awards ceremony, Linda and award finalists Trudy Davies, who owns Woosnam & Davies News in Llandiloes, Wales, and Sheela Keshwara of Spar Priory Road, Lincolnshire, took to the stage to speak about their fantastic community work.
The team at Broadway Convenience has worked tirelessly to create a safe environment where members of the public know they can seek refuge, as well as helping to bring people together and assisting local groups. They have also raised thousands of pounds for members of the community suffering from terminal and life threatening illnesses by organising fundraisers with dance groups, singing and raffle prizes.
They have also taken children who were struggling at school and helped put them back on track by giving them work in the store and helping to give their lives structure. What's more, they have helped to build bridges between the local community and the army community at the nearby barracks by employing army wives to work in the store.
Linda said: "When you live and work in a place and you are part of that community it is natural to want the best for your friends and neighbours who are also your customers. When people need a bit of a boost with fundraisers or helping out with the school - these things benefit everybody. If you live in a happy, healthy community, it's only going to help your business."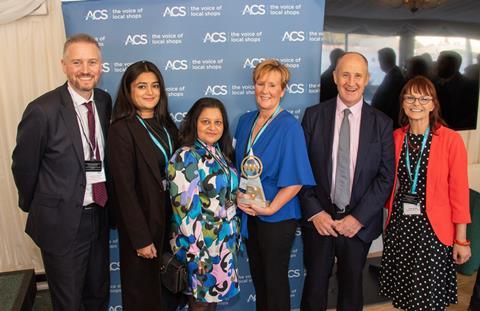 Spar Priory Road is also extremely supportive of community groups. "When we took over in 2021 we wanted to base ourselves around being the hub of the community," explained Sheela, who encourages local groups to ask for help with fundraisers and has supported schools, football teams, local suppliers and businesses. "We think that there's space for everyone to shine," she added.
Trudy also shared some of the many initiatives she has set up to help local people. She was the first store in Wales to buy a publicly accessible bleed kit. She has also helped numerous local groups and has set up the Llani Love knitting group where wool donated to the store is turned into clothing and blankets and then distributed to the local area. "I love my community," said Trudy. "To give back is something I feel I should always strive to do."
ACS chief executive James Lowman said: "Congratulations to the Williams Family who are deserved winners of this award, which highlights the very best of community retailing. The competition was extremely close - all three of the finalists are doing incredible work locally and it was great to hear so many examples of community activity that make a real difference."
The entries were judged by Sunita Aggarwal, Raj's wife and owner of Spar Wigston; Jonathan James, managing director of James Convenience Retail, and Avtar Sidhu, owner of Budgens Kenilworth. The winner was then voted for on the day by retailers and suppliers in attendance.