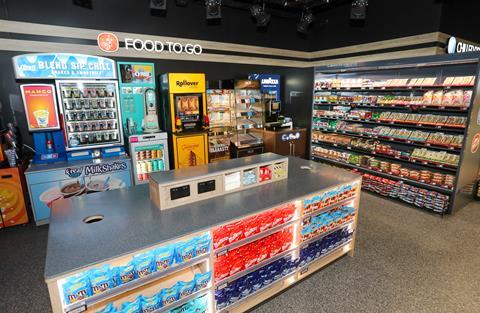 Lawrences Garages Group has re-opened its Co-op Welcome store in Sholing, Southampton, after a fire destroyed the forecourt-based store last June.
The fire, which was started by an electrical fault with a freezer on the shopfloor, left the team "heartbroken", but director Ben Lawrence was keen to make the best of a bad situation by upgrading the store and ensuring it was ready for the HFSS legislation, which is due to come into force this October.
"I'm not saying the fire came at a good time, but with the HFSS legislation, the forecourt trade has to understand that that's around the corner and a lot of stores will be really affected by it," says Ben.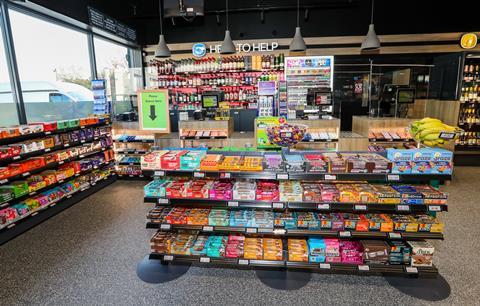 Previously, much of the store's food to go offer was near the store entrance, so the decision was made to install a food to go zone at the back of the store.
"This is an old M&S site which used to have chillers at the back, which were back fed," explains Ben. "We cut into that and opened that area up to expand the shop and make it into a food to go area." This expanded the total floorspace by around 20%, to 2,400sq ft.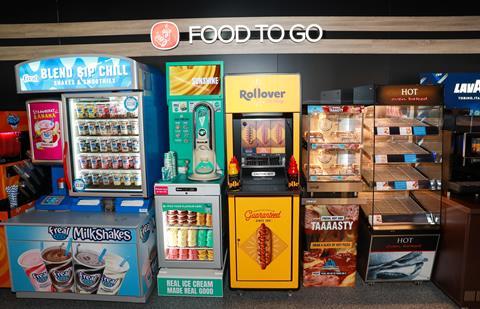 The new area includes Dunkin' Donuts, two Lavazza coffee machines, hot pizza slices from Chicago Town, and Rollover Hot Dogs, as well as Tango Ice Blast, Fwip, and F'Real. Customised stands provide extra wow factor. "We've done a lot of bespoke units so we can advertise our pastries and Dunkin Donuts," says Ben.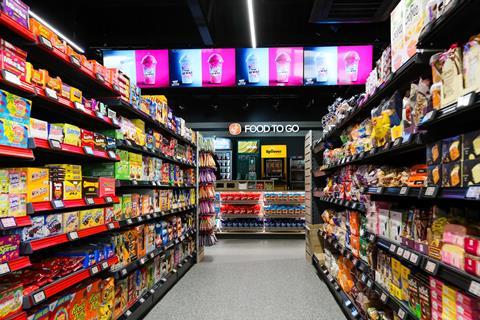 Ensuring that the area is highly visible was a major factor in the redesign. Four 50" plasma tv screens, which cost £10,000, are lined up above the area, advertising the various products and brands. "When you walk in, that's what hits you and you want to investigate it," says Ben. "We're dragging people over. The screens came with a subscription to upload media content [which has been provided by suppliers] - there's a cloud-based website you can drag and drop into it. We have it hardwired to our broadband."
In addition, the firm is installing mini shelf edge screens called Shelfies. The store will receive a monthly fee for housing the screens, which carry digital marketing.
Meanwhile, a £20,000 investment in lighting includes LED strips, as well as stage rigging and spotlights around the Food To Go area to make the area truly unmissable.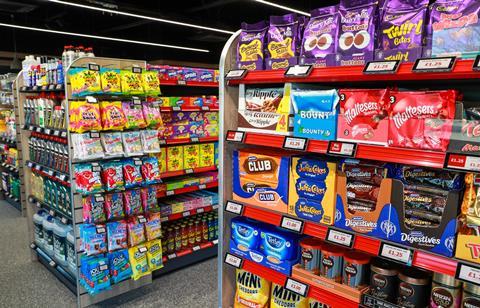 A further £20,000 was spent on Electronic Shelf Edge Labels (ESELs) from Herbert. He explains that, while costly, they will save hours of time with regard to promotional changeovers. "We have two signal boxes on top of the tracking on the ceiling and overnight they flicker and flip to a new promotional price," says Ben. "Labour costs are going higher. As retailers, we have to understand how to be more efficient with our staff. They (ESELs) are expensive, but they're an investment for the future. [It saves on] the labour and the paper we'd go though, plus we're more compliant now too."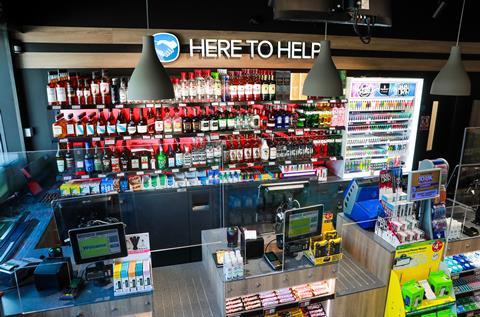 A low level tobacco unit from Navarra is linked up with the store's epos system and cigarettes are dispensed via touchscreen. This has created room behind the counter for a striking backlit spirits display, which sits alongside an illuminated Vapouriz vape fixture.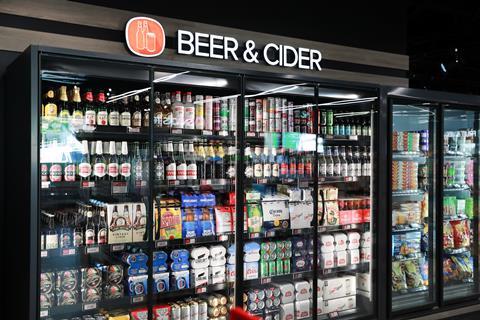 The shopfit was carried out by J S Bowsher, while Pastorfrigor kitted the store out with 20m of energy efficient class A Genova OV integral multideck refrigeration. The majority of chillers have doors, but the food to go fridges are open and have shelf edge blades, which use airflow to reduce cold air being lost into the aisle.
The new store is a colossal step up from the temporary store on the forecourt, which staff had been working from for the past eight months. Supplied by Rapid Retail, the 400sq ft temporary outlet housed a coffee machine, counter and refrigeration for essential lines, meaning that the business could remain operational after the fire. The temporary store closed on March 13th while the company made the finishing touches to the new store.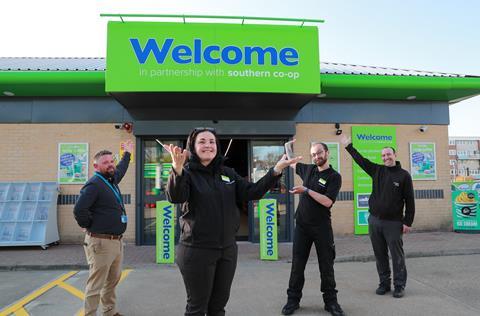 "I'm pleased for the staff who have endured a temporary building through the winter period," says Ben. "They were chomping at the bit to come back into the main building and now they're loving it. Team morale has always been good and they've always looked after each other. They're passionate about the business and serving their friends in this unique store. Customers are excited too - we've been getting fantastic feedback."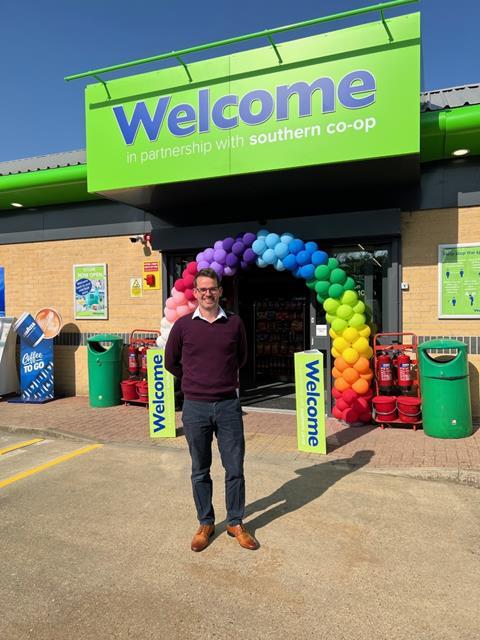 He claims that Southern Co-op have been hugely supportive during the redevelopment process. "Mike and Andy have been fantastic," he says of business franchise manager Mike Fitton and franchise operations manager Andrew Pugh.
Although he claims that it's been a tough journey, Ben is pleased to have invested in the business during such a challenging period. "It's a great time to do it," he says. "We've spent a lot of money - six figures. We could have had the same shop [as before the fire] but we wanted to add to it and make it futureproof for the next 10-15 years."
CHECK OUT MORE PICS IN THE GALLERY BELOW:
If your store has undergone a refit recently, we'd love to hear from you - just drop Sarah an email.