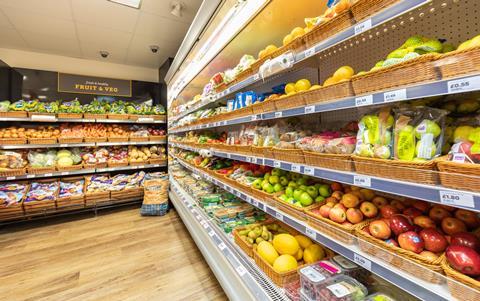 Wholesaler and retailer for Spar in Scotland, CJ Lang & Son Ltd has opened its first new company store since 2017, having acquired a third-generation family run convenience store, Kinnaird's Nisa Local, in Dalbeattie, Dumfriesshire.
The Spar Market format marks a 'step-change' in their fresh food offering. With a very strong focus on fresh fruit and vegetables and chilled foods, Spar Dalbeattie caters for key customer missions including 'making a meal' and 'grab and eat'.
The shop prides itself on being a real community store with all the staff members living locally to the shop, and Marie McMinn, the store manager, along with her team, invited the community to an in-store launch event on Friday 22nd April. Customers took the opportunity to pick up free goody bags, spin the wheel to win prizes, and to sample some treats. The event also saw two local organisations, Alma Mcfayden Care Home and Dalbeattie Playgroup receive donations of £1,000 each from Spar Scotland.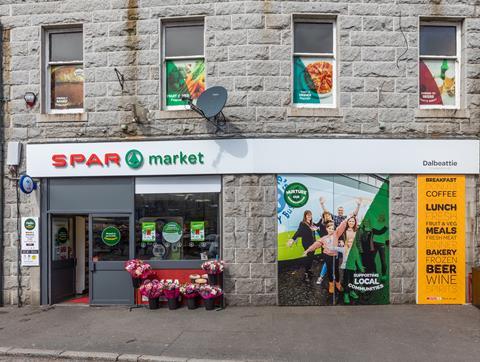 As well as a range of products available in store from a large deli counter, the store features an extensive range of fresh produce and food from many other local suppliers. These include Irving's Bakery, Mitchells of Castle Douglas, Irthingvale Wholesale, Lockerbie Cheddars, Galloway Preserves to name but a few.
For those customers looking for a food on the go offer, Spar Scotland's 'CJ's' Food to Go counter offers delicious ready-to-eat hot breakfast rolls throughout the morning and extends into the evening with a selection of tasty hot food. This is complimented by award winning craft Scottish baker Browning's, offering a wide selection of bakery products, morning goods and cakes. A self-serve Costa Express coffee machine, Tango Ice Blast and frozen Calippo slush machine offer immediate refreshment for customers on the go and will be installed in the coming weeks.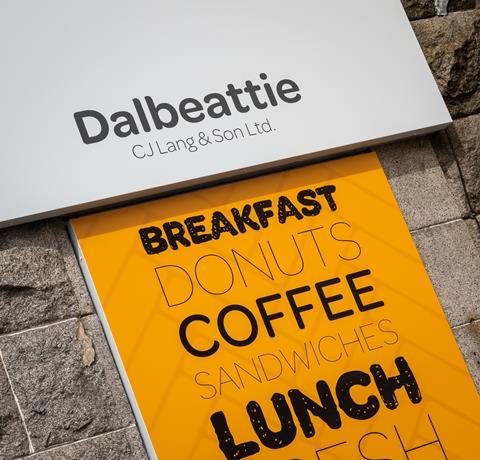 CJ Lang & Son Ltd company owned stores operations director Brian Straiton said: "We are delighted to have acquired the Kinnaird's store. We have acquired a successful family run business and recognise all the great work that James Kinnaird and his team have undertaken in the local community over many years.
"We are very excited to be back in the property market to acquire new convenience stores as part of our business strategy of adding an additional three to four stores per year to our company-owned estate."
"Spar Market is an exciting new fresh, chilled and produce store format for CJ Lang and Spar Scotland that will really help to differentiate and grow from our traditional Spar customer offer. As a genuinely Scottish family business we share many similar values with the Kinnaird family. We want to maintain all the great work that they have done, and build upon these, whilst adding additional Spar Scotland products and services to the store."
A home shopping delivery service will continue, and that will be complimented with the introduction of the Snappy Shopper app.