With smartphones an integral part of consumers' lives, convenience retailers need to find new ways of engaging with their shoppers digitally, and a new suite of apps could be just the thing to bring their stores up to date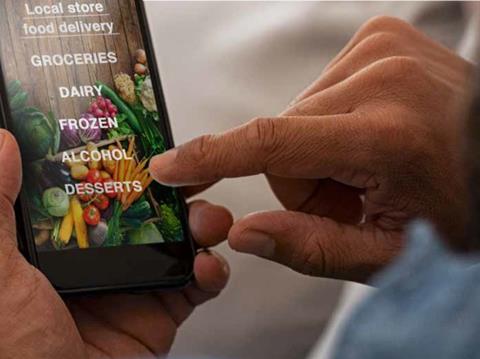 Over a decade since the first mobile app was introduced to the Apple App store, the use of smartphones to manage every-day behaviours has become widespread in the UK and across the world. So it is about time that retailers have finally taken the leap and committed to this new world of technology.
Whether it is an app for customers to order their favourite goods for delivery, or using social media accounts to present a virtual store front to the world, tapping into technology can be a powerful tool, according to Budgens brand director Mike Baker.
"It is all about mobile apps and how you can tap into a younger generation who've grown up with smartphones in their pockets," he says. "The technology that is available to all of us already on a smartphone is underutilised, and massively powerful.
"Mobile technology for consumers and retailers is the future. It helps drive footfall, drive cash profit and attract new customers."
Mo Razzaq, owner of Family Shopper in Blantyre, saw the shift in customer behaviour and set up his own free-to-download delivery app, FSBlantyre. Using this, customers can order a range of products for delivery from his store.
"Customers log on to the web app, select a date and time they want their products delivered and it's as simple as that," he says.
"We are currently in the process of expanding the delivery app. Since it was introduced, our average basket spend on deliveries has doubled, so the expansion seems the right thing to do."
When it came to setting up his bespoke delivery app, which was developed on his behalf by Vagoe Commerce, Mo went directly to those who know his store the best – the customers.
"We set up a landing page where our customers could answer questions in return for incentives and prizes. We asked questions about meal deals, delivery services and so on and used those responses to form our structure for the app," he says. "It's pretty easy to say, 'I want an app for my store', but knowing exactly what you want it to do is vital.
"You must know the exact information you want in the app, the purpose for it, look and design ideas – everything. Once you know, then you need to come up with a plan of action and start figuring out how you are going to go about getting it made."
Mo took his time discussing the complex project with potential app developers before completing the venture.
"You have to go through a lot of information online and do your homework," he says. "We found that LinkedIn is a really good way of finding developers that can help retailers. We spoke to several developers before we decided on one, asked them lots of questions and started to build an image of how it was all going to work."
Mo adds: "In terms of costs, we are paying £250 a month. We are in the process of trying to get the price down a little, but those are the sort of prices you'll be looking at."
Since setting up the app, 20% of purchases through the app are from Mo's in-store Subway concession, with a further 10% from his dessert bar, Roxy's.
Justin Whittaker, owner of MJ's Premier in Royton, Oldham, originally offered a simple delivery service to customers within a three-mile radius of his store. However, following the development of his own delivery app, Justin now caters for a vastly bigger consumer base.
"We developed a delivery app where you simply press 'Shop Now' on our Facebook page and it takes you to our web app where you can order whatever you choose for delivery to your house – it is as simple as that," he says. "Instead of being able to deliver to 800 houses, we've now grown our customer base to upwards of 4,000-5,000 houses.
"Before the app, we only really had local customers, but we now reach over 80,000 people in a three-mile radius of the store.
Rather than loading every product on to the app, Justin has carefully selected best-sellers, higher profit items and ones with a point of difference locally.
"We have taken 300-500 top selling skus and listed them on the app. It is a lot of every-day items, plus food to go, chilled alcohol and so on. We can do desserts, milkshakes, pizza, items from our beer cave and deliver it all thanks to the app."
Since setting up the app earlier this year, Justin has seen a remarkable sales boost.
"The average customer spend on our app is £21.04, which is great" he says. "We have had one customer spend well over £2,000 on the app since we launched it. And the funniest bit is that she hasn't ever actually been into our store.
"People are spending £30 or £40 and they don't even think about it. When you see it on your phone, it is one-click stuff – it's brilliant."
Justin adds: "Me and my son have developed it through Booker and hopefully it is something that Booker is looking to roll out further. I think we have ended up with a really strong concept.
"The app obviously comes at some cost, but with returns like this it is certainly worth it. At the moment, we make £1,500 a week from the app. That is mostly through sales of high margin products like waffles and Tango Ice Blasts. We do only offer the service for a limited period, which is 4pm-9pm, just for our sake."
App4takeaways, an app development company which has provided more than 300 businesses with mobile ordering apps, says having your own app means "you are not in a long list with your competition and you can engage directly with your customers to improve loyalty and orders".
The creation of a mobile app, including hardware and marketing, costs £99 a month, while an app and a mobile compliant ordering website, fully branded and customised to your tastes, has a monthly fee of £125. A full annual membership, which includes a mobile app, a full custom-built website and all year round support, is available for £1,200 per year.
Ceo and founder Ian Chambers says: "We make sure your site is listed with the search engines, so new customers can find you, and all updates and changes are included."
Both Justin and Mo believe that social media can act as a driving force behind their apps.
Justin explains: "Facebook is a vital tool in getting people to use the app. Getting people to actually press onto a separate link, site or (in our case) app, is always the hardest part though.
"Retailers often ask how you drive sales through the use of Facebook and other social media sites and that is where the app comes in. We have used the power of Facebook to create a buzz around the business, so when we post we know customers are seeing it."
Justin recently promoted an app-exclusive competition and 'buy one get one free' offer on Tango Ice Blast via Facebook, receiving over 100 engagements on the post.
After seeing some of the success that other convenience retailers have had with their well-implemented apps, Dave Hunt, assistant retail manager at Spar Hull University, has begun discussions over potential future projects.
"We have also looked into and begun discussions over a delivery service app for the students on our campus. We know that a lot of students get deliveries from Asda and so on. We are looking at what their needs are, what the students want, and technology seems to be high up in their agenda, which means we must think about it properly and consider all options.
"The more we can use technology within retail, the more it'll encourage people to continue shopping with us and not shopping anywhere else."
Richard Inglis, who owns three Welcome Co-op franchise stores in Southampton, is among a growing number of convenience retailers who may not have taken the big step to set up their own app but has teamed up with online app-based food delivery service, Deliveroo. Founded just six years ago, Deliveroo currently operates in more than 200 cities across the world, with Richard's Liberty Quays store one of its newest recruits.
For Richard, the decision to work with Deliveroo was a simple one and he has plans to roll the service out across his trio of c-stores around Hampshre.
"Deliveroo is something that we've just implemented in the last couple of months. We are currently stocking around 80 different lines from our main departments, offering essentials like milk, bread and loo rolls, and other products like wine, beer, crisps, chocolate and so on," he says.
"We are located near a university student halls site, so we decided to launch in the summer as our trading slows and the students are away" he adds. "Sales are currently running at around £300 per week, but it's worth pointing out that profits from that are over four times the amount I was making in commission on PayPoint before I got rid of that.
"The main factor behind it is that it takes up a very small amount of my staff's time. It was easy to set up and only cost us £425 for the tablet. We are looking to roll out Deliveroo to all three stores at the end of this month, as I feel it is a great way to add profit back into your business without large set-up costs and no delivery team to manage internally."
For some retailers, the margin cut is enough to put them off.
South of England Londis retailer Steve Bassett says: "We've looked at things like Deliveroo and Just Eat before for our stores, but they gobble up all the margin. They are after 35% of the sale, so you'd need to put 50% on your prices to cover that margin, and we aren't sure that is worth it."
Mo provides some final words for those retailers still unsure whether developing an app is right for their store.
"For those out there that are toying with the idea of using more technology and apps, you must remember that more changes are happening within the retail world and reaching the new digital customer is vital," he says. "Customers nowadays might not always actually be coming into the store, they may just choose to stay at home and shop online. We must be ready to adapt to these new types of customers."
Co-op Group rolls out pay-in-aisle app to 30-plus stores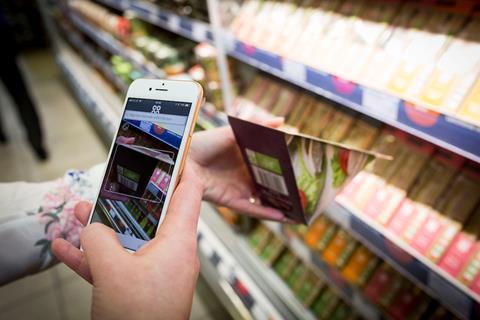 The Co-op Group has launched its pay-in-aisle app to more than 30 stores following a successful trial last year.
The app enables customers to scan products on their own device as they walk around the store, with the cost of the shop deducted from their Apple or Google Pay account.
The extension of the till-less technology trial follows a 10%-plus decline in cash usage in its stores in the past two years, with contactless, cards and other payment methods accounting for more than one in two transactions.
The app, which became available to shoppers in the stores across England, Scotland and Wales in late August, was first trialled at the Co-op's store within its support centre in Manchester last year.
Co-op food director of retail support Mark Pettigrew says: "Technology is bringing unprecedented levels of change to retailing. Retailers need to adapt and be agile, and this app builds added choice and convenience into the retail experience for our members and customers, while also appealing to new shoppers."
Ubamarket app steps up eco-friendly functions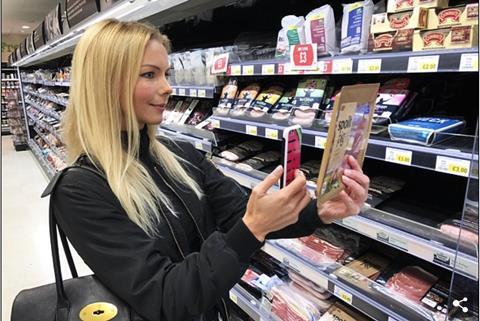 Modern shopper requirements extend far beyond price and availability. These days consumers are increasingly demanding detailed information about products, including their impact on the environment.
The Ubamarket shopping app includes a function that enables consumers to identify environmentally-friendly products through their mobile phones, with 'plastic alerts' displaying the plastic content of all scanned items.
Research carried out by Ubamarket found that almost half (42%) of the British public want to be more environmentally conscious, but feel they do not know enough about recycling and plastic pollution to make informed changes, while over a third (36%) stated they would not purchase from retailers and companies that are known to have poor environmental standards around their packaging.
Ubamarket ceo Will Broome said: "Our new 'Plastic Alerts' feature tells shoppers how much plastic content is in the items they are buying and if it is recyclable or not, helping them make conscious purchases."