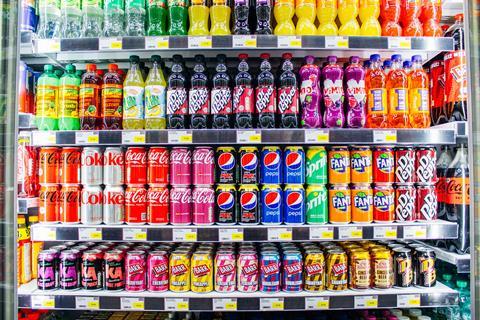 On the go soft drinks have bounced back, while take home soft drinks are in double digit growth versus pre-pandemic, according to the latest convenience data from the Britvic Soft Drinks Review, which was published yesterday.
Soft drinks had a strong 2021 within convenience, claimed Britvic, with total sales up 11% on the previous year and up 8% versus two years ago, growing the category to £2.48bn.
After a challenging time during the pandemic, on the go soft drinks leapt a record 19% in 2021, driven by increases in distribution (+5%), price (+2%) and value rate of sale (+12%) (IRI Total Convenience data 52 WE 23/1/22), claimed the review.
Take home soft drinks also remained in a "healthy position", according to Britvic. Although sales dipped YOY (-3%), they were still up 15% from two years ago.
Symbols and independents emerged as the biggest driver of soft drinks value sales growth in 2021, up £268m (IRI 52 WE 23/01/22 vs LY).
The move to hybrid working has led to growth in soft drinks volume in suburban (+1.2%) and rural areas (+0.7%) and a decline in the high street (1.8%) (CGA), observed Britvic.
The company stated that soft drinks were well positioned to help offset lost sales from other categories when the HFSS regulations kick in in October. "It's not been as strongly as acknowledged as it would have been if we hadn't had covid and the cost of living crisis, but it's not to be underestimated in terms of impact," said managing director Paul Graham. "Soft drinks will be able to take up some of the space for other products that won't be able to formulate. The industry is already prepared because of the groundwork that's already been done with the Soft Drinks [Industry] Levy."
Britvic also pointed to opportunities in value, premiumisation and treating as consumer finances poliarise. The review highlighted that consumers on average are £1,200 worse off this year compared to 2021, with one in five being financially squeezed (Lumina), although the same number of consumers claim they are now better off financially following the pandemic. "Inflation continues to rise and we are expecting this to continue," said Chris Newman, head of category management for convenience and impulse. "We are seeing 20% of consumers are feeling better off coming out of covid and 20% are feeling worse off."
With consumers increasingly looking for new ways to treat themselves during lockdown, he noted that the soft drinks category had already seen a move towards premiumisation. "We're already on a positive trajectory with premiumisation of soft drinks," he said. "Price per L has increased about 6%."
He also pointed to the importance of pricemarked packs and meal deals in driving sales, whilst offering value to consumers. "Bundle deals remain key - lunch occasions, meal for tonight occasions," he said. "Simplicity of message is key - make sure consumers know which products are in the deal and what they're getting for the price."