From marathon running to profit-earning business ideas, Kirsty Rhodes' impressive list of skills helped her steal the show and win the title of Sales Assistant of the Year 2017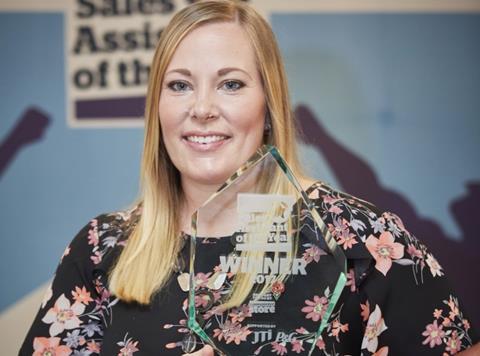 The Sales Assistant of the Year Awards gave four inspirational sales assistants some well-earned praise for their expertise, hard work and sparkling personalities. However, it was Kirsty Rhodes, a marathon-running supervisor at Blakemore Retail Spar St Dials, Cwmbran, South Wales, who crossed the line first to win the overall title of Sales Assistant of the year 2017 at a ceremony at The Dorchester in London last week.
Kirsty attended the ceremony – which was compered by comedian Ian Moore – as the winner of the Multiple category, and was chosen as the overall winner on the day after impressing judges with her clear business-sense plus extensive list of charity work.
Illustrating how she is always thinking of more efficient ways of working, Kirsty has implemented a number of initiatives to improve sales and footfall. She initiated the idea of extending the store's opening hours so it now opens until 10pm, and suggested till prompts to help sales assistants to flag up multi-buys and promotions to customers, leading to a national rollout of the idea.
Kirsty developed a system of registering the number of upsells each member of staff achieves each week and working out how this compares to the number of hours they've worked on the tills to deduce their rate. She's taken this ability further and created a chart to encourage a bit of healthy competition and reward the staff members who achieve the best numbers. This has improved upsells by more than 20%.
Kirsty's list of charity work is impressive, too. Sponsored sky-diving, abseiling from the Transporter Bridge in Newport, and running both the Cardiff half-marathon and Tenby full marathon are just some of her achievements. Just two days before the awards she completed a Tough Mudder-style run in aid of the RNLI.
The community initiatives Kirsty has helped run is exhaustive, but she is always looking for the next chance to help. She is currently proud of the amount of food she's managing to donate to the local food shelter thanks to a food bank she set up at the store.
On winning the award and the cash prize of £1,000 (£500 for winning the category and £500 for the overall title), Kirsty said the process had been "magical". "It hasn't quite sunk in yet," she admitted. "I still feel like it's due to go to someone else! I filled out the application form, then had the judging visit, then I stayed in The Grosvenor hotel and today I'm having lunch at The Dorchester! It's fantastic and certainly something I don't get to experience in my normal life. It feels very special."
Asked what her advice would be to other sales assistants who want to become awardwinners, she said: "Put passion into the work that you do and always give it your best and you will grow and develop to the benefit of yourself and everybody around you."
Community hero and independent sector
Gerard O'Neill
The shop floor sales assistant at Springisland Supermarket in Coalisland, Northern Ireland, won the Community Hero award as well as being chosen as winner of the Independent category.
Gerard blew judges away with his inspiring personality and communication skills which have made him a real local celebrity. Despite being deaf and mute, Gerard converses with every customer who walks in the store and clearly has made great friendships with every member of staff. Gerard has also helped to raise thousands of pounds through his constant charity work.
One of Gerard's biggest passions, alongside his job, is his volunteer work for the local Gaelic football team he supports. He helps them during training by doing jobs such as collecting footballs but recently he has been of extra support to one player, Aaran, who suffered serious injuries and was left with medical bills of more than $100,000 after being knocked over by a car in America. Gerard raised money in store and recently presented Aaran's mother with a cheque for £330.
Gerard's store manager Austin Kelly described what the award meant to Gerard. "This will have given Gerard so much more confidence in the workplace. This has been a wonderful opportunity for us to thank him for all the hard work he has done for us.
"Gerard has given us invaluable service in the seven years he has been with us. When he's not working we really notice, it's like losing two members of staff as he's always looking to help colleagues and customers and never wants to stop even for a quick tea break.
"Lots of people have disabilities and I hope anyone will look to Gerard and see what he has achieved and it will give them some inspiration."
Forecourt sector
Kim Curry
The team leader at Spar Tates Avenue in Belfast impressed judges with her sparkling personality and ambition.
This energetic colleague has achieved a huge amount within an extremely short period of time. Since joining the store in April 2016, Kim has been Coffee Champion and Cigarette Champion, and taken charge of bread & cakes.
While under Kim's supervision, the bread department moved from +27% year on year in January to +32.5% year on year in June.
But, even with such great ambition and hard-working aptitude, what really shone about Kim was her beaming smile and effervescent personality as the only sales assistant awards entrant to wear a tiara every pay day simply to put a smile on customers' faces.
"I always try to give customers that little bit of Kimmy sparkle, something different from the everyday monotony they get from shops elsewhere, and I like to make sure they leave the store smiling," she said.
Co-operative sector
Shirley Holt
The community liaison representative from the Lincolnshire Co-op Food Store in North Hykeham was chosen as winner of the Co-operative category after showing judges she had genuine passion for her community beyond the charity work she organises at the store.
After moving from Scotland to Lincoln for her husband's work, Shirley had no local friends and no job but, thanks to her shining personality, she found that taking a job at the Lincolnshire Co-op was a fantastic decision.
"Nearly all my friends I have now I got through work. I really love going to work because I love the people I get to chat to and am always happy to go in when someone else calls in sick.
"It felt really nice just to have my store manager think to ask me to go for the award, but I never thought I would win. When the judges came to my store and revealed I was winner of the Co-operative category I burst into tears. It's been a wonderful day and all just for doing my job."