Retailers are being cautioned to stick to trusted sources of supply when purchasing personal protective equipment (PPE) such as facemasks, gloves and sanitisers for staff and for sale to customers, to avoid falling foul of fake products.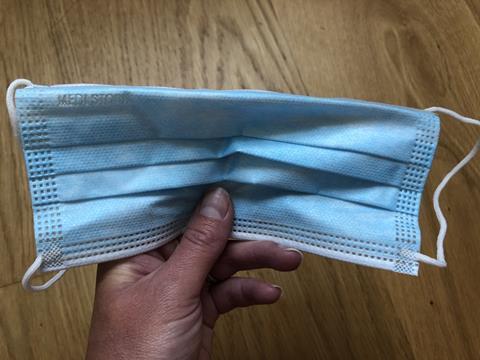 As the coronavirus pandemic continues to dominate daily life, experts fear that large numbers of fake PPE products could be circulating as coronavirus crooks seek to profiteer.
The Office for Product Safety and Standards (OPSS) says it has seen "a rise in intelligence relating to PPE products including sales of non-compliant or counterfeit face masks and hand sanitisers, being sold online, in shops and at markets."
Just last month, the OPSS detained 700,000 suspect face masks in a batch of consignments at East Midlands Airport.
The British Standards Institution (BSI) is also warning that "a number of manufacturers are selling medical face masks - and other PPE for healthcare applications - on the back of false certificates."
The organisation is urging anyone buying any form of safety equipment supported by a certificate appearing to be issued by BSI to verify that the certificate is genuine by looking it up on the VerifEye Directory.
Also responding to the problem of fake PPE is the Chartered Trading Standards Institute (CTSI) which is now delivering a series of webinars focussing on the identification and classification of PPE alongside identifying active ingredients and checking labelling and effectiveness claims for Trading Standards Officers and other consumer protection professionals.
Independent retailer Samantha Coldbeck, of Premier Wharfedale in Hull says she spent "many hours" sharing knowledge with other independent retailers and checking the background of PPE suppliers before buying in stock.
"There's definitely a lot of dodgy stock being offered up for sale out there and you have to be incredibly careful when sourcing stock," she said.
"We have bought masks and gloves for sale to our customers from a highly reputable company. We buy the masks in bulk and then we carefully wrap them up in sterile polythene bags for individual sale. We also keep the masks behind the counter so that we can be sure that the exterior wrappers aren't touched by any other shoppers prior to sale to be extra safe," she said.
Individual 3 Ply disposable facemasks are sold in Samantha's store for 85p each.
The warning over fake stock also comes as London Trading Standards wrned shoppers to "beware of unscrupulous traders seeking to profiteer from the coronavirus pandemic."
London borough trading standards services have received over 1,600 complaints about traders charging "excessive prices for a range of goods since the pandemic started" and said there had also been a rise in criminal scams linked to the pandemic.
The top 3 most frequently complained about products effected by excessive prices were, hand sanitiser, face masks and staple food products.
According to figures from the Competition and Markets Authority (CMA) the largest price increases concern hand sanitiser, with a reported median rise of almost 400%. The average increase across all products was 160%.