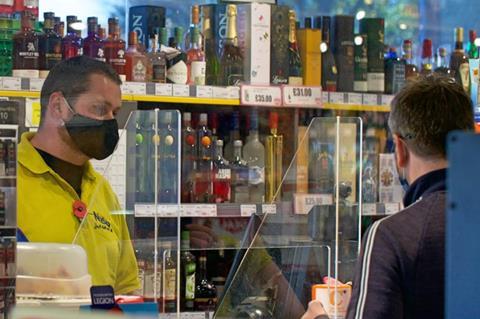 Introduced as a temporary measure to prevent the spread of Covid-19 during the pandemic, many retailers are yet to take their safety screens down as they have found added safety benefits for staff.
According to the ACS Crime Report, £10m has been invested in screens, amongst the £246m invested in crime prevention across the convenience sector over the last year.
Speaking at the launch of the report, ACS government relations director, Ed Woodall, explained why some retailers might be keeping them. "The introduction of them [screens] was a Covid-19 protection measure but I think these temporary measures are actually becoming a staple of stores. Retailers are investing heavily in putting those barriers up because it makes staff feel safe, and actually, customers have felt more comfortable with having those screens in place. I think these will be a lasting feature."
Also speaking at the event, director of Malcolm's Stores, Paul Cheema, said installing screens at his store has been the "best investment" from a security point of view, particularly as incidents of abuse of his staff increased over the past two years.
Joe Williams, owner of Hook Norton Post Office and Village Store, told Conveniencestore.co.uk that he was keeping the screens at his store. "We've kept the Perspex screens in after positive feedback from staff, especially at the post office counter, where previously customers could come around the side of the counter and actually be quite close to staff which they didn't like. It wasn't even necessarily to do with covid but more just that staff could feel a bit intimidated or stressed when customers could get close and it felt like an invasion of personal space. So we've kept ours up and I think we will for the foreseeable future."
Other retailers have made their fixtures more permanent. David Knight, who runs three Budgens in West Sussex, said: "We refurbished all three of our stores, one was a new store, and we've actually made the screens a permanent fixture in all of the kiosks. We opted to have them permanently for security reasons mostly, and we had staff saying to us they felt safer with the division of space.
"We don't have much anti-social behaviour so we are lucky but we still opted for them permanently so they're not these temporary Perspex screens. In one of our larger stores we have belt-tills as well and they've just stuck around after covid, but the screens are a lot more robust and it's really nice to have them. I mean, why take them down now?"