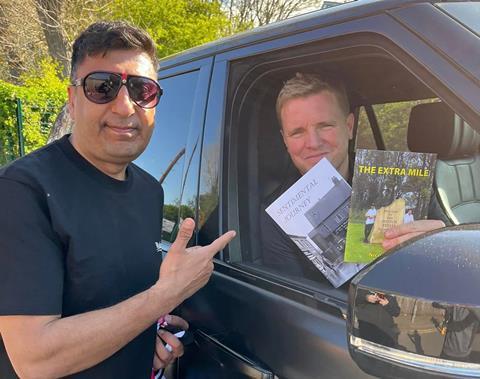 Tahir Ali, aka Nico, who owns Premier Top Shop Convenience Store on the Scotch Estate in South Shields, has launched a second book documenting his experiences of the pandemic. Nico, who runs his store with brother Taz, celebrated the launch by giving free copies of the publication to local legend Newcastle United manager Eddie Howe.
The caring retailer spent months on end carrying out deliveries to elderly and vulnerable customers over the course of 2020 and 2021, as well as donating products to charities and community groups.
The book, titled Sentimental Journey, chronicles the people Nico met as he engaged with the local community to help get food and essentials to the people who needed it most. It also explores the physical and mental toll that the situation took on everyone. He has dedicated the book to "all of those people who still suffer from mental or physical traumas" following coronavirus and hopes that by sharing his story, it will encourage others to seek help.
The release follows on from his first book, The Extra Mile, which was published in July 2020 and contained over 50 photographs depicting his emotional journey through lockdown. He sold copies through the shop at £4 each and donated the proceeds to charity. "I sold over 1,400 books - I never kept it for myself - I split the money between hospital groups," he said.
"I've learnt a lot out there, I've seen a lot," he said of working in the community. "It's better to give than receive. I haven't done it [charity work] for publicity, I've done it to help people. Every day of doing something made me stronger."
To purchase a copy of the book, go to the Nico Community Facebook page for further information.