Barry Patel's 20-year dedication to the Marsh Farm estate in Luton paid off this summer when he got the chance to open a 4,800sq ft new-build Nisa store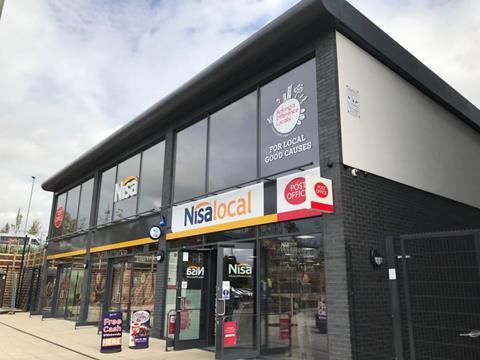 This summer Barry Patel opened a new Nisa store in the heart of Luton's large Marsh Farm estate, which accommodates about 5,000 people in predominantly council and social housing. Barry himself, however, is no newcomer to Marsh Farm, having operated another Nisa store within the estate for 20 years, during which time he was at the heart of the transformation of what was a troubled and neglected community. He was part of the campaign that finally resulted in the council building the new precinct in which his new store is located. The site of his previous store now faces demolition.

"Marsh Farm always had a bad name - we had riots in the 80s and 90s. But things are improving now - I think it's down to the old cliché of people going back to work and taking charge of their lives," he says.

But that is only half of the story. His efforts helped Marsh Farm win vital government investment. "During Tony Blair's Labour government the estate got £42m as part of its New Deal for Communities programme," Barry explains. "I was part of the board that put the bid together. The money stays within Marsh Farm, administered by a charitable trust. About £6m went towards buying an old factory on the estate, knocking it down and building a new unit. On the left-hand side is a big play park, on the right are offices we rent out. The money we raise from rent is pushed back into the community."
Store facts
Nisa Marsh Farm Luton
Size: 4,800sq ft
Staff: 16
Weekly turnover: £37,000 and growing
Services: Butchery, food to go, PayPoint, Lottery, post office
In the meantime, the site of Barry's previous store was becoming more dilapidated. "At first the precinct was quite full, but the council wasn't spending money so it came into a state of disrepair. They kept saying they were going to redevelop it. For about 10 years we'd been pushing for the new precinct, going to meeting after meeting, but it kept on being postponed."

Finally, the council got the money from its housing budget and built the precinct itself rather than handing it over to a developer, which Barry had feared. "They gave us first option because we'd been on the estate for so long and they were aware of the good causes we had contributed to."

The precinct comprises seven units, with Barry's 4,800sq ft store lining up alongside a Heron Foods site, a pharmacy, a fish and chip shop, a Ladbrokes, a hardware shop and a dentist.

The total cost of fitting the store came to about £250,000, with Nisa's store development fund contributing £50,000. The bright, spacious store is equipped with LED lighting and chillers with doors and a 'pack' system which controls the temperature, as well as services including a post office counter, PayPoint and Lottery.

Fresh food is a big part of the offer and fruit and veg, ready meals and pre-packed meats are prominent. But the biggest point of difference is the Halal butchery, turning over about £3,000 per week. An Aldi and a Lidl flank the estate, but neither feature a butchery. "Throughout this estate there's a lot of Eastern Europeans and Afro-Caribbeans, who all like Halal meat as it's cut fresh in front of them. People especially like the lamb and the chicken, and we've seen increasing sales of that," Barry explains. "The nearest butcher is about a mile-and-a-half away."

The recent 2 Sisters chicken allegations, which centred on workers tampering with food safety records, will only benefit butcheries, Barry believes. "As a Hindu I eat chicken, but I don't tend to buy out of packets. I like to buy it fresh over the counter at a butchers as I know where it's coming from. I think that mindset is coming back now, and the 2 Sisters allegations will accelerate this. You just don't know with these big companies how the meat's being prepared. I've found that the pre-packed meat we're selling from the chillers is nothing compared with what the butcher is selling."

Another selling point is the wide range of ethnic products. "We've got a lot of Turkish and Polish food, as well as spices and some veg such as yams and plantains which come from a local supplier who goes to the market four times a week. For ambient food we use Wanis - they supply a lot of Afro-Caribbean food. Our spend with Wanis has gone up by about 200% since we opened the butchery. I utilise about 25% of my space for ethnic and Eastern European tastes - we need to adapt to our demographics."

Hot food to go, provided by Country Choice and placed at the front of shop, is another upgrade from the previous store. Combined with the Espresso Essential coffee unit, sales are up to £600 per week.

The store runs all the Nisa promotions and sells a healthy share of its Heritage own-brand range. "Heritage does quite well, but there's need for improvement," he says. "They've just revamped the pizzas, which has been a big plus, but veg needs improvement." But he's looking forward to the chance to stock Co-op own-brand products, if the group's offer gets the go-ahead. "Co-op own brand has more variety and quality in fresh, so that's a real positive of the proposed deal. The extra buying power should also help."

Ultimately, his vision is a simple one. "We're trying to create an all-in-one concept: customers can walk into the store and if they're having BBQ, they can find what they want; if they want to pay a bill, they can pay a bill; if they want to post a letter, they can post a letter. We've got about eight parking spaces, too," says Barry.

The store has started well - sales are averaging £37,000 per week, already exceeding the £32,000 turnover at the previous site. "Our ambition is to take it up to at least £45,000-£50,000. It's going up each week," he says.

Given Barry's legacy and reputation within the estate, it is no surprise that he has fostered such loyalty. Furthermore, most of his 16-strong staff live in the estate, which also helps keep shoplifting to a minimum. "People don't have the incentive when they know who we are and what we give back to the community."

In addition to his association with the charitable trust, his community work includes £2,000 towards a "huge annual firework display on the estate", which comes from Nisa's Making a Difference Locally initiative. "We contribute to old people's homes and their Christmas parties. All this helps us engage with the community," Barry adds.

His short-term priority is to get up to speed on social media. "I'm a bit backward with social media, but Facebook is another key thing. My priority this year is to employ one of my staff one or two hours a day to use social media to promote the store."

The longer-term picture is unpredictable, given Nisa's future and Brexit-related economic uncertainty. If Nisa members approve the Co-op offer this month, it will then require approval from the Competition and Markets Authority. Barry sees positives in the deal, but has been seeking reassurances over the share offer, especially due to the difficulty in forecasting sales over the next few years given the potential for steep price rises.

But if things go to plan he aims to expand his retail estate, which currently consists of another store in Luton and one in Oxford.

"If this store works out I plan to open another in the next couple of years with a fresh concept, in the Bedfordshire area." It's fair to say it would be in the interest of said Bedfordshire community for Barry's plans to materialise.