Baz Jethwa's Costcutter Plodder Lane store in Bolton proved a winner in the Convenience Retail Awards thanks to a refit that centred on growing categories and time-saving, life-improving technology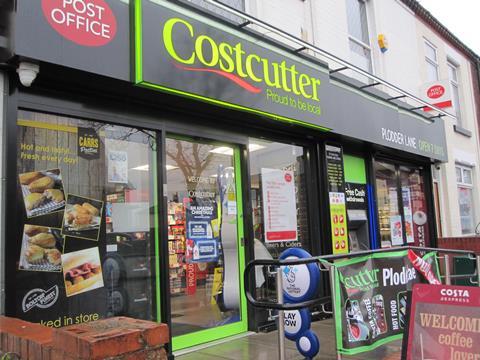 Baz Jethwa's award-winning purple patch has shown no sign of fading since he lit up last year's Convenience Retail Awards. In 2016 the relative newcomer beat off some of the industry's most seasoned veterans to clinch the Best Independent Store award for his Farnworth, Bolton site. This year his nearby Plodder Lane store, fresh from a refit, took its share of the spotlight as finalist in the Best Independent Store category, and winner of the Best Use of Technology gong. It was much-deserved recognition for a retailer who continually innovates, expands his business and engages with the communities he serves.

Based in an outlying residential part of Bolton, the store underwent a refit early last year to devote more space to food to go, expand the off licence and introduce a post office. Baz also took the opportunity to introduce some cutting-edge technology.

His decision to invest in the store was a bold one given the area's stiff competition, including a Tesco, Lidl, Asda and a number of independents, and general lack of affluence. But the investment has paid off, with sales up year on year by more than 50% to £23,000, and basket spend up to £5.50.

Food to go has been especially upwardly mobile, with sales rising from £100 prior to the refit to an impressive £4,500 a week, helping boost overall store margins. The offer includes a Costa Coffee unit, hot food such as bacon sandwiches in the morning, locally-supplied pies at lunch and hot pizzas to order in the evening. The store offers a 'call and collect' offer, which incorporates a pizza and bottle of wine or beers for £10, currently taking about 40 orders on Friday and Saturday nights.
Store Facts
Costcutter Plodder Lane
Size: 1,500sq ft
Weekly turnover: £23,000
Average basket spend: £5.50
Services: Free-to-use ATM; post office; food to go; PayPoint; Lottery; contactless
Customers have an interesting choice of made-to-order pizzas, including chicken tikka, chilli cheese, avocado, chocolate flakes and fruit. One of the most popular is a sweet pizza with chocolate sauce, grated white chocolate, sliced bananas and nuts.

Innovation is also apparent in the off licence. Offers and a 'wines of the month' feature are helping to drive business, and the section now accounts for 20% of sales.

"As part of the refit we wanted to make our alcohol offering a much bigger feature so we extended our wine fixture from two to five metres and extended our fridges to offer a far greater range of chilled drinks, something the supermarkets and other independents don't currently offer," says Baz. Cross-merchandising is also regularly utilised, with prosecco displayed with Italian meals or Cobra beer with Indian ready meals.

Meanwhile, the chilled category includes 12 metres of refrigeration and a wide range of fruit and veg beautifully presented in farm shop-style crates and adorned with pos highlighting value and local provenance.

When Baz was planning the store refit, he took the decision to invest in cutting-edge technology "to ensure we remain at the forefront of retail innovation". He installed an automated cigarette gantry linked to the epos system, reducing queueing, stocktaking time and risk of theft. The cashier enters the product at the till and it will be sent from upstairs to the collection drawer in a mock-up gantry. "And because tobacco products are stored upstairs, it creates more space for high margin products in the gantry, such as e-cigarettes and spirits. We've put LED lighting behind the spirits to make it look more attractive," Baz says.

The store is equipped with a Smart Intelligent Cash Drawer, which saves time and provides an audit trail of cash-handling activities. "It's saved us a lot of time and money on cashing up - probably about 25 minutes, four times a day, which is about 100 minutes of staff time. It also means that if anyone thinks they've been short changed or if there's an incident of staff theft, every transaction is recorded so it eliminates any doubt," he explains.

The latest contactless payment technology is accepted, including Apple Pay and Android Pay, which has also has "a major impact on reducing queueing time".

But there is also a strong community motivation behind much of the technology. "As part of the refit we significantly upgraded the store to suit the needs of less-able customers and parents with prams," Baz explains. Changes include installing ramp access, automatic electric doors, and a Hearing Loop for customers with hearing issues. "A lot of elderly customer ask me to put the Hearing Loop on, and then they can hear me. They really appreciate it," Baz says.

Community engagement is a key component of Baz's retail outlook across his business. Over the past year he has set up two new initiatives at Plodder Lane to give back to the community in different ways. "The first, in a bid to promote our expanded fruit and veg offering and healthy eating, we worked with local schools to offer free fruit to children when they came in," he says. He ran the campaign for a month and it was so well received that they are now rolling it out for at least one week every term. "It has resulted in a huge uplift in footfall and publicity, with the local newspaper reporting on the store."

The second initiative is supporting homeless people in Bolton. "After speaking to a volunteer from our local homeless shelter about the issues they have with funding, we realised we could help make a difference," Baz says. "Last year we raised more than £1,000 through our Local Pride initiative and we also now provide them with weekly deliveries of fresh fruit and veg." The store also fundraises for Bolton Hospice through till point collection boxes and fun days.

Baz and his staff are always responsive to his community, too, and recently extended opening hours following feedback, now opening from 6am to 10pm, seven days a week.

As for the future, there is no standing still for this entrepreneurial and ambitious retailer. He recently opened a third store in Bolton under the Spar fascia, which he says suits the store's focus on food to go, and he's set to open a fourth in Manchester in the next couple of months. But Baz is also constantly evolving his stores' technology credentials. This year he has introduced media screens in all his stores through Hi Street Digital Media to highlight promotions. "It's very effective and eye-catching, and looks professional and upmarket," he says.

He is also preparing to introduce Zapper, the payment and loyalty app, in all his stores. "It's the way forward; everyone wants social media-based loyalty schemes nowadays."
Winner
Best use of technology
The Retail Data Partnership judges were impressed with how Costcutter Plodder Lane uses technology to make his business more efficient and improve the shopping experience for customers. "Baz has gone a long way in making sure that the people in his store are well taken care of, especially disabled customers, which is a real breath of fresh air," they said.
For Zapper, the standout features ranged from the introduction of contactless mobile payments, Apple Pay and Android, to those that made live easier for customers such as communicating to the hard of hearing and adding auto doors for wheelchair users. Also singled out for praise were the store's ways of delivering products to the POS via technology, reducing energy use and increasing product life, and understanding of cash handling.
Sponsored by The Retail Data Partnership & Zapper