Independent retailer Richard Dance is enjoying success with his latest store development despite the considerable disadvantage of opening during the lockdown period.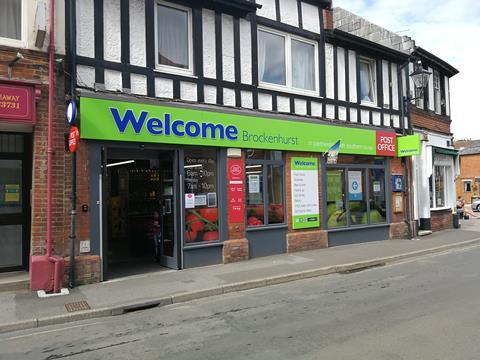 The Welcome store, operated as a franchisee partnership with Southern Co-op, is a former Sainsbury's site in the New Forest village of Brockenhurst, Hampshire. Sainsbury's shut the store in 2019 and Richard took it over, opening on the second day of lockdown, 25 March 2020.
He told C-Store: "We had not planned to open during a pandemic but with everything in place and a full team of 20 staff recruited we were beyond the point of no return, so we had to plough on despite the circumstances.
"Initially we were struggling to get stock, and we had to open with gaps on the shelves. I was a little stressed because when you open a store you always want to give it your best, and when things beyond your control make that difficult it does disappoint you."
The store trades directly opposite a Tesco branch, but Richard was confident that the store could be successful by offering points of difference to the supermarket, rather than competing head-on.
"We picked up locally that Sainsbury's was closing and approached them directly. We were able to keep the refrigeration infrastructure but put in all new shelving.
"They were trying to compete head-on with Tesco, but as an independent you can be more agile and flexible, and stock the things that they can't."
He continued: "We really wanted to understand what local people wanted so we consulted with the community and made a presentation to the local business studies group (Brockenhurst tertiary college is nearby) and got a lot of feedback that way.
"So for the locals we brought in the Post Office, a lot of local suppliers , zero waste dispersible dry and wet products, lot of loose fruit and veg, a milk refill facility, a customer sink for free water refills, and a range of Cook frozen foods. The students also wanted to see more fast food options so we introduced Tango Ice Blast, Costa and Rollover.
"We also have self-scan tills, and have achieved a 25% self-scan rate so far but we expect this to increase especially with the students as they prefer this quicker method of payment. Self-scan can be an issue with local suppliers as many products are not coded, but we have overcome this by creating our own barcodes for the local suppliers that we put on the product ourselves.
"We see our focus as being on locals, students and tourists. So far of course it has been mainly locals, but we have made a good start and are already exceeding our budget for out-of-season sales. The opening of the Post Office has brought us so much goodwill in the village and has really helped in the initial success of the business."
Top sellers at the moment include local strawberries, and the store team are collecting fresh orders three times a week directly from the grower.
The plastic free options have also been selling well, Richard adds.
"We need to keep wiping down the handles of the dispensers but in general they are very hygienic. We gave out paper bags to local shoppers to use with the refills.
"We also gave away glass bottles for people to use with the organic milk dispenser, and lots of local businesses have been using the service already."
The store has social distancing floor markings, screens and masks for staff. A hand sanitiser station is being installed this week.