To maximise sales in wrapped bakery, convenience stores must focus on freshness, quality and breadth of range, Warburtons argues.
Shoppers say that freshness and quality are the most important factors when choosing wrapped bread1. Enjoyment is the fastest growing motivation for consumption in the category, even over benefits like practicality2.
This is prevalent within the convenience market, with freshness and quality sitting above price in their importance to the shopper1. However, shoppers are less satisfied with the freshness and quality of the bakery offering in convenience than in the rest of the grocery market – which poses a great opportunity for retailers.
With flexible working arrangements becoming more common as we ease out of lockdown, we are likely to see bread and bakery consumption continue to grow as consumers keep eating lunch at home.
These factors in mind, it is therefore important to meet these needs and satisfy consumers with good quality, fresh bakery products.
Broadening range
As well as ensuring that high-quality fresh products are available, there is also an opportunity for convenience retailers to expand their range in the other wrapped bakery category3.
Other wrapped bakery products have become increasingly important to the wrapped bakery category, driving the most growth in the market and in the convenience channel. However, convenience is underrepresented in this area, with only 44% of sales coming from other wrapped bakery products, while in the broader market the category accounts for 54% of sales4.
Choice and availability have become more important in convenience over the last year, with more shoppers entering stores for main shops as well as top up trips5. Many of these new shoppers brought in over the pandemic are from the younger generation6 who are driving the growth seen in other wrapped bakery7.
To retain these new shoppers it is vital to have a broad range, especially in other wrapped bakery products. This meets the main shop mission and prevents shoppers from returning to the bigger stores as lockdown eases.
Recommendations
800g Toastie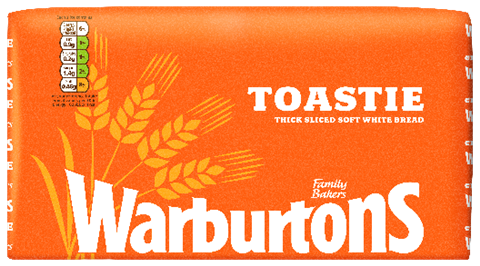 The UK ate up to 3.4 billion in-home lunches last year, and a third of those occasions used wrapped bread8. As Warburtons is the number 1 brand in white bread – with the classic white Toastie (800g) also being the leading bread SKU in the market – its products are an essential part of any range4.
The classic Toastie is an all-rounder, appealing to the whole family with the delicious softness and quality that consumers expect from bread products. The loaf is also wrapped in the traditional Warburtons wax paper, ensuring the freshness and taste is sealed in from the moment it's baked for maximum quality.
800g Wholemeal Medium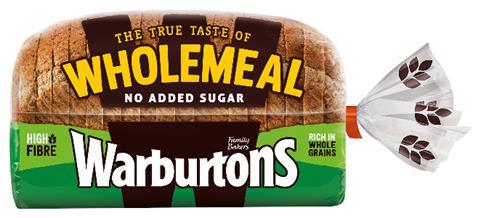 Large wholemeal bread is the second-biggest wrapped bread sector within the market, driving 22% value growth year-on-year for the impulse channel4.
Baked with 100% wholemeal flour, this loaf is high in fibre, wonderfully textured, and has no added sugars9, offering a great alternative to the classic Toastie and suiting a different audience. It's ideal for making sandwiches and toast, as well as being available in medium (400g) and large (800g) loaves to suit differing appetites.
The 400g variant is the country's leading 400g wholemeal loaf and the second biggest 400g SKU in the market after Warburtons Toastie 400g4.
5 Plain Bagels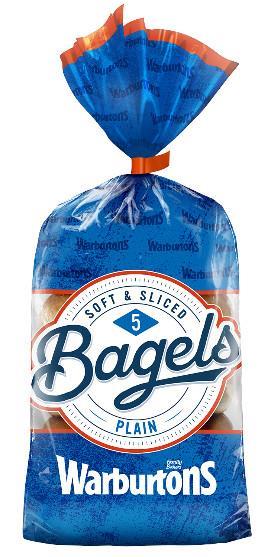 Bagels drive significant growth in the impulse channel (+43%) and outperform market growth4. Due to their impulsive nature, the segment is a great fit for convenience, driving incremental category sales10.
Boiled and then baked, following a traditional process, the result is a soft and chewy bagel perfect when toasted for breakfast, or any other occasion. With a light texture, these plain bagels are versatile and make a fantastic sandwich, whatever the filling.
Warburtons bagels are pre-sliced for ease and convenience and come in plain, cinnamon and raisin, and sesame flavours. The brand drives the most category growth in total bagels (+23% year-on-year)11, with bagels reaching a different audience and suiting various in-home meal occasions.
6 Crumpets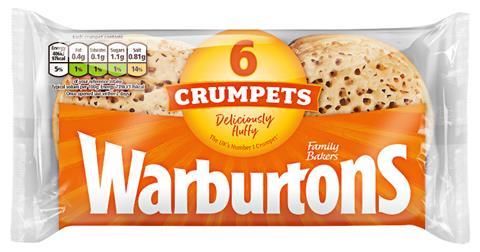 Crumpets are the biggest traditional bakery snack sector in the impulse channel and continue to grow year-on-year (+22%)4, providing plenty of opportunities for your store.
Warburtons Crumpets are a firm favourite as the number 1 crumpet brand4, being perfect for a warm snack throughout the day, toasted and buttered. With crumpets being an impulsive purchase choice, they are an ideal product within convenience to drive incremental category sales10.
Warburtons, family bakers since 1876
Warburtons is the UK's number 1 bakery brand4, baking more than 2 million fresh products every day to supply to 18,500 retail customers. With over 70 products in the range, according to Kantar Millward Brown brand tracking research, Warburtons consistently ranks as number 1 across various consumer perception metrics, including for taste and for quality12.
As well as being the most-loved bakery brand, according to the Kantar Footprint survey Warburtons is the most chosen brand in the UK13. At Warburtons, quality is an obsession and a key component in everything the brand does.
Sources:
1 Shopper Intelligence, Shopper Satisfaction 2020
2 Kantar Consumption 52WE 21 Feb 2021
3 Other wrapped bakery products include crumpets, bagels, sandwich thins, rolls, teacakes and croissants
4 NielsenIQ RMS data for the Total Wrapped Bakery Category for the L52-week period ending 27.03.21 for the UK Total Coverage including Discounters, Total Imuplse, Value Sales
5 IGD Research, ShopperVista, Oct-Dec 2020
6 CTP 2020, Lumina Intelligence
7 Kantar WorldPanel, Total Wrapped Bakery, Demographics Value YOY, 52 w/e, 21.03.21
8 Kantar Consumption Panel Data Source for Total Food and Wrapped Bread, 52 w/e November 2020
9 Contains naturally occurring sugars
10 Shopper Intelligence, Category Roles 2020
11 NielsenIQ RMS data for the Wrapped Bagel Category for the L52week period ending 27.03.21 for the UK Total Coverage incl. Discounters, Value Sales
12 Kantar Millward Brown, Brand Tracking, 52w/e 04/04/21
13 Kantar WorldPanel, Brand Footprint Survey, May 2020