Two people running village post office branches explain how a change of direction led them to become the centre of their communities.
The Covid-19 pandemic has prompted many people to rethink the way they work and live their lives. That was certainly the case for Evie Milligan and partner Travis Nash, both 23.
When Evie was furloughed from her job in hospitality because of the lockdown, she started to reassess what she wanted from her career.
"I asked myself if I was really happy. Lockdown made me realise I wanted to do something that helps the community," says Evie.
Evie's mother heard about an opportunity to run the village shop and post office in Cocking, near Midhurst, West Sussex. It sounded right up Evie's street, having worked in hospitality. For Travis it would mean a complete career change, as having worked in various sectors such as construction, he'd never had a customer-facing job.
The shop came with living accommodation attached, so would entail a significant move for the couple, but they took the plunge, and opened the shop in April 2021 with the post office opening a few weeks later.
"We didn't know anything about running a post office at the start. Post Office provided six days of training in the branch and you quickly pick it up as you go – we thought it would take much longer to learn the transactions."
Re-establishing a community's post office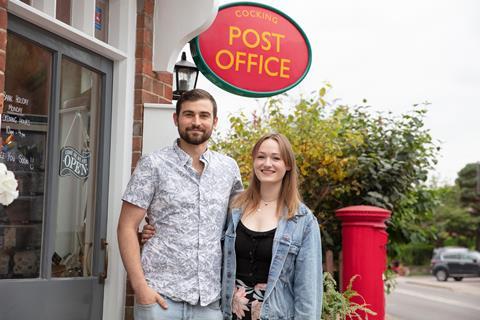 Cocking Village Shop and Post Office is a small convenience store that stocks everyday essentials and farm shop produce. The business had been closed for nearly a year as the previous postmaster had sadly passed away after running the branch for more than a decade.
"Being closed for so long meant we needed to publicise the fact that it was opening again and rebuild its positioning as a valuable part of the community.
"Everyone in the village has been very welcoming," adds Evie. "And you can see the huge benefit to the community of having its shop and post office back.
"We're on a fairly busy road through the village and the post office is quite visible so we do benefit from passing footfall as well as regular customers."
One service that surprises many customers is banking. "Some people don't realise that they can do their personal or business banking at the post office, and once they know, they come back.
"The shop and post office work together really well and having the post office definitely benefits the retail. People come in thinking they are just going to return a parcel, and they end up buying a bag full of shopping." The couple now have several local volunteers helping in the shop and there are plans to hire a member of staff this year.
"We're probably not what most people envisage when you think about a typical postmaster," said Evie. "But we are thoroughly enjoying it. We have invested time and money in this move, and it has been worthwhile."
How post offices are adapting to ever-changing customer needs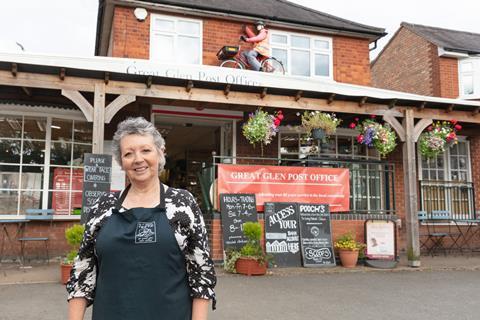 While Evie and Travis are newcomers to running a retail business, in Great Glen in Leicestershire, it's a different story. Here the business has been in the family for 64 years.
"My father was a farmer," says Sue Parkinson. "But he wanted a change of direction, so he saved up his egg money and bought the post office on the main road in the village." Sue is currently running the post office and remembers those original premises well.
In the 1960s her father built a house in the middle of the village and moved the post office there. As Great Glen expanded in the 1970s, he saw that the new growth was happening in a different part of the village so bought the current premises in 1975 to ensure the post office remained at the centre of the village.
Originally it was just a post office but over time different retail has been added, adapting to ever-changing customer needs – wool, sweets, newspapers, household goods, and later becoming a CTN. Today it also features a gift shop and a delicatessen, selling freshly made sandwiches, wines and cheeses, and employs 12 staff.
"The world changes and your retail has to adapt," says Sue.
"The retail side and the post office work hand in hand. People who haven't been in the shop before will come in to use the post office, see the range we offer and buy something.
"Equally someone might come in to buy a sandwich and they see that the post office is also open at that time of the morning, which is convenient for them."
Post offices remain one of the most valued local services
In a nationally representative poll of 2,000 people by Public First in April 2020, 92 per cent said a post office was essential to have in their ideal town, and more people said a post office is essential to have on a high street in rural areas than a supermarket.
More recently, the Association of Convenience Stores annual Community Barometer, published in August 2021, ranked Post Office branches equal first with convenience stores as the most valued community service overall.
"Like any village post office, it's more than the products and services you provide," Sue adds. "You get to know everyone. It's the place people go to if they're organising a local event, if they want some information, if there's a lost dog – all sorts of things.
"The business has changed so much over the years, but that really hasn't. The post office is still the heart of the community."
Why the Post Office is a great fit for a variety of retail businesses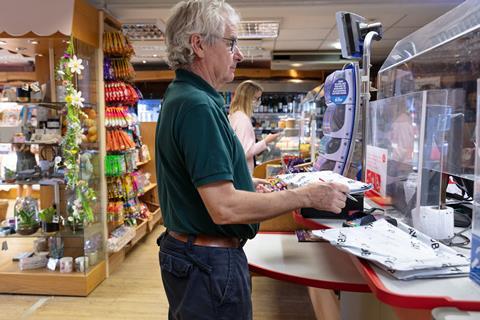 Running a post office isn't just about mails – it's for people paying their utility bills, small business owners paying in cash, online traders posting parcels and holidaymakers collecting their travel money. We're here, in person, for the people who rely on us.
Having a post office in a retail store brings in customers who use post office services, and those customers then also spend money in the rest of the store.
Postmasters receive remuneration for each post office transaction carried out. Customers, communities and retailers alike all benefit.
A post office is a great fit in convenience stores and newsagents. There are also successful Post Office branches in gift shops, card and stationery shops, petrol stations and cafes. You'll even find them in pubs, garden centres and libraries.
There are several different formats to suit different spaces and needs.
For example, our 'local' format offers most Post Office services from the retail counter, so customers can access them all the time the retail business is open, while our 'main' format has a dedicated post office counter.
Postmasters are entrepreneurs, community focused and keen to make a positive social contribution. They are self-motivated, sales-focused and keen to meet customers' needs.
If this sounds like you, for more information and current opportunities to run a Post Office, please head to runapostoffice.co.uk.