With health high on the agenda for consumers, retailers should place tasty low-sugar, high-protein bars in prominent store locations. Find out how this and new flavour innovation could boost your sales.
Sales of healthier snacks are booming. Nearly half of the UK's adults are concerned about gaining weight and 29% of shoppers say they are trying to reduce their sugar intake. Because of this, low sugar, high protein bars have become a number one product within the healthier snacking category, fast becoming a must-stock item for retailers intent on increasing bottom lines.
Among the myriad challenges new entrants into the category face, such as inflation and high in fat, sugar and salt (HFSS) regulations, focus on flavour, texture and taste should remain a priority. If a product maxes out on functional benefits but neglects these elements, it's unlikely to strike a chord with consumers.
Having reinvigorated the protein bar category in 2015 with its range of bars, this is something Grenade knows only too well. Now 20% ahead of pre-pandemic 2019 figures1, the brand leads the protein bar sector, with sales of its high protein, low sugar bar range outselling the nearest competition by more than four times and accounting for the largest share of the market in convenience at 52%2.
While 'low sugar' and 'high protein' health claims can lead customers to pick up a bar, unless the bar blows them away where taste is concerned, it's unlikely they'll become repeat customers – the holy grail for any brand. Understanding this, behind the scenes, Grenade regularly updates existing lines, making the most of advances in manufacturing and applying these advances to new lines. The result? Protein bars that can taste just as good as regular confectionery and thereby encourage brand loyalty, spelling profitability for retailers3.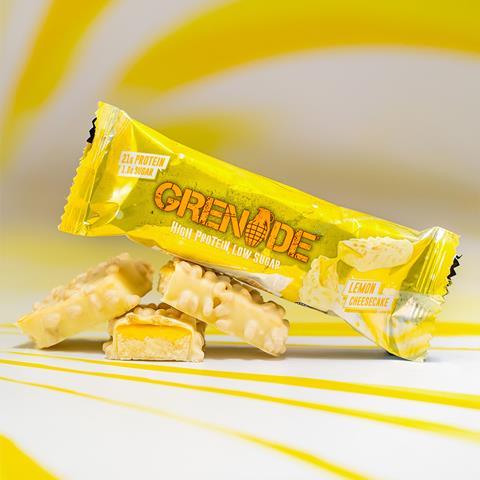 Innovation is also key for Grenade, with the brand regularly introducing new flavours to surprise and delight consumers. Our aim is that no matter what their flavour preference, there's a bar for them. As testament to this, in May 2022 Grenade launched its latest protein bar flavour, Lemon Cheesecake. Packing 21g protein and just 1.6g sugar, each bar features a lemon and vanilla-flavoured nougat centre, topped with a zesty lemon curd caramel layer. Each bar is also blitzed with biscuit bits and covered in smooth white chocolate.
Irrespective of new bar launches, the powerhouse behind Grenade's growth are its 'core six' protein bar flavours, which include White Chocolate Salted Peanut, Fudged Up, Cookie Dough, White Chocolate Cookie, Peanut Nutter, and Chocolate Chip Salted Caramel, with the latter leading the charge and currently the highest performing protein bar for cash rate of sale4.
With health high on the agenda for consumers, retailers should be place tasty low sugar, high protein bars in prominent store locations, with impactful POS such as shelf toppers and barkers to grab customers' attention. If space is limited, retailers should make the most of additional 'healthy snacking' counter units to attract customers at the till, and drive impulse purchases.
Visit www.grenade.com/ now to find out more about the brand's products and new flavours.
Source
1&2 IRI Marketplace, Total UK Market, Value Sales, Grenade Protein Bars, 52wks to 26.12.21
3 Market Measures Online Consumer Survey, September 2021
4 IRI Marketplace, Total UK Convenience, £ROS SKU level Protein Bars, ND > 5% 52wks to 17.04.22