Spar is looking to appeal to adults and kids throughout the summer with additional lines for its pricemarked sugar confectionery line-up.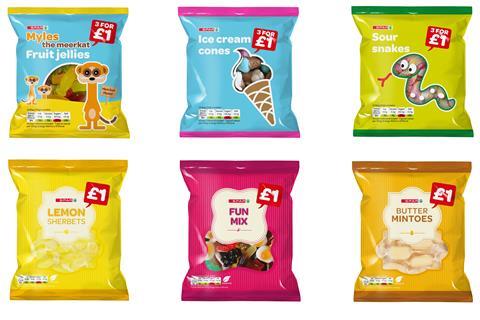 Three new products: Lemon Sherbets, Butter Mintoes and Fun Mix (all PMP / £1) will join the symbol's own brand adult sweets line-up while Ice Cream Cones, Myles the Meerkat Jellies and Sour Snakes (all PMP / 3 for £1) will join the brand's kids offering.
Bhavika Thakrar, Spar UK senior brand manager, said: "Sugar confectionery is in growth, showing that there is a strong demand as consumers look for confectionery as a treat.
"Our new Spar Brand confectionery lines tap into all the latest trends – our Sour Snakes fill a key gap in our range, as sour flavours are seeing large growth, while the new Lemon Sherbets tap the current popularity of citrus flavours."
Thakrar added: "Vintage sweet variations, like Lemon Sherbets and Butter Mintoes, are also all on the rise, with a recent survey finding that classic lines dominate Britain's top 20 favourite sweets."
An extensive marketing campaign will support the new products as they launch into Spar retailers, including in-store POS, radio, social media and web-based activity.