Fresh might be grabbing all the headlines, but retailers can rely on a good range of frozen favourites to keep customers coming back.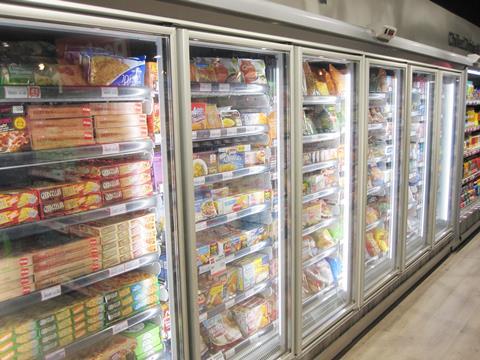 For some consumers, nothing beats stopping by their local convenience store and grabbing a frozen pizza for dinner when they're short of time and inspiration. And that makes staying on top of the frozen category a must for c-store retailers.
The retail frozen food market as a whole is valued at more than £6.2bn, having seen a 4.8% value growth year on year (Kantar Worldpanel 2018), and Tom Birch, manager of a Spar store in Ormskirk, West Lancashire, can't see a slowdown in sales any time soon.
"Our store always has a good range of frozen essentials and can often be the main reason someone initially comes to shop with us," he says. "We try to offer our customers a good range of items, but without clogging the freezer with lines that are just warming the shelf."
Tom continues: "Everyday home freezer essentials are a must – with our Spar own brand Chicken Dippers, which are £1 for a 216g bag, being the best seller. Leading all the frozen category sales when it comes to margins, though, is ice. We have a standalone unit for ice in a high traffic area. This is one item that if looked after correctly can make a big impact on your bottom line."
However, the real star of the show is pizza. "The bulk of our frozen food sales comes from pizzas. We offer a selection of own brand mixed with brands like Chicago Town, and if displayed correctly can look great."
With the frozen pizza category seeing an increase in value of more than £30m last year (Kantar Worldpanel 2018), it'll comes as no surprise that Tom isn't the only retailer capitalising on sales of the classics.
Richard Inglis, who owns three Welcome Co-op franchise stores in Southampton, says his top three frozen products are Co-op Pepperoni Pizza, Co-op Ice Cubes and Co-op Cheese & Tomato Pizza. "It is the classics that sell," he asserts.
The old favourites are also in demand at Biddles Spar in Redditch, Worcestershire, despite the store's focus on fresh. Owner Simon Biddle says: "In our main freezers we offer the basics: frozen vegetables; ready meals; burgers; fish. It is important to have the basics stocked up, even if fresh food is more our thing. We do offer a whole range, but just in a limited way."
Alex Glen, marketing director at Quorn Foods UK, believes offering a variety of frozen products at a reasonable price is vital for convenience retailers to exploit frozen.
"If consumers are met with a broad range in the frozen category, figures have shown that they not only spend more within that category, but across the store, making it a hugely valuable category for the channel."
He says shoppers in the convenience channel are looking for products that enable them to prepare simple, delicious meals in less time, which could explain why the frozen category has seen something of a resurgence in recent times as time-pressed shoppers look for easy solutions.
Dean Holborn, owner of two Holborn's stores in Surrey, has seen an unexpected rise within his frozen category in recent years. "The frozen category is something that is much better than it used to be for us. If you were to go back four or five years, it was a category that we almost neglected and shoppers had began to shun," he says.
"It has always been present within our stores, but it seems to have come back into fashion in recent years.
"The unprecedented growth in the chilled category meant that we concentrated everything we had on pushing that, but now we are offering a much larger frozen offering. The category as a whole is so important now to every retailer. We have seen growth consistently over the past four years. It is still not our biggest contributor in store, but it certainly is getting better."
A lower-fat chip off the old block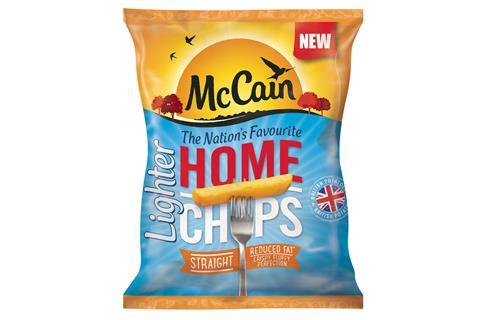 Growing demand for healthier products hasn't been lost on frozen food suppliers, and even the humble oven chip has been given a remake to boost its health credentials.
Earlier this year McCain introduced what it describes as the nation's first 'lighter' home chip, a lighter version of its Home Chips containing 30% less fat than the brand's original offer.
The McCain Lighter Home Chips (rrp £1.95) are designed to meet growing demand for products that can be added to mid-week dinners as part of a healthy lifestyle and a balanced diet.
McCain marketing director Mark Hodge says the product has been more than three years in development.
He adds: "After years of development, the launch of our Lighter Home Chips is testament to our ongoing commitment to producing high-quality and innovative products.
"With many people increasingly on the lookout for lighter options which complement a balanced diet, we believe that lighter home chips are perfect for anyone looking for a lighter alternative without compromising on taste."
Big deal for meal deals
Offering value is important and Dean provides this through meal deals. "We always have a promotion of some sort in the freezer areas, as consumers respond well to them. We do the AF Blakemore offers, so whatever it chooses to pair with a ready meal or offer with a dessert of ice cream, we go with."
Simon also runs promotions and believes that meal deals provide good sales opportunities.
"We offer all the Spar frozen meal deals, where customers can get a pizza, some chips and ice cream for dinner," he says. "Customers seem more likely to buy a few frozen items together."
Richard agrees that meal deals are a winner. "Our frozen meal deal from Co-op is a major sales driver. It is a £5 mixed food deal and our customers love it, it's great value. Our customers expect the frozen category to be good value and it's an area where we really find own-brand Co-op products perform the best. Frozen makes up 5% of our sales mix at our Liberty Quays store because of this."
At Spar Ormskirk, a £5 meal deal usually consists of a main, two sides, some vegetables and a dessert. "If advertised correctly this is a winner as customers can often have savings of more than £5," Tom says.
While Tom has seen positive meal deal sales, he points out that demand for healthier products has meant the familiar faces in frozen now sit next to some newer innovations.
McCain marketing director Mark Hodge believes that providing 'lighter' alternatives is key to capitalising on this consumer trend.
"McCain launched Lighter Home Chips this year in response to the growing demand for 'lighter' foods, with consumer insight revealing that health and wellness will be key trends driving consumer buying habits this year. We know that 'lighter' foods are becoming increasingly popular."
While healthy alternatives don't make up the biggest part of Dean's frozen offering in his stores, he believes it is important to give consumers a choice.
"The vast majority of customers predominantly want the classic chips and so on, even they are not what they used to be. We do go with the mainstream, traditional options, but with the introduction of reduced fat chips, sweet potato fries and so on, there is a clear change in habits."
Dean also offers the Gourmade range of frozen ready meals. "The Gourmade range, which we offer in both our stores, may not be officially advertised as healthier to the consumers, but they are considered more upmarket ready meals. They are perceived as better for you as they contain more natural ingredients, and consumers are interested in it more so than ever."
Big news for big fish smoked ranges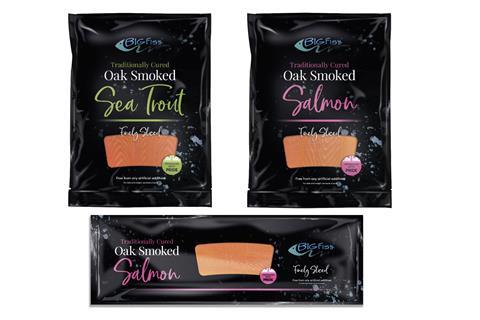 JCS Fish has given its Big Fish smoked fish products a new pack design.
The redesign of its oak smoked salmon and oak smoked sea trout includes a more eye-catching look alongside a reduction in the amount of plastic used.
JCS commercial manager Jack Coulbeck says: "The redesign of our core smoked range marks the first step in our project to improve packaging across the BigFish range.
"As well as updating visual appeal, we are planning new formats which will improve the environmental friendliness of our packaging, with less waste and increased recyclability. In this case, we have reduced the pack dimensions by about 10% to cut the use of plastic film."
The Big Fish smoked salmon and sea trout products are available in two packs sizes, either chilled or frozen. All variants are traditionally cured and D-sliced for convenience.
A 100g pack of salmon or trout carries an rrp of £4.95 chilled, or rrp £4.49 frozen, while a 200g format has an rrp of £7.95 for fresh and rrp £7.49 for frozen.
In addition to the packaging updates, a new whole smoked salmon side has also been added to the Big Fish portfolio and comes pre-sliced with a minimum weight of 900g (rrp £28.50 chilled or rrp £27 frozen).
A wider audience
Healthy alternatives are not the only consumer trend that retailers should be keeping up to date with within the frozen category, according to Flying Trade Group managing director Harry Dulai, who believes catering for the Muslim community can open the category up to a new group of customers.
Dulai says: "A relatively new consumer to the frozen category is Muslim shoppers. The Muslim market is keen to source premium quality, halal food out of the freezer, which brings ease of preparation and peace of mind regarding the provenance of the meat used – particularly for everyday items.
"Half of the UK's Muslim population is under the age of 25 and young consumers love and demand convenience."
The group's Humza brand offers a variety of frozen halal products, ranging from Punjabi samosas to lamb seekh kebabs, meat spring rolls to masala methi.
During the past year the Flying Trade Group has added 15 new frozen skus to the Humza halal range. Sales of the brand's samosas and spring roll ranges have fuelled triple-figure growth and have seen the brand pass the £6m mark in annual sales this year, the company reports.
Frozen foods with a plastic-free edge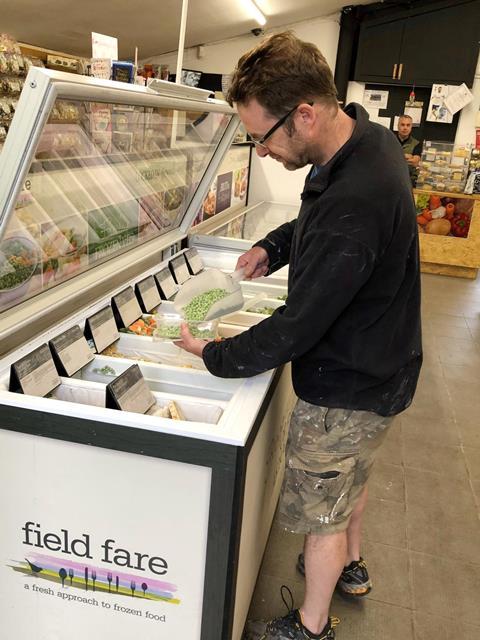 With shoppers looking to both cut their plastic waste and satisfy their need for convenience, frozen food firm Field Fare has a lot of boxes ticked.
The company offers a range of loose self-scoop premium frozen products and next month adds its 76th packaging-free product to the line-up.
The new addition, pastry purses, will come in three variants: spinach, goats' cheese & olive (£3.55 rrp); steak & stilton (£3.55 rrp); and chicken, white wine & asparagus (£3.50 rrp).
The pastries join a range including frozen fruit and veg lines and International cuisine mixes including Chinese stir fry and vegetable biryani.
Premium fish and breaded poultry products are also available.
The company advises retailers to encourage Field Fare shoppers to bring their own containers to fill, cutting plastic waste further.
Field Fare managing director Karen Deans says : "The environment has always been a priority for us. We recognised two years ago that consumers were becoming equally concerned and would increasingly be looking for help to reduce their use of single-use plastics."
Looking good
Whether you are stocking pizza or pakoras, the visual impact of your frozen section can also play a big role in volume of sales.
"Some four or five years ago we decided to update our frozen offering and put in new larger, upright freezers," says Dean. "The sales increase just from having a better visual offering was immense."
Dean Erasmus, managing director UK & Ireland at POS Tuning UK, also puts the case for a visually stimulating display. "Shoppers in many markets are still not offered a pleasant shopping experience in the frozen food department. Instead, there are often untidy chests and freezers," he says.
"The products are often not visible and certainly not accessible for the shopper. The atmosphere in the frozen food aisle is often uninviting. Therefore, the shopper spends less time in the area and is not inspired." Erasmus says this can lead to lost sales as shoppers either decide not to buy, or to go elsewhere.
However, making the frozen food department more attractive doesn't have to mean investing in new freezers. "In addition to lighting elements and floor design, guidance systems such as category signs can also play a part," says Erasmus.
"Another way to enhance the value of the frozen food department is to use shelf management systems such as push feed and lift systems. Various studies by POS Tuning show that shelf management systems lead to better visibility of the goods, improved orientation for the shopper and thus to sales growth."
McCain's Hodge also highlights the importance of signage. He says: "Using POS material around the store to drive shoppers to the frozen potato sector is key. In the height of certain seasons, use impulse freezers to showcase frozen best-sellers such as roast potatoes for winter and Crispy French Fries for back to school."
Much like Hodge suggests, seasonality can play a big role in sales of frozen products, according to Richard. "Clearly sales can be hugely dependent on the weather and time of year," he says.
"Our frozen food sales have been a bit of a mixed bag over the past 15 weeks, down to the unpredictable weather. There was good growth for the first seven weeks and then sales declined in the past eight weeks. So we are basically flat over 15 weeks."
Dean agrees. "When the summer months start to edge closer, you do start to lean more towards meals or products that could be driven by the temperature or atmosphere," he says. "In the summer, we always see a fair increase in the take-home range of desserts, ice cream tubs and lollies. Then when you move back into winter, consumers move back to the traditional meals and we bulk the freezers out with that. We tend to merchandise by the seasons. The whole category can be driven by the seasons."
With summer in full swing, Dean's probably not alone in hoping for soaring temperatures and resulting soaring ice cream sales. In Southampton Richard is banking on it and has gone all in with new freezers accommodating a much bigger range of Ben & Jerry's.
"Ben & Jerry's is a huge seller for us. In fact, we have just installed two new freezers to help us double the range for the upcoming summer season as I believe we can sell more," he says. "I really believe that sometimes a big display of ice cream can really drive sales. In fact, the rest of my top five frozen products made up of Ben & Jerry's Cookie Dough and Ben & Jerry's Chocolate Fudge Brownie."
However you fill your freezer, the category's success can have a knock-on effect on the rest of the your store. As Tom sums up: "Don't be frozen out of sales this summer. Use your frozen range as the gateway to the rest of your store and unlock some extra linked sales."