The Spar brand is hoping its updated cake range, which now includes nine additional products, will appeal to consumers looking for snacking, sharing and on-the-go cakes.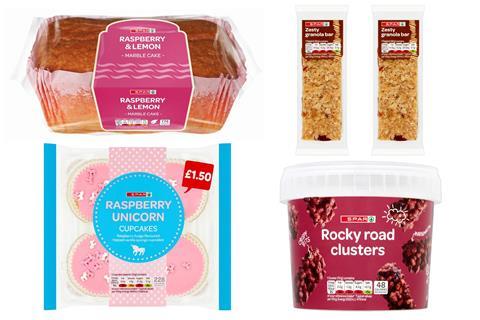 New to the cake range are three mini bite tubs and four loaf cakes, as well as two cake bars. In addition to the new products, all four of Spar's existing muffin flavours have been reformulated with an improved recipe.
Available to Spar retailers now, the symbol has also repositioned its own-label cake bars to bring the range more in line with the market and now offers a chocolate brownie, millionaire's shortbread and all butter flapjack.
Tapping into on-trend flavours for shoppers, the Spar cake range also includes four cupcakes including an all year round Belgian chocolate cupcake and three new limited edition cupcakes: raspberry unicorn (available now), salted caramel (launching this winter) and lemon mini egg cupcakes (available next year).
David Armstrong, head of Spar brand, said: "Snacking is an important growth category for Spar stores. The demand for cakes and snacks is rising and these products are great for on-the-go indulgence. With this range busy consumers can treat themselves to a delicious cake or snack on-the-go."
Price List
Spar Chocolate Cupcakes 4-pack (£1.50 PMP)
Spar Unicorn Cupcakes 4-pack (£1.50 PMP)
Spar Salted Caramel Cupcakes (£1.50 PMP)
Spar Lemon Mini Egg (Easter) Cupcakes 4-pack (£1.50 PMP)
Spar Rocky Road Bar 65g (rrp 90p)
Spar Chocolate Brownie Bar 65g (rrp 90p)
Spar Millionaire Shortbread Bar 65g (rrp 90p)
Spar All Butter Flapjack 65g (rrp 90p)
Spar Zesty Granola Bar 65g (rrp 90p)
Spar Madeira Cake (rrp £1.65)
Spar Sultana & Cherry Loaf Cake (rrp £1.65)
Spar Raspberry and Lemon Marble Cake (rrp £1.65)
Spar Chocolate and Caramel Marble Cake (rrp £1.65)
Spar Cornflake Cluster Mini Bites (rrp £2)
Spar Rocky Road Mini Bites (rrp £2)
Spar Mini Gingerbread Biscuits (rrp £2)
Spar Mini Chocolate Brownie Bites 96g (£1 PMP)
Spar Mini Shortbread Bites 104g (£1 PMP)
Spar Mini Flapjack Bites 120g (£1 PMP)
Spar Choc Chip Muffins 4-pack (£1)
Spar Blueberry Muffins 4-pack (£1)
Spar Toffee Muffins 4-pack (£1)
SPAR Lemon & White Chocolate Muffins 4-pack (£1)