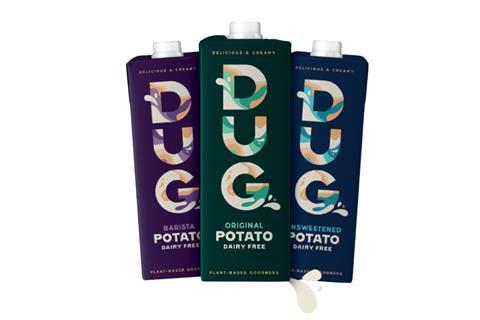 Potato-powered plant-based milk DUG is now available in the convenience channel via a partnership with Bestway Wholesale.
Bestway is stocking all three DUG varieties: Barista, Original and Unsweetened potato milks (rsp: £1.80) in 30 of its cash and carry depots and is the first convenience retailer to list DUG.
Low in saturated fat, DUG is fortified with Calcium, Vitamin D, Vitamin B12, Riboflavin, and Folic Acid. And that's not all. DUG is free from the top 14 most common allergens, including lactose, milk, soy, gluten and nuts.
The product is billed as planet-friendly due to the low climate footprint of potatoes, which is twice as land efficient as growing oats and uses 56 times less water than almonds.
Graham Stonadge, UK sales director for Veg of Lund UK, the company behind DUG said: "DUG potato-powered plant-based milk is set to shake up the £335m milk alternatives market, which until now has been dominated by oat milk as well as a plethora of other varieties that create confusion in the fixture.
"The challenge for retailers is to look beyond the hype and focus on those brands that are more than a box-ticking exercise. After all, consumers are looking to make more educated choices about plant-based than ever before.
"We believe DUG has the credentials to be the 'go-to' brand for consumers who are moving away from dairy and who care enough about sustainability to seek the best alternatives, or who unfortunately suffer from intolerances to one of the top 14 allergens."
"We are delighted to be working with Bestway as they step-up their offering in plant-based dairy alternatives and look to lead the convenience sector in this new plant-based era. This partnership means that retailers, coffee shop owners, foodservice companies and food producers can now ride the potato milk wave and 'Dare to DUG'."
A spokesperson for Bestway Wholesale said: "We are always on the lookout for exciting, innovative product lines that separate our retailers from their competitors and are proud to be the channel's first supplier of DUG. With more consumers switching to healthier eating and drinking alternatives, our retailers have the opportunity to separate themselves from the crowd and offer a new range in a fast-growing category."