The latest sales data and trends within dairy- and gluten-free products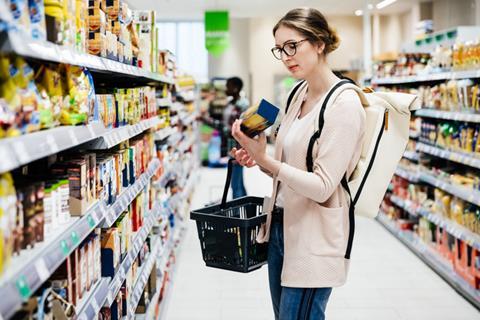 1. Young people are driving avoidance diets
Saputo Dairy UK claims that Gen Z is more inclined to dodge dairy. "Although dairy avoidance is now practised among all demographic segments, it is the younger demographics, most notably Gen Z consumers (16-24YOs), who are the driving force behind the trend – championing avoidance diets as a lifestyle choice," says marketing controller Emilie Grundy.
Ecotone UK, which owns the Mrs Crimble's gluten-free brand, claims that whilst many consumers still primarily choose Mrs Crimble's products for medical reasons, there is a steep rise in those opting to go gluten-free as a lifestyle choice as they look to improve their diets. "Consumers are increasingly looking at ways to improve their wellness and explore cutting out certain ingredients like gluten or lactose from their diets, and we anticipate that gluten-free, dairy-free and vegan alternatives will all experience further growth throughout 2022," says marketing and category director Bryan Martins.
Harj Gill, who owns The Windmill Select & Save in Birmingham, has noticed some of his customers opting out of dairy through choice. "I think the demand is down to a mixture of allergies and lifestyle choices," he says. "No one was allergic to stuff when I was growing up. Now it's boomed - lots of people are lactose-intolerant. Also, we get people who are training and want to cut certain ingredients out of their diet."
Amber Evans, sales colleague, at The Forge Simply Fresh store in Inkberrow, Worcester, states that people buy into free from lines for various reasons. "It's a mix of people buying these products," she says. "You get people who buy lactose free milk because they are lactose intolerant, but also for taste and health reasons. I don't bother with milk any more myself, I get oat no sugar and almond no sugar because I like the taste of it, it's not as sickening as dairy milk. Customers say it's lighter, not as heavy."
The distinction between 'cutting down on dairy' versus 'cutting out' is worthy of note, adds Saputo. "According to Nielsen, the majority of consumers who purchase dairy alternative products also buy standard dairy products as well: whilst 40% of GB households bought dairy alternative products in 2020, just 0.2% bought only plant-based [Nielsen Homescan]," says Grundy.
2. 75% of consumers with food allergies still enjoy bread
The Prove It Report: Adapting Bakery To Food Hypersensitive Consumers conducted by Delifrance found that three quarters of allergy sufferers still eat bread.
Gluten free bread is a winner at The Forge. "A lot of our gluten free products - breads and wraps - sell really well," says Amber. "We have a refurb next month and [owner] Chaz [Chahal] wants to do a whole area in the store for gluten-and wheat-free products. It's all tallied up with people coming in asking 'can you get this and that'." She claims that gluten-free seeded loaves and rolls from Dr Schär sell out as soon as they come in stock.
"We know that more and more consumers are seeking products free-from allergens to meet their dietary and lifestyle needs," says Bradley Grimshaw, managing director at Dr. Schär UK. The gluten-free manufacturer is set to expand into fresh bread thanks to the recent acquisition of Glasgow based allergen-free fresh bread manufacturer, GDR Food Technology Ltd (GDR).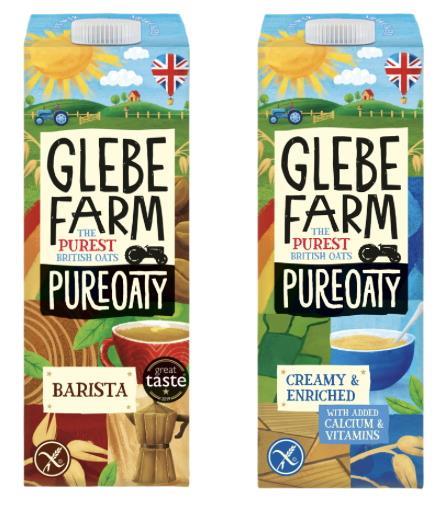 3. One in three Brits now drink plant-based milk
Oat milk has quickly become the plant-based milk of choice, according to Mintel, which reports that a record one in three Brits now drink plant-based milk (Including soya, almond, rice or oat) with usage up from 25% in 2020 to 32% in 2021. The market intelligence agency claims that almost 44% of Brits aged 25-44 are plant-based milk users and that usage of standard cow's milk continues to be lower amongst younger consumers, dropping to 84% of 16-24s compared to 96% of those aged 65+.
"Soya milk is our biggest selling free from [milk] line," says Amber. "We have a UHT soya milk with long life and the refrigerated one as well. The no sugar one sells really well - one customer buys five bottles at a time! We haven't got any oat milk [in stock at the moment] - that's a big seller."
Harj has witnessed an uplift in milk alternatives. "We give milk alternatives their own section," he says. "It's something people use every day. We have almond milk no sugar, soya no sugar, coconut, barista soya and Lactofree. Soya milk is the top dairy-free seller. Oat milk is another big one for us. We sell the Alpro branded one."
PureOaty oat milk, which is dairy- and gluten-free, has certainly benefited from the trend, reporting sales growth of over 50% since the beginning of 2021, an increase of nearly five million litres per year.
"However, it is important to highlight, despite the alternative milk category being widely referred to as 'free from', there is still a short supply in the market [of products] that cater to both gluten-free and dairy-free customers," says Phillip Rayner, owner of Glebe Farm, which makes PureOaty. "With a growing list of oat milks available to purchase, there is often confusion when considering the product in the gluten-free category. Most assume that the oats in their oat milk coffee are naturally gluten-free. However, this is not the case as oat milk is often grown near wheat and processed in facilities that also handle wheat products, meaning they are often cross-contaminated with gluten." He claims that the product goes "beyond coeliac disease" and is also suitable for lactose intolerance and nut allergies, as well as vegan consumers. The firm has recently launched Glebe Farm PureOaty Barista and PureOaty Creamy & Enriched variants with new look packaging, which will be available to convenience stores in the coming months.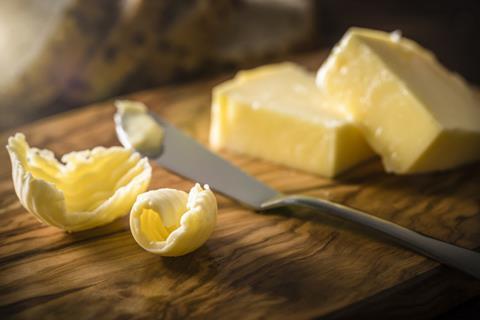 4. Free From Butters, Spreads & Margarines are up 28% YoY in convenience
Within convenience, the wider free-from category continues to see double-digit growth especially within Butters, Spreads & Margarines, cream and cheese, notes Upfield, which owns the Flora and Violife brands. "BSM is growing at +28.1% YoY, mainly driven by an increase in frequency in terms of how often people shop (+17.3%) [Kantar WPO, Total Convenience, 52 w/e 26th December 2021]," says Sam Thomas, head of category, Upfield UK&I. Flora Buttery currently contains buttermilk, but the firm has set a goal of becoming 100% plant-based by 2025.
Saputo Dairy UK, which owns Vitalite, agrees that dairy free spreads have seen huge demand across both convenience and the wider grocery market. "Demand for dairy alternatives is no longer driven by medical necessity, but rather has become a lifestyle habit and is entering the mainstream," she says. "As a result, dairy free spreads have become an increasingly important sector, now worth over £65m, a growth of 60% YOY [IRI Total Grocery 52w/e 25th Dec 2021], and are expected to see continued growth as consumer movement towards plant-based diets continues and the number of consumers either not eating dairy or actively reducing their dairy consumption continues to grow."
Dairy alternative spread products are now purchased by 23% of all UK households (Kantar Worldpanel 52we 26th Dec 21). "Though reformulation of a number of popular spread brands to a dairy free recipe during 2021 has muddied the picture of true demand for dairy free within butters and spreads, the fact remains that more than one in five UK households is now buying into the dairy free spreads sector," says Grundy. Vitalite spread has delivered revenue growth of 91% in Traditional Convenience in the latest year [IRI Convenience excl Major Multiples 52we 25th Dec 2021].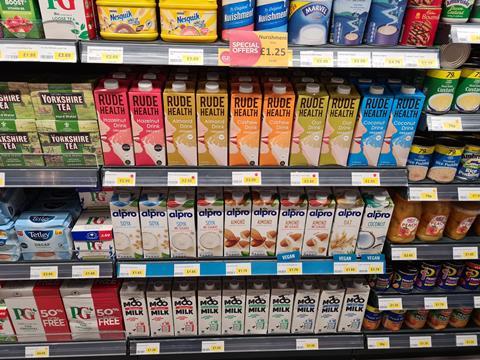 5. Consumers are going dairy free to protect the planet
In 2019, 12% of Brits declared that their main reason for taking part in Veganuary was to help with the environment. In 2020, this increased to 18%, and in 2021, this further increased to 21% [Veganuary, 2022]. "With COP26 taking place so recently, we expect more consumers to turn to plant-based to help protect the planet this year," says Upfield's Thomas. He claims that Flora Plant B+tter Block has half the climate impact of dairy butter [Based on peer-reviewed comparative lifecycle assessments conducted by Quantis in 2020].
Saputo's Grundy acknowledges that sustainability is a driver of dairy-free products. "Appetite for plant-based eating is at an all-time high, with almost two and a half million UK households now having a vegan or vegetarian household member [Nielsen Homescan Survey November 2020], while others are taking conscious steps to reduce their dairy consumption," she says. "Those aged 16-24 – the Gen Zs – are leading the way here, citing 'feeling healthier' and 'sustainability' as key drivers for their choice.
"Veganuary 2022 has seen its best year yet with well over 600k individuals pledging to take part, a growth credited by campaign organisers to an increase in the proportion of people signing up for environmental reasons (from 12% in 2019 to 21% in 2021)."
This is thought to have been influenced by the recent COP summit in Glasgow, which saw widespread campaigning for plant-forward eating and has made sustainability more top of mind for more consumers, a trend Saputo Dairy UK expects to continue.
Glebe Farm's Rayer adds: "With factors such as sustainability continuing to influence purchasing decisions, consumers are increasingly choosing to buy free from products." However, he points out that not all free-from products are equally sustainable. "British shoppers are yet to grasp the food miles that most non-dairy alternatives travel in order to reach UK shops," he says. "This in turn defeats the efforts of switching to dairy-free milk for sustainability purposes."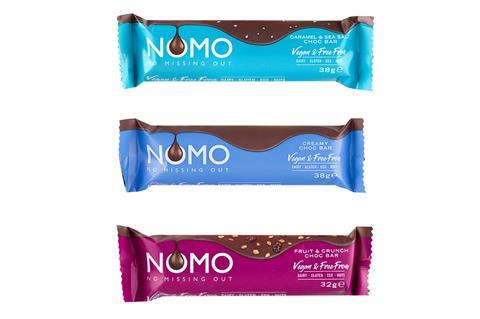 6. Total free from chocolate is up 24% in value growth versus a year ago
The total Free From Chocolate Sector has grown almost a quarter (+24.4%) in value sales in the last year (Nielsen Scantrack - Total Free From Chocolate Sector - MAT Change YA - Value to 01/01/22).
Demand for free-from products is increasing, agrees Nomo, which claims to be the number one free from chocolate brand in the UK with the greatest market share (18.5%) (Nielsen Scantrack – Data To 01/01/22). "In Q1 2021, Nomo small bars, including Creamy Choc, Caramel and Sea Salt and Fruit & Crunch saw a 150% uplift in value based on the same period last year and block bars have seen a 78% uplift," says Jacqueline Tyrrell, brand manager, Nomo, Zertus UK. "This is well ahead of the total market as total chocolate singles (1-100g) have seen a -5% decline in value sales year on year (Source: Nielsen Scantrack & Homescan – Data To 27/03/21)."
The Nomo brand claims to be driving the growth of free from chocolate within the convenience sector. "Nomo has secured a loyal shopper base who buy the brand more frequently than any of its competitive set, on average twice as often (Nielsen Scantrack & Homescan – Data To 01/01/22). Nomo has seen 111.1% (+£347,001) growth YA within convenience (Nielsen Scantrack, Total GB Coverage & Total coverage convenience, Total Free From Chocolate, 52 Weeks To 06/11/21).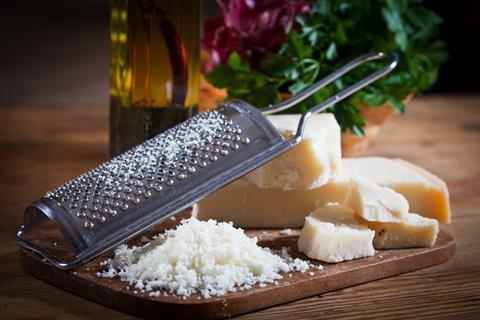 7. Plant-based cheese is worth £3.3m in convenience
Plant-based cheese is starting to "set the convenience world alight", according to Upfield. "It is now worth £3.3m up +40.5% YoY, with Violife as the market leader driving the segment, accounting for 90% of these category sales [IRI | Convenience Channel | 52 w/e 1.1.2022 vs. YA]," says Sam Thomas, head of category, Upfield UK&I.
Though still niche in the convenience channel, dairy free alternatives to cheese are now worth £41m in total market [IRI All Outlets 52we 25th Dec 2021], according to Saputo. In the latest 52 weeks sales have grown by +13.4% volume (+12.4% value), significantly ahead of Total Cheese, driven by ongoing influx of new customers into the sector.
Launched in September 2019, with a Grated line joining the range in September 2021, Vitalite dairy free alternatives to cheese are now worth £1.4m [IRI SIG Grocers + Kantar Discounters & Bargain Stores 52we 27th Nov 2021 ].
"Dairy free alternatives to cheese are growing faster than cheese (IRI, Value sales % change 2020 vs 2019)," says Oliver Richmond, brand manager at Bel UK, which has launched plant-based cheese range Nurishh, as well as plant-based Babybel and Boursin variants.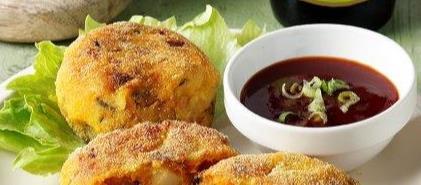 8. Tamari gluten free soy sauce has a 9% share of the total soy sauce market
Free from lines are also causing a stir in home cooking. Over the last few years Tamari Gluten Free Soy Sauce has been steadily increasing its share of the total soy sauce market with latest data showing it is now at 9% (IRI to 6.11.21).
Global market leader in soy sauce, Kikkoman, is capitalising on the growing consumer interest in free from. Its Tamari Gluten-Free Soy Sauce has a commanding share of the sector at 67.4%, up 4% year on year by value and 7.3% in unit sales.
"More and more of us are choosing a gluten free diet driven by an increase in the number of people with food allergies and those of us who opt to go gluten free as a lifestyle choice," says Kikkoman UK manager Bing-yu Lee. "Consumers shouldn't have to lose out on flavour or lower grade ingredients because of a wheat intolerance." The firm has given its Tamari Gluten Free Soy Sauce range a new look with a striking blue label and blue cap enabling easy differentiation between its standard soy sauce which is in red and its Less Salt range which is in green.