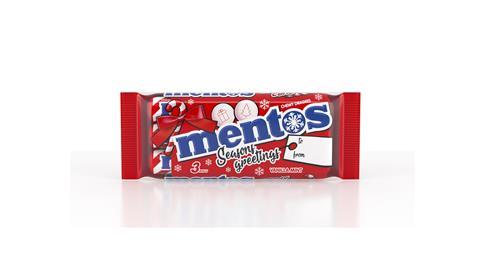 The limited edition Christmas-themed Mentos rolls contain 14 printed sweets.
The new vanilla mint flavoured candies provide an alternative to chocolate this Christmas and have been hailed by the firm as a perfect stocking filler.
The individually wrapped rolls each carry one of four humorous festive messages and retail at £1 for three rolls. Messages include: 'You make Christmas Sweeter', 'Sweetest Seasons Greetings', 'Peace, Love & Joy' and 'Ho! Ho! Ho!'.
Sarah Elmer, Mentos brand manager said: "We're thrilled to launch Mentos Candy Cane in the UK for the first time this year. It was very popular in the states, so we are hoping we can replicate this success this side of the Atlantic.
"With Christmas starting earlier and earlier every year, and more competition amongst stores and sectors, retailers can take advantage of the surging demand for festive confectionery with this limited edition. It's a unique, playful twist on our classic Mentos Mint that is sure to bring joy."