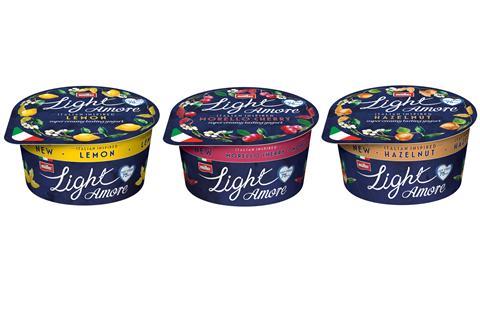 Müller is hoping to disrupt the luxury yogurt segment with Müllerlight Amore, an Italian inspired range of fat free yogurt pots.
The new product is available in three flavours: Hazelnut, Morello Cherry and Lemon, and sold in 130g single packs (rrp £1).
Müllerlight Amore is also high in protein, with an average total sugar content of 6.2g per 100g, the dairy company is confident that the product will breakthrough existing shopper concerns.
Michael Inpong, Chief Marketing Officer at Müller said: "Through products that are motivated by health and inspired by taste, we're committed to inspiring people to live happier and healthier lives.
"We've worked really hard to identify the right opportunity for Müllerlight shoppers in this segment. Not only is Müllerlight Amore luxurious and creamy tasting, but it is fat free and high in protein. This is the type of innovation that our customers and consumers can expect from the number one brand in the category."
The new launch will be supported by an ongoing Müllerlight multimedia campaign, featuring Commonwealth Games and World Indoor Championship gold medallist, and Müller brand ambassador, Katarina Johnson-Thompson.