Müller Corner is aiming to reduce total sugars across its branded yogurt portfolio by 25% before June next year.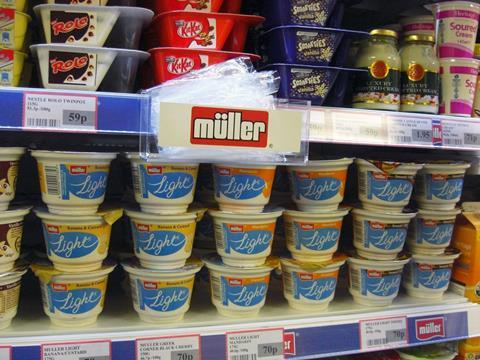 The dairy giant is hoping to beat Public Health England's voluntary guidelines which encourage the brand to lower total sugars across its range by 20% before August 2020.
The announcement follows the launch of the Müller's new Corner recipe, containing up to 9% less sugar, and new Müllerlight formula, featuring 0% added sugar.
In addition, Müller has recently reformulated its Müllerlight Greek Style and Müllerlight Fruitopolis yogurts using a 0% added sugar recipe.
The brand also removed sugar from its Müller Corner Strawberry flavour and Müller Quark Yogurt range last year, alongside the launch of Müller Corner Plain: the dairy company's first ever Corner made with unsweetened natural Greek style yogurt.
Within the desserts category, Müller's branded chilled dessert, Müller Rice, is already below Public Health England's 2020 voluntary sugar reduction target for the category.
Bergen Merey, managing director at Müller Yogurt & Desserts said: "There is a responsibility which comes with being the 8th most chosen brand in the UK (Nielsen | Total GB | 52 w/e 26th Jan 2019). So everything we do is geared towards adding taste to life, and inspiring people to become happier and healthier.
"We're the category leader, and the significant challenge we faced was how to reduce sugar, without ever compromising on taste. We've now got our best ever recipes, supported by our biggest ever marketing campaign, and this category disrupting strategy is how we plan to not only meet Public Health England's voluntary targets, but exceed them.
Merey added: "Our approach to inspire happy and healthy lives goes far beyond simply removing sugar. Utilising our partnership with British Athletics, we're inspiring people by launching campaigns with sporting heroes Dina Asher-Smith and Katarina Johnson-Thompson, an on pack promotion with a chance to win new sports equipment for schools, and we're taking our exciting Müller Activity Zones across the country to ten world-class athletics events."