Müller is set to revolutionise the yogurt category with new and improved recipes for its Müllerlight and Müller Corner yogurt brands.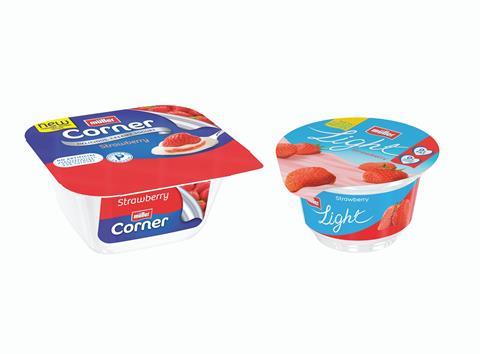 Made using a newly discovered yogurt culture, the new Corner recipe, available from June, contains up to 9% less sugar per 100g, more protein and has a thicker and creamier texture.
Meanwhile, Muller's new Müllerlight recipe, which remains fat free, is available now. It also features a thicker and creamier texture and now has 0% added sugar and is suitable for vegetarians.
Re-designed packaging will support the recipe changes and the relaunched range will also be backed by two large multimedia marketing campaigns.
The campaigns, which will feature across billboards, print advertising and social media, will also include two new TV adverts starring British athlete Dina Asher-Smith and recently crowned European Indoor Pentathlon champion Katarina Johnson-Thompson.
Müller is also bringing back its sporting on pack promotion from 2018. This year's activity will see more schools receive new sports equipment.
Michael Inpong, chief marketing officer at Müller, said: "We know that when Müller grows, so does the category. So our overall approach is to continue strengthening our core brands, developing a leading private label proposition, and innovating to target the 46% of the category where we have limited or no presence.
"It's our personal mission to make people happier and healthier by simply adding taste to life. We're an established category leading brand, but we need to constantly refresh and reinvent ourselves to stimulate further category growth.
Inpong added: "This is a revolutionary milestone for our brand, and the category. We've created our best ever recipes, backed up by our biggest ever marketing campaigns, and we're continuing to innovate on sugar reduction."