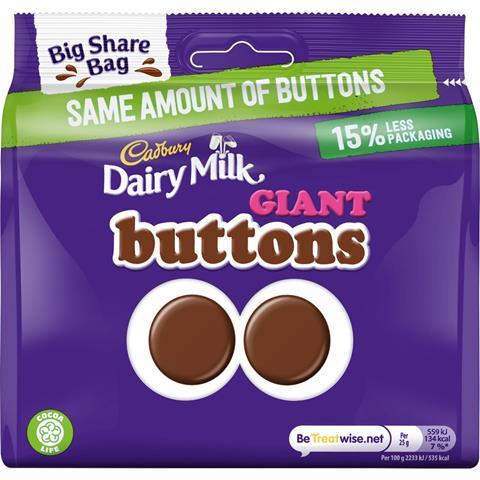 The packaging reduction is part of the company's strategy to eliminate 65,000 tonnes of packaging by the end of 2020.
As part of the company's 'pack light and pack right' packaging strategy, Cadbury Giant Buttons, Caramel Nibbles and Bitsa Wispa large sharing bags in the UK will contain the same amount of treats as before, but in a new optimised pack format that uses 15% less packaging.
Smaller bags also means fewer trucks are required to transport the same amount of product. As a result, the number of trucks needed for transportation will be reduced by 14%.
The optimised bags are a result of the company's internal innovation competition, 'Snackathon'. A team of passionate makers and bakers from Bournville realised that the barrier to removing the packaging was the pyramid shape that forms in the bag, as a result of the way in which the treats fall into them on the production line. The team found a solution to this manufacturing challenge by introducing a way to shake the bag on the line, then cutting the wrap to a shorter height.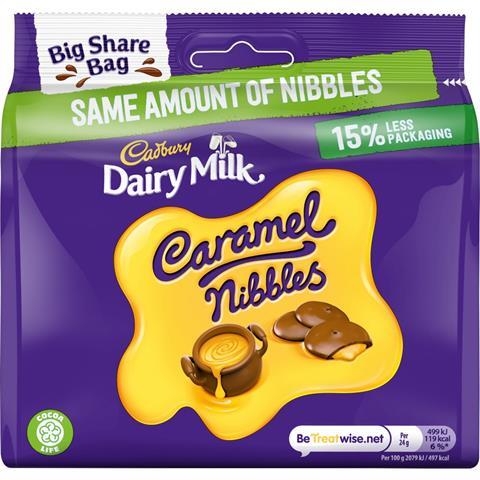 This initiative is the latest move Mondelez International has made towards its vision of creating zero net waste packaging through its three-pronged 'pack right and pack light' strategy of; packing optimisation; addressing the collection and recycling of packaging and investing in post-consumer recycled material; and making it easier for consumers to recycle. It has already eliminated over 64,000 tonnes of packaging globally since 2013; made 100% of its paper-based packaging sustainably sourced; and is on track to reach its ambitious target to make all of its packaging designed to be recyclable by 2025.
The company is a member of the UK Plastics Pact and a signatory of the Ellen MacArthur Foundation's New Plastics Economy Global Commitment and has recently announced that Philadephia cream cheese sold in the UK and Europe will be made using recycled plastic packaging from 2022.
Louise Stigant, UK managing director, Mondelez International, said: "We're committed to reducing the impact our products have on the environment and tackling packaging waste. One way in which we are delivering against that ambition is to either reduce or remove our packaging where we can without compromising food safety.
"I'm proud to say that cutting the plastic used in our iconic large share bags by 15%, whilst maintaining the amount of product, is just one step in our journey towards our strategic goal to use less packaging across our UK business, and demonstrates our innovative approach to reducing our environmental impact."